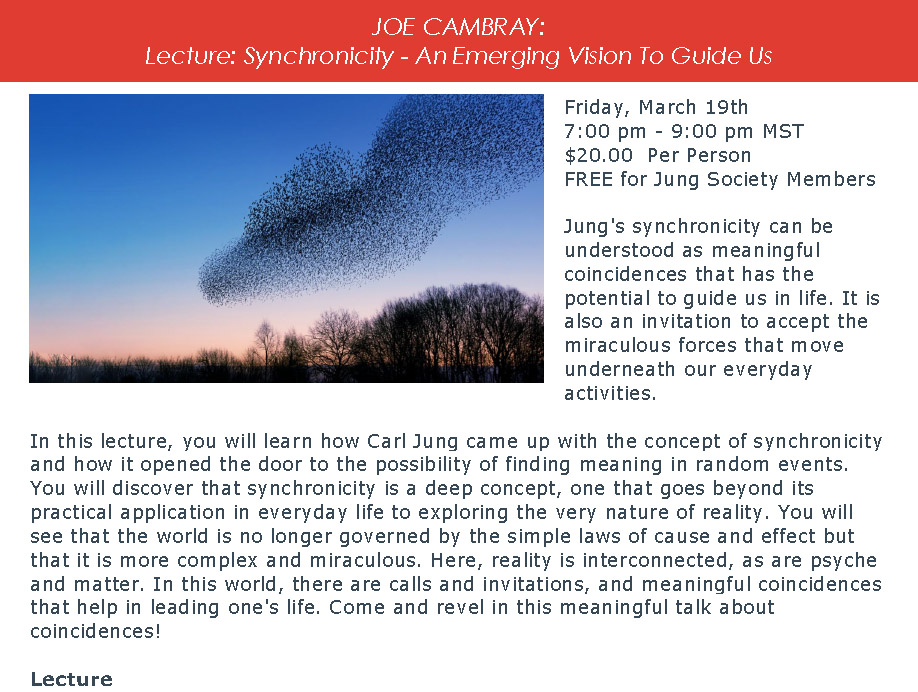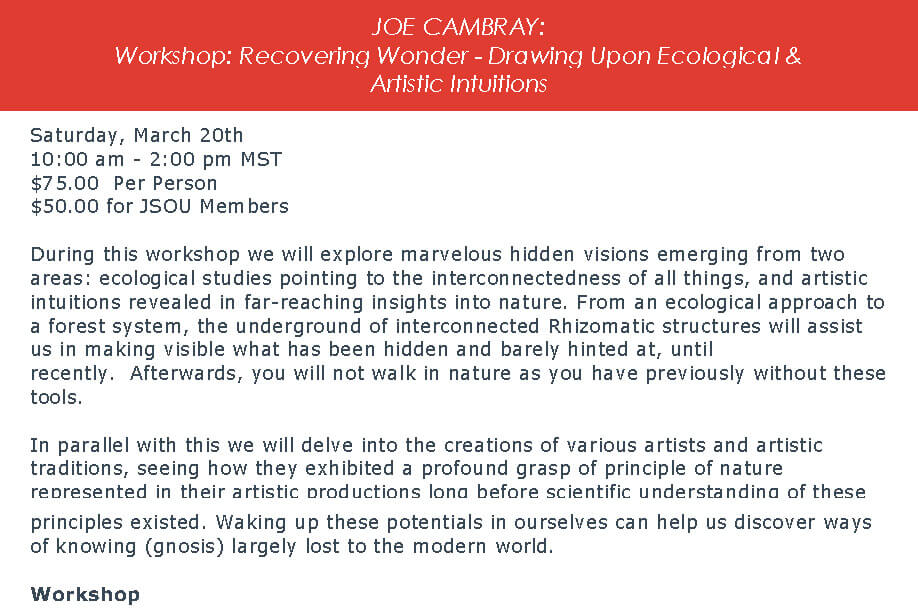 Recovering Wonder: Drawing Upon Ecological & Artistic Intuitions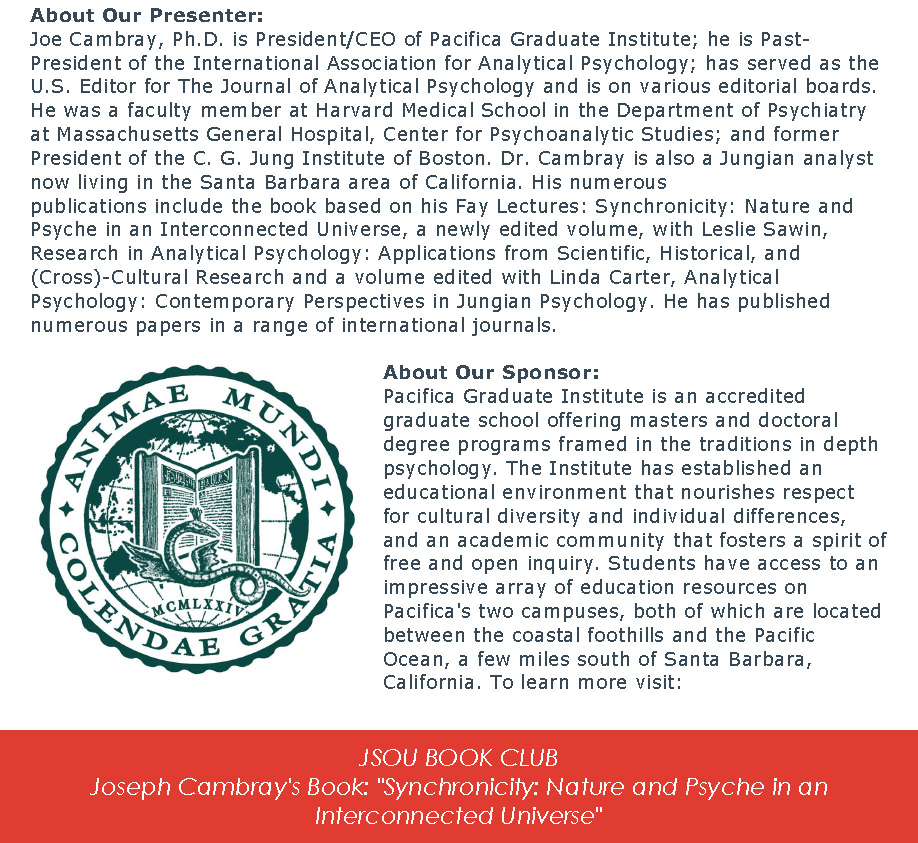 JOE CAMBRAY:
Lecture: Synchronicity – An Emerging Vision To Guide Us
Friday, March 19th
7:00 pm – 9:00 pm MST
$20.00  Per Person
FREE for Jung Society Members
Jung's synchronicity can be understood as meaningful coincidences that has the potential to guide us in life. It is also an invitation to accept the miraculous forces that move underneath our everyday activities.
In this lecture, you will learn how Carl Jung came up with the concept of synchronicity and how it opened the door to the possibility of finding meaning in random events. You will discover that synchronicity is a deep concept, one that goes beyond its practical application in everyday life to exploring the very nature of reality. You will see that the world is no longer governed by the simple laws of cause and effect but that it is more complex and miraculous. Here, reality is interconnected, as are psyche and matter. In this world, there are calls and invitations, and meaningful coincidences that help in leading one's life. Come and revel in this meaningful talk about coincidences!
Lecture 
https://jungplatform.com/store/synchronicity-an-emerging-vision-to-guide-us/
JOE CAMBRAY:
Workshop: Recovering Wonder – Drawing Upon Ecological &
Artistic Intuitions
Saturday, March 20th
10:00 am – 2:00 pm MST
$75.00  Per Person
$50.00 for JSOU Members
During this workshop we will explore marvelous hidden visions emerging from two areas: ecological studies pointing to the interconnectedness of all things, and artistic intuitions revealed in far-reaching insights into nature. From an ecological approach to a forest system, the underground of interconnected Rhizomatic structures will assist us in making visible what has been hidden and barely hinted at, until recently.  Afterwards, you will not walk in nature as you have previously without these tools.
In parallel with this we will delve into the creations of various artists and artistic traditions, seeing how they exhibited a profound grasp of principle of nature represented in their artistic productions long before scientific understanding of these principles existed. Waking up these potentials in ourselves can help us discover ways of knowing (gnosis) largely lost to the modern world.
Workshop
https://jungplatform.com/store/recovering-wonder-drawing-upon-ecological-artistic-intuitions/
 
About Our Presenter:
Joe Cambray, Ph.D. is President/CEO of Pacifica Graduate Institute; he is Past-President of the International Association for Analytical Psychology; has served as the U.S. Editor for The Journal of Analytical Psychology and is on various editorial boards. He was a faculty member at Harvard Medical School in the Department of Psychiatry at Massachusetts General Hospital, Center for Psychoanalytic Studies; and former President of the C. G. Jung Institute of Boston. Dr. Cambray is also a Jungian analyst now living in the Santa Barbara area of California. His numerous
publications include the book based on his Fay Lectures: Synchronicity: Nature and Psyche in an Interconnected Universe, a newly edited volume, with Leslie Sawin, Research in Analytical Psychology: Applications from Scientific, Historical, and (Cross)-Cultural Research and a volume edited with Linda Carter, Analytical Psychology: Contemporary Perspectives in Jungian Psychology. He has published numerous papers in a range of international journals.
About Our Sponsor:
Pacifica Graduate Institute is an accredited graduate school offering masters and doctoral degree programs framed in the traditions in depth psychology. The Institute has established an educational environment that nourishes respect for cultural diversity and individual differences, and an academic community that fosters a spirit of free and open inquiry. Students have access to an impressive array of education resources on Pacifica's two campuses, both of which are located between the coastal foothills and the Pacific Ocean, a few miles south of Santa Barbara, California. To learn more visit: https://www.pacifica.edu
JSOU BOOK CLUB
Joseph Cambray's Book: "Synchronicity: Nature and Psyche in an Interconnected Universe"