Dear Pacifica Community,
Holiday Greetings!  As we move into and through this period of turning of the light, solstice celebration abound, we at Pacifica are entering a "quiet time."  Gathering our energies, reflecting on our accomplishment and the challenges of the past year which we have faced, this is moment of gratitude stemming from a deep internal contemplation.  So it is with heartfelt thanks to all of you for everything you've done to keep our dear institution thriving and vibrant.  I would like to wish each of you, your families and friends very happy holidays and offer a few images and verses to join in the seasonal spirit.
With warmest wishes for a most joyous holiday season,
Joe
An image from Musings from the Marsh: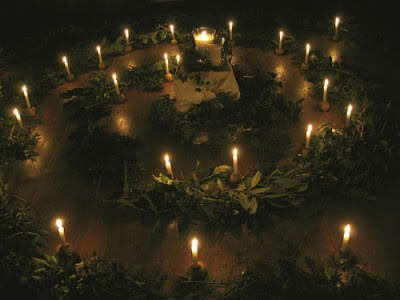 *****
From Native American poet Nancy Wood:
We do not speak, because the voices are within us.
It is our quiet time.
We do not walk, because the earth is all within us.
It is our quiet time.
We do not dance, because the music has lifted us to a place where the spirit is.
It is our quiet time.
We rest with all of nature.  We wake when the seven sisters wake.
We greet them in the sky over the opening of the kiva.
*****
An image from The Practice of Creativity:
*****
From environmentalist, poet and novelist Wendell Berry:
To go in the dark with a light is to know the light.
To know the dark, go dark, go without sight.
And you will see that the night too blooms and sings,
And is traveled by dark feet and dark wings.
*****