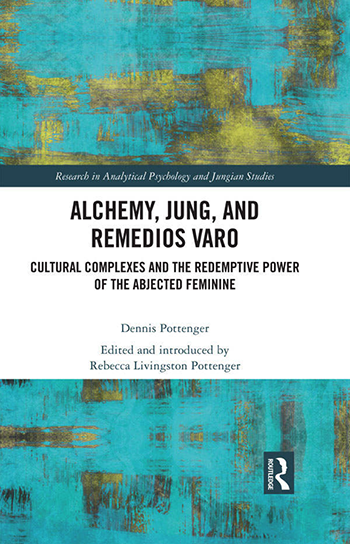 Book Title: Alchemy, Jung, and Remedios Varo: Cultural Complexes and the Redemptive Power of the Abjected Feminine
Year Published: 2021
Alchemy, Jung, and Remedios Varo: Cultural Complexes and the Redemptive Power of the Abjected Feminine
Alchemy, Jung, and Remedios Varo offers a depth psychological analysis of the art and life of Remedios Varo, a Spanish surrealist painter. The book uses Varo's paintings in a revolutionary way: to critique the patriarchal underpinnings of Jungian psychology, alchemy, and Surrealism, illuminating how Varo used painting to address cultural complexes that silence female expression.
The book focuses on how the practice of alchemical psychology, through the power of imagination and the archetypal Feminine, can lead to healing and transformation for individuals and culture. Alchemy, Jung, and Remedios Varo offers the first in-depth psychological treatment of the role alchemy played in the friendship between Varo and Leonora Carrington—a connection that led to paintings that protest the pitfalls of patriarchy.
This unique book will be of great interest for academics, scholars, and post-graduate students in the fields of analytical psychology, art history, Surrealism, cultural criticism, and Jungian studies.
About Dennis Pottenger
Pacifica Program Graduate: 2011, Counseling Psychology with Emphasis in Depth Psychology
Dennis Pottenger is a licensed Jungian-oriented psychotherapist and author of Alchemy, Jung, and Remedios Varo: Cultural Complexes and the Redemptive Power of the Abjected Feminine, published last year in Routledge's Research in Analytical Psychology and Jungian Studies Series.  An award-winning literary journalist, Dennis also wrote Great Expectations, a season in the life of a professional football franchise.  Dennis earned an MA in Counseling Psychology with Emphasis in Depth Psychology at Pacifica in 2011.  As a psychotherapist, Dennis works with trauma, identity, and diversity issues.  He is working on a book focusing on Jungian psychology and the racist shadow of white privilege.
"In the Acknowledgements I thank Jean Palmer-Daley, a Jungian Analyst and my thesis advisor at Pacifica, for teaching me that less fire, more breathing is an alchemical practice I use everywhere in my life.  I also thank Gioia Jacobsen and Mark Kelly at Pacifica for helping me find an important book through interlibrary loan.  Sukey Fontelieu read the Varo manuscript and wrote a testimonial for the book jacket.  Over the years, Richard Buchen has spent time he probably shouldn't have helping me with research.  I'm most grateful for the time and energy these people invested in me."