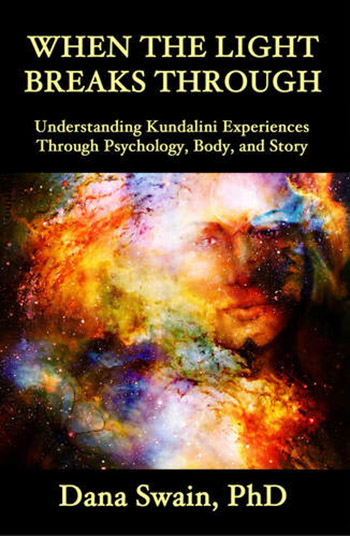 Book Title: When the Light Breaks Through: Understanding Kundalini Experiences through Psychology, Body, and Story
Year Published: 2021
When the Light Breaks Through: Understanding Kundalini Experiences through Psychology, Body, and Story
Kundalini is a spiritual, energetic force inherent in every human being and is well known in Eastern philosophies and religions. But for Westerners experiencing this force without cultural context or knowledge, it can be disconcerting or even frightening.
When the Light Breaks Through offers a contemporary and practical look at kundalini, combining historical, academic, and scientific research to help readers better understand kundalini. Dana Swain addresses a wide range of perspectives—from the biological to the psychological to the spiritual.
Interweaving depth psychology with real-life stories of Westerners sharing their kundalini experiences, including those of Swain herself, you'll get a down-to-earth look at the challenges and possibilities that arise as kundalini itself arises. Each storyteller dialogued with the author not just by reporting their stories, but also by spontaneous art-making, creative writing, and accessing the wisdom of the body. You'll follow along in the evolution of each participant's understanding of how kundalini impacted their life in meaningful ways. You'll also read about:
• Cross-cultural perspectives and some historical context about kundalini
• Eastern and Western approaches to kundalini and the process of transformation
• The anatomy of kundalini and the subtle body
• Recent neuroscience research on kundalini and common physical symptoms and effects
• Examples of intensified dream life, synchronicities, and the arising of psychological material and its integration
• Resources that may help you in your own spiritual journey
Kundalini is a doorway into the unimagined depths and breadth of human consciousness. It offers the possibility of re-imagining what it means to be human and also profoundly connected to the larger cultural, ecological, and cosmic spheres. If you're curious about kundalini or are experiencing it yourself, When the Light Breaks Through provides accessible insight into what it means to live and work with the energy of kundalini.
About Dana Swain 
Pacifica Program Graduate: PhD in Jungian Depth Psychology
Dana Swain is a Jungian psychologist, kundalini meditation teacher, and personal development coach. She works with clients undergoing spiritual and creative transformations. Her work weaves together a Jungian and archetypal perspective with body-oriented self-inquiry, creative arts, and dreamwork.
More at: www.sacredcorecoaching.com