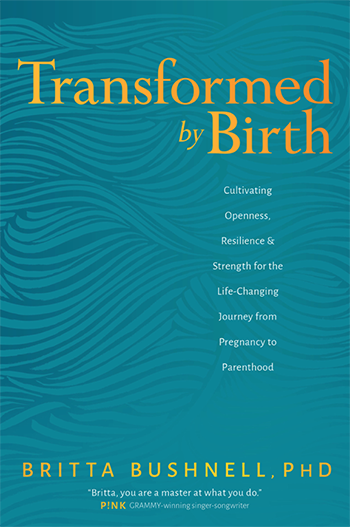 Book Title: Transformed by Birth: Cultivating Openness, Resilience, and Strength for the Life Changing Journey from Pregnancy to Parenthood
Year Published: 2020
Transformed by Birth: Cultivating Openness, Resilience, and Strength for the Life Changing Journey from Pregnancy to Parenthood
As expecting parents, you're bombarded with more information―and opinions―than ever about the "right" approach to pregnancy and childbirth. How do you navigate this ocean of information―not only to find the best practical solutions for you personally, but also to embrace this incredible opportunity for emotional and spiritual transformation that comes from bringing a child into this world? With Transformed by Birth, Dr. Britta Bushnell has created the transformative, intelligent, and empowering pregnancy and childbirth guide you've been waiting for.
This book embraces birth as a metamorphic experience―a rite of passage in which you are initiated by opening to the unbidden, embodying your own wisdom, and gaining freedom from limiting beliefs.
Our culture has inundated us with limiting ideals that prevent us from fully engaging in the journey of pregnancy and childbirth―including a need for control and certainty, vilification of pain, and reverence for technology and intellectual knowledge, among others. Dr. Bushnell helps you clear away unwanted beliefs and behaviors so you can open to the meaning and power of this uniquely life-changing experience. Here she offers daily practices, rituals, exercises, and more to help you cultivate resilience, power, and connection during this transformative time.
Childbirth is more than just having a baby. Transformed by Birth invites you to discover childbirth as a transformational experience that alters your knowing of who you are and lasts long after pregnancy and birth are over.
About Britta Bushnell
Pacifica Program Graduate: M.A. and Ph.d. Mythological Studies with emphasis in Depth Psychology
Dr. Britta Bushnell (she/her) is a wife and mother, author of Transformed by Birth, veteran childbirth educator, celebrated speaker, mythologist, and specialist in childbirth, relationship, and parenting. For over 20 years, Dr. Bushnell has worked with individuals and couples as they prepare for the life-changing experience of giving birth. Her work with parents has been enriched by her doctoral work in mythology and psychology, her years spent as former co-owner of Birthing From Within, as well as her dedicated study of solution-focused brief therapy, storytelling, sustaining sexual vibrancy, and helping romantic partnerships thrive even during parenthood.
Britta is an engaging teacher, speaker, and presenter. Whether addressing a room of expectant parents, new mothers, or seasoned birth professionals, Britta has a way of captivating and inspiring them all. She has presented at conferences such as DONA International, MANA, ICEA, and Lamaze. Additionally, Britta has been featured on several popular podcasts including Informed Pregnancy, Birthful and Atomic Moms. In 2016, in recognition of her transformative childbirth classes, Britta was awarded "Educator of the Year" by the Southern California Doula Association (DASC).
When not working with parents, Britta loves spending time with her husband, Brent, and (when they are available) their now grown children either adventuring in the mountains, playing games, or traveling to exotic destinations.
Britta's work focuses on the transformational journey of pregnancy, birth, and new parenthood. Using a grounded, honest, and playful approach, she helps parents navigate birth and parenthood with strength, confidence, and a deep connection as a couple.