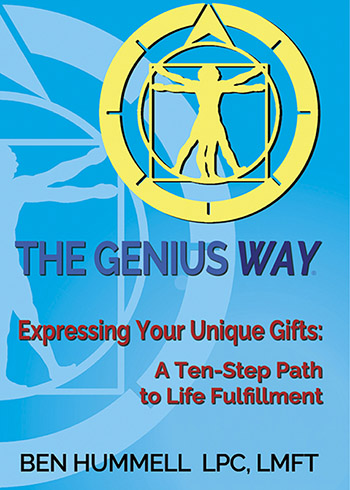 Book Title: The Genius Way: Expressing your Unique Gifts: A Ten-Step Path to Life Fulfillment
Year Published: 2022
The Genius Way: Expressing your Unique Gifts: A Ten-Step Path to Life Fulfillment
"The nature of our individual Genius is to express something (or some things) in particular. This need is . . . primal, in that we are born with it, and is therefore deeper than our psychology. Whether we believe it or not, something in us has a need for life direction with a personal sense of meaning and purpose. And it's up to each one of us to figure this out for ourself."
The Genius Way is designed to help you recognize your unique Genius and make it part of your everyday life. It is a journey into self—an eye-opening expedition into the inner world where your Genius is ready to guide your life path. The Genius Way process teaches us to listen for, identify, and give expression to our Genius callings. As we create and lead a Genius-based life, we experience greater fulfillment, connection, and joy.
About Ben Hummell
Pacifica Program Graduate: 2012 MA Counseling Psychology
Ben Hummell is a Licensed Professional Counselor and Marriage and Family Therapist with many years of experience as a spiritual counselor and teacher. Ben is the creator of The Genius Way®, a life skills system that helps people of all ages and backgrounds to uncover and express their own unique gifts and callings for a more fulfilling life. More about Ben's work can be found on www.thegeniusway.com.