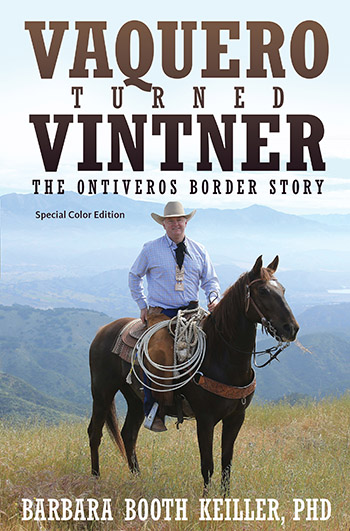 Book Title: Vaquero Turned Vintner: The Ontiveros Border Story
Year Published: 2020
Vaquero Turned Vintner: The Ontiveros Border Story
Keiller's quest for stories and images that both animate and illuminate the U.S.-Mexico border landscape leads the author to California's Santa Maria Valley. Border writer Keiller follows her intuition to the genius loci of the Santa Maria River Valley. She reads about an old adobe located at the Bien Nacido Vineyard and intuits the location matches the landscape that calls to her. She meets vintner James Ontiveros and the story of early Californios begins to emerge.
James Ontiveros, a ninth-generation Californio, introduces Keiller to the story of his ancestors traveling north into Alta California with the 1781 Pobladore Expedition to establish Los Angeles and the Santa Barbara Presidio. Images of diseños, ranchos, horses, long-horned cattle, reatas, trails, missions, and wine embellish the tapestry of relationships interwoven throughout Vaquero Turned Vintner: The Ontiveros Border Story.
The author's love of the Mexico-United States border landscape energizes her experiences exploring the story. Barbara delves into the layers of the story using her skills as a therapist … listening to storytellers, asking questions, and researching the archives. Lures, cues, dreams, and intuitions lead the way.
Keiller describes her evolving relationships with people, the landscapes, and the wildlife throughout her odyssey that covers more than a decade from California, Baja California, Mexico, Arizona, Spain, France, Argentina, and Chile. She reports details in the form of a diary, much like the early explorers reported the day-to-day experiences on their expeditions into Alta California.
About Barbara Booth Keiller
Pacifica Program Graduate: PhD
Author Barbara Booth Keiller is a self-described border writer. She grew up in Tucson, Arizona, near the U.S.-Mexico Border during the 1950s. She is a graduate of the University of Arizona (BA), San Diego State University (MS), and Pacifica Graduate Institute in Santa Barbara (PhD).