WA PGIAA Announcements
Greetings Pacifica Friends
Winter Salon 2023
Thank you to everyone who made it out last weekend for a thought provoking presentation by Dr. Annalisa Derr. We were nourished by both the rich conversation that unfolded as well as the delicious food people contributed. Thanks for hosting in your Redmond condo group room Fujio and Monica!! And as always, thank you Dianne Travis-Teague for supporting us up here the PNW.
Meet Our New RC
After six years as a solo RC, I'm happy to announce that Fujio Mandeville has joined me as a Regional Coordinator. He has some fresh ideas to support our community and I look forward to working with him. Please meet Fujio: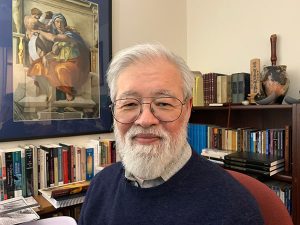 Fujio Mandeville, Ph.D., B.A.
Fujio Mandeville is a linguist, mythologist, and technologist. He holds a bachelor's in linguistics with a minor in computer science from the University of California, Berkeley. His focus there was on natural language acquisition and comparative linguistics. He also holds a doctorate from Pacifica Graduate Institute in Mythological Studies with Emphasis in Depth Psychology. The title of his dissertation is Complexity Theory and Creativity: Seeing through to the Mythic Leonardo da Vinci, in which he uses a transdisciplinary framework to demonstrate that Leonardo da Vinci was a mythic figure and a complexity thinker. Fujio is also a software application manager and architect at a major telecommunications company. His main interests are the intersection between myth, complexity thinking, technology, and its effect on culture, the usurpation of mythology for political ends, and transhumanism. His current work centers on the indigenous creation myth of the Lenca and its implications for Western thinking. His writings are informed through various disciplines, including art history, depth psychology, complexity theory, mathematics, and historical hermeneutics. He has lived in Germany and Japan and lives in Washington state with his wife, Monica.
WA PGIAA Directory
I recently created a local directory of services and businesses for WA PGIAA. Out of state alumni will contact me periodically, so having this directory will make it easy to pass on local information as well as provide a list for us here in WA.
Click the following link to download a copy. I will update this quarterly.
https://mcusercontent.com/f2d055f38241df44d48666786/files/c36458d1-0276-ab54-7288-2fa9c76f19de/WA_PGIAA_Directory_pdf.pdf
Spring Salon – Save the Date!
Grace Porter, LCPC will present on "Learning to listen to your inner wisdom and using The Seven Tools of Healing to change underlying limiting beliefs".  Although this will be more clinically oriented, it's an opportunity to meet and gather in mutual support of our respective depth work in the world. We are hoping to offer more events outside of the Seattle area moving forward, so this salon will take place in Olympia, WA on Saturday, May 20, 4:30pm-8:30pm.
In Community,
Dawn and Fujio