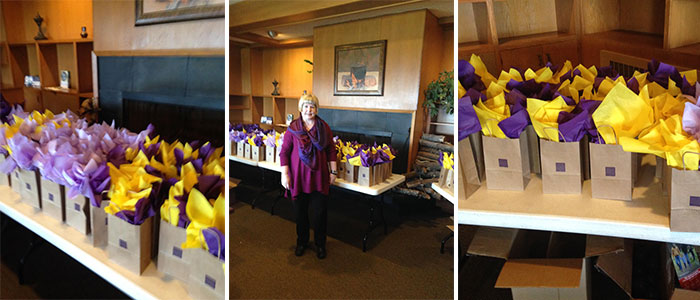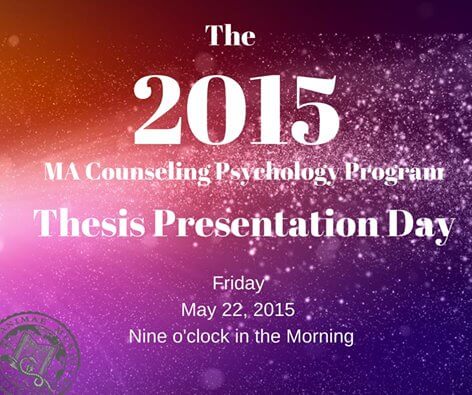 Today is Pacifica's Thesis Presentation Day for the M.A. Counseling Psychology Program. Surrounded by faculty, fellow cohort members, family, and friends, students will present their thesis, sharing their scholastic findings and passion about issues they care deeply about. We congratulate our class of 2015 on their tremendous achievements. Visit: http://bit.ly/1HxRgWW for a complete list of thesis titles.
---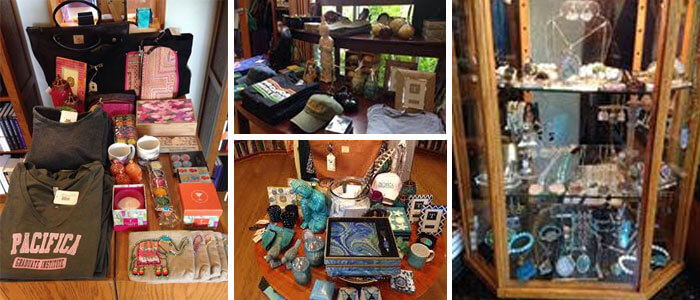 Graduation is three days away! The bookstore has the perfect gift for your special graduate. Visithttp://www.pacificabookstore.com to view the online store or stop by sometime this week. Bookstore certificates are also available. 805.879.7327.
---
Congratulations to the Class of 2015!
| | | | | |
| --- | --- | --- | --- | --- |
| Last Name | First Name | Matric Session | Curriculum | Degree |
| Ananda-Stout | Beth | Track O | Clinical Psych | PhD |
| Anderson | Daniel | Track A | Clinical Psych | PhD |
| Branham | Angie | Track A | Clinical Psych | PhD |
| Brito | Janet | Track O | Clinical Psych | PhD |
| Coppola | Raymond | Track O | Clinical Psych | PhD |
| de Lange | Smadar | Track A | Clinical Psych | PhD |
| Deilgat | Jaclyn | Track B | Clinical Psych | PhD |
| Dublinski | Katherine | Track B | Clinical Psych | PhD |
| Durchslag | Hallie | Track A | Clinical Psych | PhD |
| Ferera | Deborah | Track A | Clinical Psych | PhD |
| Fladmo | Brent | Track A | Clinical Psych | PhD |
| Goettsche | Rebecca | Track A | Clinical Psych | PhD |
| Gomez | Jorge | Track B | Clinical Psych | PhD |
| Green | Virginia | Track O | Clinical Psych | PhD |
| Hodgdon | Dana | Track A | Clinical Psych | PhD |
| Kami | Andrew | Track B | Clinical Psych | PhD |
| Marie | Lisa | Track B | Clinical Psych | PhD |
| Martinez | Tony | Track O | Clinical Psych | PhD |
| McDavitt | Bryce | Track A | Clinical Psych | PhD |
| McKenzie | Meghan | Track O | Clinical Psych | PhD |
| McNutt | Bryan | Track A | Clinical Psych | PhD |
| Nickerson | Glynda | Track O | Clinical Psych | PhD |
| Peled | Ifat | Track B | Clinical Psych | PhD |
| Perkins | Anne | Track A | Clinical Psych | PhD |
| Rennie | Ginger | Track B | Clinical Psych | PsyD |
| Riffle | Jeffrey | Track B | Clinical Psych | PsyD |
| Scott | Joan | Track B | Clinical Psych | PhD |
| Szuhay | Daniel | Track B | Clinical Psych | PsyD |
| Tebow | Michael | Track B | Clinical Psych | PhD |
| Turner | Marie | Track B | Clinical Psych | PhD |
| Weiner | Lisa | Track A | Clinical Psych | PhD |
| Williams | Lloyd | Track B | Clinical Psych | PhD |
| Zhikhareva | Natalia | Track O | Clinical Psych | PhD |
| Ziv | Ary | Track A | Clinical Psych | PhD |
| | | | | |
| Bailey | Troy | Track P | Comm Lib Ecopsych | MA |
| Benedict | Peter | Track P | Comm Lib Ecopsych | MA |
| Chisholm | Cheryl | Track P | Comm Lib Ecopsych | MA |
| Cramer | Christie | Track P | Comm Lib Ecopsych | MA |
| Cummings | Ralph | Track P | Comm Lib Ecopsych | MA |
| Edson | Jennifer | Track P | Comm Lib Ecopsych | MA |
| Orduna | Alisa | Track P | Comm Lib Ecopsych | MA |
| Palamos | Karen | Track P | Comm Lib Ecopsych | MA |
| Ravenswood | Linda | Track P | Comm Lib Ecopsych | MA |
| Sacco | Christa | Track P | Comm Lib Ecopsych | MA |
| Sarieddine | Maysar | Track P | Comm Lib Ecopsych | MA |
| Spencer | Madeleine | Track P | Comm Lib Ecopsych | MA |
| | | | | |
| Aldrich | Kevin | Track L | Counseling Psych | MA |
| Ambrosio | Rebeca | Track L | Counseling Psych | MA |
| Amini | Erin | Track W | Counseling Psych | MA |
| Arkan | Nazanin | Track D | Counseling Psych | MA |
| Arnaiz | Tara | Track C | Counseling Psych | MA |
| Atherley | Tara | Track D | Counseling Psych | MA |
| Batistick | Susan | Track D | Counseling Psych | MA |
| Benitez Allen | Cristina | Track L | Counseling Psych | MA |
| Bergeson | Sarah | Track L | Counseling Psych | MA |
| Berry | Dawn | Track L | Counseling Psych | MA |
| Bigelow | Paige | Track D | Counseling Psych | MA |
| Brooks | Therese | Track C | Counseling Psych | MA |
| Cameron | Ann | Track D | Counseling Psych | MA |
| Carpenter | Kyrie-eleison | Track W | Counseling Psych | MA |
| Cerf | Alexandre | Track C | Counseling Psych | MA |
| Chavez | Brianne | Track C | Counseling Psych | MA |
| Chavez | Carl | Track W | Counseling Psych | MA |
| Churko | Jody | Track W | Counseling Psych | MA |
| Clawley | Christine | Track D | Counseling Psych | MA |
| Clearwater | Noelle | Thesis | Counseling Psych | MA |
| Cohen | Adam | Track W | Counseling Psych | MA |
| Conroy | Colleen | Track D | Counseling Psych | MA |
| Conway | Shea | Track C | Counseling Psych | MA |
| Dantus | Tanya | Track L | Counseling Psych | MA |
| DiGiulio | Amanda | Track D | Counseling Psych | MA |
| Dolinsky | Lauren | Track W | Counseling Psych | MA |
| Donahue | Victoria | Track C | Counseling Psych | MA |
| Erickson | Andrew | Track L | Counseling Psych | MA |
| Ferguson | Rhonda | Track C | Counseling Psych | MA |
| Fishburn | Jessica | Track C | Counseling Psych | MA |
| Flewelling | Lynn | Track L | Counseling Psych | MA |
| Gaffney | Mark | Track L | Counseling Psych | MA |
| Ganesh | Cynthia | Track L | Counseling Psych | MA |
| George | Ryan | Track L | Counseling Psych | MA |
| Goodman | Kristina | Track C | Counseling Psych | MA |
| Gugiu | Adrian | Track L | Counseling Psych | MA |
| Haffner | Andrea | Track L | Counseling Psych | MA |
| Hakimzadeh | Sepideh | Track C | Counseling Psych | MA |
| Harris | Katrina | Track C | Counseling Psych | MA |
| Harvey | Vanessa | Track D | Counseling Psych | MA |
| Hayman | Gale | Track C | Counseling Psych | MA |
| Haynes | Michael | Track L | Counseling Psych | MA |
| Herkert | Hannah | Track L | Counseling Psych | MA |
| Holvick-Norton | Taryn | Track L | Counseling Psych | MA |
| Jeffries | Brigit | Track D | Counseling Psych | MA |
| Johnston | Cindy | Track W | Counseling Psych | MA |
| Jordan | DeAnna | Track C | Counseling Psych | MA |
| Kair | Viera | Track D | Counseling Psych | MA |
| Kettering | Brooke | Track C | Counseling Psych | MA |
| King | Dominic | Track W | Counseling Psych | MA |
| Kinkead | Susan | Track C | Counseling Psych | MA |
| Kline | Dana | Track L | Counseling Psych | MA |
| Knudsen | Erik | Track L | Counseling Psych | MA |
| Koch | Colleen | Track D | Counseling Psych | MA |
| Koh | Eugene | Track C | Counseling Psych | MA |
| Koonce | Laura | Track W | Counseling Psych | MA |
| Kusuhara | Catherine | Track C | Counseling Psych | MA |
| Laband | Jordan | Track W | Counseling Psych | MA |
| Lamberti | Ashleigh | Track W | Counseling Psych | MA |
| Lloyd | Philip | Track W | Counseling Psych | MA |
| Lowe | Ashley | Track W | Counseling Psych | MA |
| Magone | Meghan | Track L | Counseling Psych | MA |
| Malcolm | Elaine | Track C | Counseling Psych | MA |
| Mancini | Dustin | Track L | Counseling Psych | MA |
| Mautner | Mark | Track C | Counseling Psych | MA |
| McCray | Andre | Track C | Counseling Psych | MA |
| McDevitt | Siobhan | Track C | Counseling Psych | MA |
| McMullen | Kelly | Track C | Counseling Psych | MA |
| Meijer | Kim | Track D | Counseling Psych | MA |
| Mercur | Mathew | Track L | Counseling Psych | MA |
| Morgan | William | Track W | Counseling Psych | MA |
| Mullens | Wendy | Track L | Counseling Psych | MA |
| Murphy | Anne | Track D | Counseling Psych | MA |
| Newman | Rachel | Track L | Counseling Psych | MA |
| Newton | Priscilla | Track L | Counseling Psych | MA |
| Norris | Dona | Track C | Counseling Psych | MA |
| Novis | Jennifer | Track D | Counseling Psych | MA |
| Paracuellos | Fabrice | Track C | Counseling Psych | MA |
| Parrish | Mary | Track D | Counseling Psych | MA |
| Pearson | Christopher | Track C | Counseling Psych | MA |
| Penrose | Ellen | Track D | Counseling Psych | MA |
| Perry | Robert | Track C | Counseling Psych | MA |
| Pollard-Johnson | Kimberly | Track D | Counseling Psych | MA |
| Popescu | Cezar | Track C | Counseling Psych | MA |
| Portney | Danielle | Track L | Counseling Psych | MA |
| Powell | Thereza | Track D | Counseling Psych | MA |
| Riancho | Juliette | Track W | Counseling Psych | MA |
| Robles | Ricardo | Track C | Counseling Psych | MA |
| Rothenberg | Rikki | Track C | Counseling Psych | MA |
| Sanders | Britney | Track W | Counseling Psych | MA |
| Schumacher | Jennifer | Track L | Counseling Psych | MA |
| Shenasi | Solmaz | Track C | Counseling Psych | MA |
| Siuba | Daniel | Track L | Counseling Psych | MA |
| Sloan Strom | Lisa | Track D | Counseling Psych | MA |
| Spencer | Ian | Track D | Counseling Psych | MA |
| Steinberg | Jacqueline | Track L | Counseling Psych | MA |
| Stephenson | Corin | Track D | Counseling Psych | MA |
| Sturges | Eve | Track C | Counseling Psych | MA |
| Thompson | Elizabeth | Track L | Counseling Psych | MA |
| Timken | Mark | Track L | Counseling Psych | MA |
| Toth | Jacquelyn | Track C | Counseling Psych | MA |
| Vinzant | Celeste | Track D | Counseling Psych | MA |
| Voortman | Matthew | Track D | Counseling Psych | MA |
| Waltner | Katlyn | Track L | Counseling Psych | MA |
| Ward | Carol | Track D | Counseling Psych | MA |
| Westmoreland | Laura | Track C | Counseling Psych | MA |
| Whittle-Utter | Katharine | Track D | Counseling Psych | MA |
| Wilson | Julie | Track L | Counseling Psych | MA |
| Wise | Jon | Track D | Counseling Psych | MA |
| Wullschlager | Anne | Track D | Counseling Psych | MA |
| Yanez | Denise | Track L | Counseling Psych | MA |
| Yari | Dora | Track D | Counseling Psych | MA |
| Zidarich | Dinko | Track D | Counseling Psych | MA |
| | | | | |
| Allen | Kirsten | Track J | Depth Psych | PhD |
| Bright | Bonnie | Track J | Depth Psych | PhD |
| Burnett | Ipek | Track K | Depth Psych | PhD |
| Colvin | Kim | Track J | Depth Psych | PhD |
| Hayase | Nozomi | Track J | Depth Psych | PhD |
| Howell | Kimberly | Track K | Depth Psych | PhD |
| Jamieson | Ayana | Track K | Depth Psych | PhD |
| Kwok | Patricia | Track K | Depth Psych | PhD |
| Lev-David | Aviva | Track K | Depth Psych | PhD |
| Marsai | Katherine | Dissertation Depth | Depth Psych | PhD |
| Reusing | Holly | Track K | Depth Psych | PhD |
| Savett | Susan | Track J | Depth Psych | PhD |
| Shahbaz | Caroline | Track K | Depth Psych | MA |
| Stephens | Jason | Track J | Depth Psych | MA |
| Sullivan | Raymond | Track K | Depth Psych | PhD |
| Swanson | Ginger | Track K | Depth Psych | PhD |
| Thompson | Ashley | Track K | Depth Psych | PhD |
| Whitaker | Shaun | Track K | Depth Psych | MA |
| Ambrose | Jeni | Track S | Depth Psych Somatics | MA |
| | | | | |
| Burri | Lori | Track S | Depth Psych Somatics | MA |
| Creps | Laura | Track S | Depth Psych Somatics | MA |
| Eagleson | Narandja | Track S | Depth Psych Somatics | PhD |
| Falk | Brian | Track S | Depth Psych Somatics | MA |
| Hallerman | Elisa | Track S | Depth Psych Somatics | MA |
| Horstman | Shalee | Track S | Depth Psych Somatics | MA |
| Lefebvre | Yvonne | Track S | Depth Psych Somatics | MA |
| Loerch | Dawn | Track S | Depth Psych Somatics | MA |
| Maal | Nusa | Track S | Depth Psych Somatics | MA |
| Rainne | Rachel | Track S | Depth Psych Somatics | MA |
| Rodriguez-March | Jeannette | Track S | Depth Psych Somatics | MA |
| Sammartino | Rosario | Track S | Depth Psych Somatics | MA |
| Schnacke Sasse | Courtney | Track S | Depth Psych Somatics | MA |
| Tye Talkin | Helen | Track S | Depth Psych Somatics | MA |
| Walker | Heather | Track S | Depth Psych Somatics | MA |
| Welsh | Juli | Track S | Depth Psych Somatics | MA |
| Whittle-Utter | Jonathan | Track S | Depth Psych Somatics | MA |
| Winkel | Jenny | Track S | Depth Psych Somatics | MA |
| | | | | |
| Brown | Juliette | Track X | Engaged Humanities | MA |
| Cameron | Bre | Track X | Engaged Humanities | MA |
| Duque | Mariangelica | Track X | Engaged Humanities | MA |
| Foglesong | Karen | Track X | Engaged Humanities | MA |
| Geyer | Alan | Track X | Engaged Humanities | MA |
| Green | Amanda | Track X | Engaged Humanities | MA |
| Johnson | Tait | Track X | Engaged Humanities | MA |
| Keyes | Satyadharma | Track X | Engaged Humanities | MA |
| Mason | Aaron | Track X | Engaged Humanities | MA |
| Deerheart | Natalie | Track X | Engaged Humanities | MA |
| Nique | Kaylen | Track X | Engaged Humanities | MA |
| Pounders | Lisa | Track X | Engaged Humanities | MA |
| Schomaker | Jenny | Track X | Engaged Humanities | MA |
| Sloane | Joel | Track X | Engaged Humanities | MA |
| Wolf-Bowen | Barie | Track X | Engaged Humanities | MA |
| | | | | |
| del Castillo | Sandra | Track N | Jung Arch Studies | MA |
| Durni | Tricia | Track N | Jung Arch Studies | MA |
| Fierro | Crystal | Track N | Jung Arch Studies | MA |
| Gardner | Christy | Track N | Jung Arch Studies | MA |
| Jensen | Erik | Track N | Jung Arch Studies | MA |
| Jo | Clifford | Track ZZ | Jung Arch Studies | MA |
| Koonz | Marta | Track N | Jung Arch Studies | MA |
| Nelson-Reid | Yvonne | Track ZZ | Jung Arch Studies | MA |
| Paynter | Joanna | Track ZZ | Jung Arch Studies | MA |
| Pierson | Jo | Track N | Jung Arch Studies | MA |
| Pyott | Colleen | Track Y | Jung Arch Studies | MA |
| Ripley | David | Track N | Jung Arch Studies | MA |
| Shelby | Stacey | Track Y | Jung Arch Studies | PhD |
| Sherk | Debra | Track N | Jung Arch Studies | MA |
| Short | Brandon | Track N | Jung Arch Studies | MA |
| Small | Bobbette | Track N | Jung Arch Studies | MA |
| Smith | Drew | Track ZZ | Jung Arch Studies | MA |
| Stier-Van Essen | Vanya | Track N | Jung Arch Studies | MA |
| Trippe | Alexandra | Track ZZ | Jung Arch Studies | MA |
| Usrey | Hilary | Track ZZ | Jung Arch Studies | MA |
| Viglione | Susan | Track N | Jung Arch Studies | MA |
| Williams | Kristen | Track ZZ | Jung Arch Studies | MA |
| Wilson | Darlene | Track ZZ | Jung Arch Studies | MA |
| Wuest | Lauren | Track N | Jung Arch Studies | MA |
| Yazdi | Sara | Track Y | Jung Arch Studies | MA |
| | | | | |
| Asbo | Kayleen | Track G | Mythological Studies | PhD |
| Beltran | Whitney | Track I | Mythological Studies | MA |
| Bitting | Michelle | Track I | Mythological Studies | MA |
| Bland | Jeannette | Track E | Mythological Studies | PhD |
| Bormann | Jamie | Track G | Mythological Studies | MA |
| Bouck | Rosalie | Track G | Mythological Studies | MA |
| Brown | Chelsea | Track I | Mythological Studies | MA |
| Caldwell | Cynthia | Track E | Mythological Studies | MA |
| Ceaser | Cerena | Track G | Mythological Studies | PhD |
| Chen | Virginia | Track G | Mythological Studies | PhD |
| Conley | Paul | Track G | Mythological Studies | PhD |
| Delibert | Arthur | Track E | Mythological Studies | PhD |
| Demenkoff | John | Track G | Mythological Studies | PhD |
| Dench | Darlena | Track E | Mythological Studies | PhD |
| Duff | Deborah | Track E | Mythological Studies | PhD |
| Duggan | Aaron | Track G | Mythological Studies | PhD |
| Fisher | Teresa | Track E | Mythological Studies | MA |
| Hatfield | Corina | Track E | Mythological Studies | MA |
| Kaivalya | Alanna | Track E | Mythological Studies | MA |
| Keller | Marie | Track E | Mythological Studies | PhD |
| Kingswood | Elizabeth | Track E | Mythological Studies | MA |
| Lewis | Malvenia | Track G | Mythological Studies | PhD |
| Linn | William | Track G | Mythological Studies | PhD |
| Lounsbury | Mary | Track E | Mythological Studies | MA |
| McGinnes-Wulf | Lynn | Track I | Mythological Studies | MA |
| Meetze | James | Track I | Mythological Studies | MA |
| North | Diana | Track I | Mythological Studies | MA |
| Peppler | Jan | Track E | Mythological Studies | MA |
| Pym | Ashland | Track E | Mythological Studies | MA |
| Ranken | Anna | Track I | Mythological Studies | MA |
| Ruch | Emily | Track E | Mythological Studies | MA |
| Salt | Martha | Track E | Mythological Studies | MA |
| Shore | Lesley | Track E | Mythological Studies | PhD |
| Sloan-Spice | Shannon | Track E | Mythological Studies | PhD |
| Sopko-Rabu | Shonn-Michel | Track E | Mythological Studies | MA |
| Stewart | Joan | Track G | Mythological Studies | PhD |
| Sumpter | Elisabeth | Track E | Mythological Studies | PhD |
| Tazer-Myers | Edward | Track G | Mythological Studies | MA |
| Teater | Emily | Track I | Mythological Studies | MA |
| Warwick-Smith | Kathleen | Track E | Mythological Studies | MA |
| Whyte | Jesse | Track I | Mythological Studies | MA |
| Wilday | Deborah | Track E | Mythological Studies | PhD |
| Yoshida | Twyla | Track E | Mythological Studies | MA |
| | | | | |
| Beaven | Lindsey | Track T | Psychotherapy | PhD |
| Bench | Cheryl | Track T | Psychotherapy | PhD |
| Chace | Karina | Track T | Psychotherapy | PhD |
| Eilythia-Misra | Joy | Track T | Psychotherapy | PhD |
| Hayen | Todd | Track T | Psychotherapy | PhD |
| Hinman | Nancy | Track T | Psychotherapy | PhD |
| Kumor | Anna | Track T | Psychotherapy | PhD |
| Matus | Geraldine | Track T | Psychotherapy | PhD |
| Prietto | Mario | Track T | Psychotherapy | PhD |
| Regeczkey | Agnes | Track T | Psychotherapy | PhD |
| Rollo | Nichole | Track T | Psychotherapy | PhD |
| Shackelford | Victoria | Track T | Psychotherapy | PhD |
| Smith | Erica | Track T | Psychotherapy | PhD |
| Smith | Laura | Track T | Psychotherapy | PhD |
| Udell | Rebecca | Track T | Psychotherapy | PhD |
| Wisdom | Victoria | Track T | Psychotherapy | PhD |
| Woodard | Susan | Track T | Psychotherapy | PhD |