A "Key Voices" blog, Pacifica Admissions collects the Pacifica Admissions team's posts to Pacifica's growing family of alums.
•|•|•
Grateful For Your Support
| originally posted on 25 Oct 2013
Wendy Overend, Ph.D. serves as Director of Admissions for Pacifica Graduate Institute.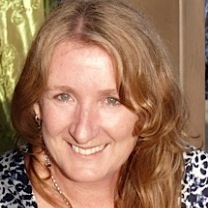 •|•|•|•
Dear Alum Ambassadors,
Another year has flown by, and on Thursday we end our enrollment cycle for 2013. Yes, hard to believe that I haven't had a moment to breathe and send you my newsy update from Admissions!
But as we end another fabulous year with six Pacifica Experience: Introduction Days under our belt and multiple special events including our newest offering — Job Opportunities for MFT/LPCC Graduates — I want to send you a short and sweet note from the Office of Admissions to thank you, as always, for your constant referrals and recommendations for new students of Pacifica. You are the voice of Pacifica!
With our now two Master's degrees and seven Doctoral programs we have many more offerings here than when you were attending classes. However, your experiences and stories really paint a beautiful picture of our educational model, and new applicants are always so excited to share with us that they were recommended to Pacifica by one of our esteemed Alums!
Right now we are ending our 2013 orientation season and 12 Cohort Tracks across both campuses, and continuing to enroll in all our programs through mid-November for those few second session admits who don't want to wait until next year in October to start classes here.
My request is always the same: if you have someone special who you think should be part of our Pacifica family, please be sure to pass my name along and have them contact me either by email woverend@pacifica.edu or my direct line 805.879.7304, or invite them to attend one of our fabulous Pacifica Experience: Introduction Day events. The next three are November 1, January 17, and March 29. There will be more dates posted on the Pacifica Public Programs web page as they come available.
All of us in Admissions would be delighted to talk to your friends about the Pacifica Admissions process!
Happy Fall Season, dear friends. Thank you for all that you do to support the Office of Admissions and our team of Admissions Counselors.
And, I look forward to seeing you soon to celebrate at our Annual Meeting!
Sincerely,
Wendy Overend, Ph.D.