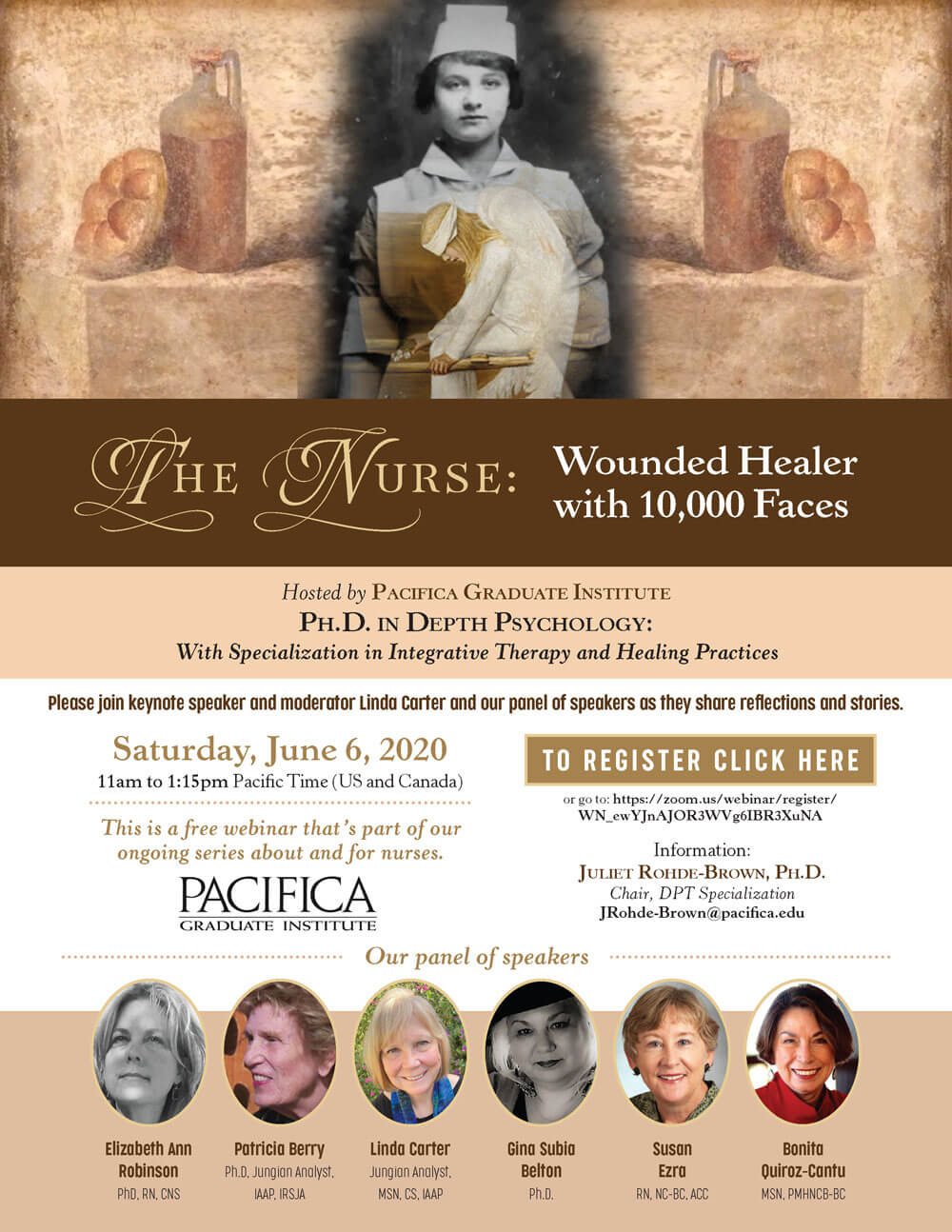 The Nurse: Wounded Healer with 10,000 Faces
Linda Carter, MSN, CS, IAAP
An Overview for June 6, 2020
This Zoom presentation (no fee required) featuring keynote speaker and moderator, Linda Carter, along with 5 panelists, focuses on the value of interconnection and companionship through the Jungian method of amplification through story and image with the goal of decreasing isolation. Art, image, story, ritual and myth have served to transmit culture, connect to ancestors linking generations and have the potential to offer comfort through a sense of belonging and community in the here and now. Nurses have always operated in mediatory, liminal realms and helped others to navigate the sacred territory between life and death. We hope to support nurses and all front-line caregivers during this time of global crisis. Reflections on art and brief but meaningful tales from the heart may allow for alternative reflections on the central human dilemmas about life and death that nurses are now facing. The sharing of stories and locating symbols that represent comfort have provided a sense of belonging and containment for all from the beginning of time. Art and story are essential for life, health, and well-being.
---
Bios for Nurse Speakers
Linda Carter MSN, Jungian Analyst, CS, IAAP 
A nurse and a Jungian analyst practicing in Carpinteria, CA; teaches at Pacifica Graduate Institute; psychotherapist for 40 years. A graduate of Georgetown, Yale and the C. G. Jung Institute-Boston, Linda was the Journal of Analytical Psychology Book Review Editor, US Editor-in-Chief and now Arts and Culture Editor. Founder and chair of the Art and Psyche Working Group, she initiated and edits the outreach project Art in a Time of World Crisis: Interconnection and Companionship. Linda has published widely, taught internationally, especially in China
Elizabeth Ann Robinson, PhD, RN, CNS
Elizabeth Ann Robinson, author of The Soul of a Nurse, received her bachelor's degree in nursing from Samuel Merritt University in Oakland, her master's degree in nursing from University of California, San Francisco, and her PhD in mythological studies and depth psychology from Pacifica Graduate Institute. A fourth generation Californian, Elizabeth has been a staff nurse in oncology and cardiology at Stanford Medical Center, administrator at Duke Heart Center, and a Clinical Nurse Specialist in cardiology and critical care at Sequoia Hospital, Redwood City, and Sutter Medical Center, Sacramento. She lives in Santa Barbara, where her maternal grandmother grew up, works part-time as a clinical policy writer at the local hospital, and writes and speaks from the perspective of a nurse, a patient, and a mythologist. Visit www.ElizabethAnnRobinson.com
Patricia Berry, Ph.D., Jungian Analyst, IAAP, IRSJA
Patricia (Pat) Berry, Ph.D., received her diploma in Analytical Psychology from the C.G. Jung Institute Zurich in 1975.  She was one of the early contributors to what came to be called by James Hillman, Archetypal Psychology. She earned her Ph.D. in psychology in 1984 (University of Dallas).  Many of Pat's earlier talks and papers are collected in Echo's Subtle Body: A Contribution to Archetypal Psychology.  Later papers, published in various places, focus on a wide range of phenomena such as multiple personality disorder, child abuse, the orphan, the marginal way, film, and aesthetics.  She has been professionally active with Jungian educational institutions, serving as Director of Training and President of both the Inter-Regional Society of Jungian Analysts and of the C.G. Jung Institute of Boston. She is currently adjunct faculty at Pacifica.
Gina Subia Belton, Ph.D.
Dr. Gina Subia Belton PhD is an educator, an emerging Indigenous scholar and grief specialist practicing existential medicine at Redwood Palliative Psychology. She is also a professor of psychology at Saybrook University. She has served for 20 years as a nurse educator in clinical, community and academic settings and her robust clinical career in nurse culture inspires her thanatology research in existential medicine as well as her work as a published poet and author. An innovative group/community facilitator with a depth of experience, her approach braids together the lineages of Indigenous psychology, Depth psychology and Humanistic Existential psychology with contemplative methods and methodologies and with an ecopsychological lens as a critical Indigenous decolonial praxis. From her research, the concept "Cultivating an ethic of radical hospitality"(c) is discussed in her forthcoming book.
Susan Ezra, RN, NC-BC, ACC
Susan has dedicated her nursing career to assisting people in accessing their own healing abilities. Her career has placed her in pioneering positions, such as co-founding Beyond Ordinary Nursing with Terry Reed. Twenty years as a hospice nurse profoundly shaped her life and beliefs. It taught her how to truly be a witness to the human experience of living and dying. In private practice, she assists individuals to find their own inner resources and healing images. As an educator, there is a deep desire to share the gift of imagery with others in health care for their personal and professional use. The ultimate force propelling her life's work is the feminine principle, especially in healthcare. She views this as the moral imperative of our time. She has been actively engaged in incorporating imagery into her life and practice since 1989 when she started her formal imagery training with the Academy for Guided Imagery, of which she was on the faculty for 6 years until she was guided to begin her own training and Certificate Program in Integrative Imagery, a certification program for healthcare professionals. From 1996 to 2009, she and Terry have trained over 378 healthcare practitioners in the clinical applications of therapeutic guided imagery. They co-authored Guided Imagery and Beyond; Stories of Healing and Transformation, an anthology of stories from their students and clients illustrating the transformative power of this medium. For 5 years, they provided guided imagery to patients, staff, and community at a major SF bay area hospital.
Bonita Quiroz-Cantu, MSN. PMHNCB-BC
Bonita is a Board Certified, Psychiatric Nurse Practitioner, licensed to prescribe medications. She describes her life and career in nursing as a "series of wonderful accidental happenings."
Beginning as a volunteer in a hospital at age 16, nursing has taken her all over the world and opened vistas she never dreamed existed as a kid in Mobile, Alabama during an era when girls were not supposed to get an education or go far from home. She has enjoyed working in home health care, nursing homes, community mental health centers, operating room and trauma centers. She has been on faculty and lectured at universities, led seminars, workshops and retreats, and worked a research pharmacotherapist, organizational business consultant, and motivational speaker. Bonita earned certifications as a Marriage & Family Therapist, Hypnotherapist, and Executive Coach. She retired from the US Army after serving in two wars, Vietnam and the Gulf War. She has served on professional and civic boards and co-founded a non-profit foundation for promoting advanced practice psychiatric nursing.
She brings her love of learning to her therapy practice in Seattle, WA. And to Pacifica Graduate institute where is currently enrolled in the Ph.D. in Depth Psychology with Integrative Therapy and Healing Practices. At age 76, Bonita states that she is grateful that nursing found her. It has been the perfect path for someone who prizes adventure, craves creative intimate connections, and delights in synchronicities.
Pacifica Alumni Association Nurse blog from May 12, 2020
Special Edition Daily Image: In Celebration of Nurses and Caregivers Worldwide
You may wish to view the ARAS website to learn about the Daily Image as part of the "Art in a Time of World Crisis: Interconnection and Companionship" at aras.org as well.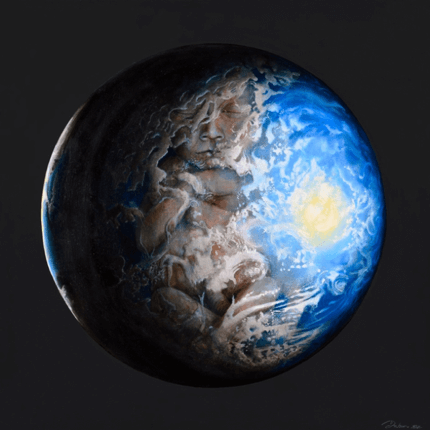 Mater 2 by Pia Imbar. Mixed media on canvas, 113 x 113 cm, 2011, artist's possession
*Please see link below for an extraordinary experience related to this image
In these times, when anxiety, uncertainty, and insecurity are interspersed with hope and a profound questioning of our society's values and ethics, I propose this painting by Pia Imbar (http://www.piaimbar.com/), that presents our pregnant Earth. To me, it is a powerful reminder of how important it is to take care of the world that we will eventually leave to our children, and it is my hope that the present crisis may also be pregnant with insights that may lead to solutions and decisions which are more respectful of life on this planet in all of its forms.
*To view "Piano and Painting" a beautifully crafted 3 minute, stop motion video of Pia's creating  the stunning image above accompanied by Catherine Schneider on piano please visit:  https://youtu.be/fxu9xlz2evM
Ernst Falzeder
Salzburg, Austria Translation
falzeder@gmail.com