The Grieving Tree Project
The Grieving Tree project provides participants with a safe space to grieve, mourn, and reflect on their losses under a mulberry tree on the Pacifica Graduate Institute's Lambert Campus.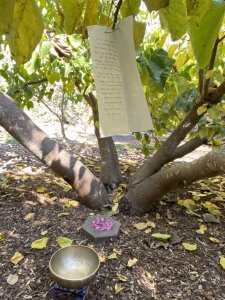 In honor of the precious lives lost from COVID-19, Pacifica will be offering a virtual grieving space from June 6th to June 13th, 2021, remotely broadcasting around the Grieving Tree from the Lambert campus of Pacifica Graduate Institute, CA.
Due to the tragic nature of the pandemic, most families could not farewell their loved ones fully.
As a collective spirit, you're invited to this event for tending to your suffering and loss while sharing hearts through collective mourning.
This year, the Grieving Tree event will be done virtually, sponsored by the Integrated Therapy and Healing Practices program of the Depth Psychology department at Pacifica Graduate Institute. The event will start on June 6th with a live-streamed opening ceremony from the site, and participants can virtually experience sitting under the Grieving Tree during the event. During the registration, the participants can upload their messages to the loved one, which will be written on mulberry paper and hung on the Grieving Tree. On the last day, all the participants are virtually invited to the closing ceremony, which will transform each mourning process into collective grieving. The note on the mulberry paper will be sent to the participants for their memorial piece for the loved one.
For more information and registration, go to: grievingtree.org