PGIAA Announces 2018 Walter Odajnyk Scholarship Recipients: Wendilyn Emrys and James Perrin
Wendilyn Emrys, M.A.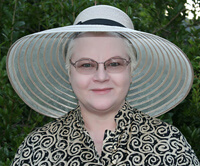 Wendilyn Emrys has been a mythophile since early childhood. At thirteen years of age she discovered Joseph Campbell's Masks of God and while doing her undergraduate work at UCLA she was blessed to be able to study under Marija Gimbutas, Kees Bolle, and Miriam Robbins Dexter. Wendilyn graduated from UCLA with a B.A. in History in 1983. After graduation, she was invited to continue her association with Marija Gimbutas' Graduate Seminar.
Wendilyn is the first person to be credited as an Archaeomythologist on a feature film, Hideaway (1995). She was first accepted to the Mythological Studies program at Pacifica Graduate Institute in the mid-1990's but was unable to attend due to a series of inauspicious events. Wendilyn never gave up her dream of attending Pacifica and was again accepted into the Mythological Studies program when she reapplied in 2015.
Wendilyn was awarded her M.A. in Mythological Studies by Pacifica in 2018 and hopes to be able to continue forward to complete her dissertation and Ph.D. at Pacifica. Passionate about all things Mythic, Wendilyn aspires to a multi-disciplinary approach: combining Archaeology, History, Epigraphy, Neuro-Theology, Neuro-Mythology, and Neuro-Numenosity to her studies of Myth and Archetype.
Wendilyn lives in Los Angeles with her husband of thirty-three years, Jonathan Emrys, their cats, and the numerous wild creatures that live in their backyard. She has edited and published the novel, Scarecrows: A Dandy World and a play, The Man in the Red Suit. Wendilyn also produced two one-act plays for the stage, The Man In the Red Suit and The Cat and Squirrel Dialogues, as well as producing the award winning short film, The Man in the Red Suit (based on the play). When not working on her studies, and forthcoming dissertation, Wendilyn paints, writes poetry, and is working on three upcoming original novels.
---
James Perrin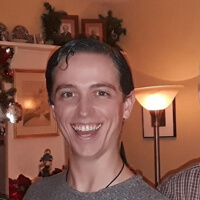 For most of James Perrin's early childhood, he assumed that he would grow up to be a scientist of some sort.  By middle school, however, he increasingly found that the depths he sought were not contained there, but in his religious life.  Following a series of Kundalini experiences in early high school, he discovered Carl Jung and Jewish mysticism, and fell in love.  He began moving toward the ministry, and his congregation nurtured his perceived call.
However, while earning his Bachelor's Degree in Religious Studies with a minor in Psychology, he found himself in quite the underworld journey.   In rapid succession, the program's social deconstruction of all epistemologies left him drowning in the Abyss of an utterly unknowable universe, he began coming out as queer, and his denomination formally rejected the idea of queer clergy.  He now looks back on those years with deep gratitude.  
Deciding to pursue an academic path, he enrolled in a Master's program in Biblical Languages, where he focused on Hebrew Bible and Queer Studies, and met the man he later married (a minister, interestingly enough).  The social setting there proved rather scarring, as James and his then-partner found themselves the targets of significant social and sexual harassment by staff and students.  It took some years before James could rekindle his heart enough to return to academia.  
During this time, he completed a two-year training program for Spiritual Directors that focused on Jung and mysticism.  He spent those years agonizing over the question of which PhD program to pursue, filling hundreds of pages in his journal.  One night, while reading the chapter of "Sacrifice and Bliss" in The Power of Myth, he read of a father claiming that he has never done anything he wanted in life.  In that moment, James realized how many times he had written in his journal "what I really want is to do the Mythological Studies program at Pacifica, but I can't afford it, and won't have a career path lined up afterwards."  It felt as if a supernova were exploding in his chest.  The heat of that joyous release and realization left no room for doubt.
In his time at Pacifica, he has become acutely aware of a particular niche that remains unfilled, one for which his life has uniquely prepared him.  The Anima and Animus archetypes in Jungian and Post-Jungian psychology, while beautiful, remain problematic for present-day cisgender, heterosexual men and women, and all-but-unworkable for LGBTQ+ folks.  James believes he has worked out how to make this element of depth psychology fully rainbow-compatible by bringing together his training in Myth, Queer Theory, and Depth Psychology.  The Odajnyk Scholarship will greatly assist in his efforts to make this dream a reality.