Patricia Danaher on LIFEFORCE
"The richness of ritual and ceremony…is incredibly healing and calming for us as humans. It's the metaphor that touches the invisible part of ourselves – our psyche, our spirit, our soul." – Patricia Danaher, M.A.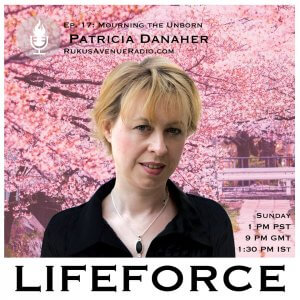 Shilpa Agarwal, LIFEFORCE Host:
Join me on LIFEFORCE with my guest, Patricia Danaher, as we talk about ritual and mourning surrounding the unborn – babies who are lost to miscarriage, stillbirth, abortion, and unsuccessful IVF –  and the ways we can heal from those deep, and oftentimes silent, losses.
or check out the replay on Spotify
Thank you @patriciadanaher5 @rukusavenueradio @dashradio and ritualstomourntheunborn.com
#miscarriage #miscarriageawareness #miscarriagesupport #stillbirth #stillbirthawareness #stillbirthsupport #ivf #healing #jizo #femalebody #fertility #grief #motherhood #ceremony #mythology #ritualstomourntheunborn #ecopsychology #zen #healyourselfhealtheworld