Author Captures Beautiful Collection of Memories Between her Husband in New Book
Dr. Ann Hedge-Carruthers' (1998 PhD Clinical Psychology) poetic everlasting romance is illustrated in new book, 'In the Long Room of Our Hearts'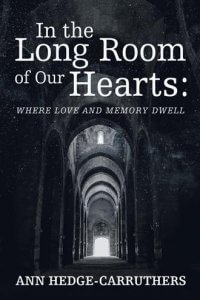 LITTLE ROCK, Ark., April 6, 2020 /PRNewswire-PRWeb/ — Life comes with many situations that can lead to heartbreak. Losing someone you love can be earth-shattering. "In the Long Room of Our Hearts: Where Love and Memory Dwell," Dr. Ann Hedge-Carruthers beautifully tells the love story between herself and her late husband, Robert Marsh Cooper. After feeling devastated by the loss of her spouse, Hedge-Carruthers began writing her way back to health. Throughout the process, she felt a connection with her partner and was able to tell their story with both wit and grace.
Hedge-Carruthers memoir includes her husband's poems and letters so that his words can be heard directly. Her book is a touching tribute to Robert and is a testament to their everlasting love, life, bond and story. The author wrote her way through her profound mourning and throughout the process realized her husband was there by her side, while they both reminisced about their love story.
"I wrote this book as a tribute to my late husband who was a poet, priest, professor and psychotherapist," said Hedge-Carruthers. "I am eager for people to be aware of him and his exquisite poetry that I have sprinkled throughout the narrative of our life together. I hope my book will help individuals who are experiencing grief and those who are looking for something to believe in beyond themselves."
"In the Long Room of Our Hearts" will help individuals who have lost a piece of themselves when their loved one passed. Readers will be inspired by Hedge-Carruthers' story of finding her way back from loss. Her memoir will show others dealing with crippling grief that they are not alone.
"In the Long Room of Our Hearts: Where Love and Memory Dwell"
By Ann Hedge-Carruthers
ISBN: 9781982230432 (softcover); 9781982230449 (hardcover); 9781982230487 (eBook)
Available at the Balboa Press Online Bookstore, Amazon and Barnes & Noble
---
About the author
Ann Hedge-Carruthers credits an eleventh-grade English teacher with opening her to the world of poetry, never guessing Hedge-Carruthers would one day fall in love with a poet. She attended the University of Texas, Austin, where she earned a Bachelor of Science in fine arts with a major in art history. Hedge-Carruthers returned to school and earned a Master of Divinity. She fell in love and married her former seminary professor, Robert M. Cooper, priest, poet, philosopher and psychotherapist. While living in Florida, she worked as a psychosocial oncology counselor at Morton Plant Cancer Center in Clearwater and commuted to Santa Barbara, California, where she earned a doctorate in clinical psychology from Pacifica Graduate Institute, with a particular focus on Jungian analysis and other depth psychologies. After the Rev. Dr. Cooper's retirement, they moved to Little Rock, Arkansas, where she opened a private practice and he served as a semi-retired associate priest at Trinity Cathedral and then priest-in-charge of Good Shepherd Chapel. These were the bittersweet years as Hedge-Carruthers watched her husband's health fail and eventually tended to him at home until his death seventeen years later. She continues in private practice and lives in the home they once shared.
For General Inquiries, Review Copies & Interview Requests:
LAVIDGE – Phoenix
Grace Bywater
480-648-7534
gbywater(at)lavidge(dot)com