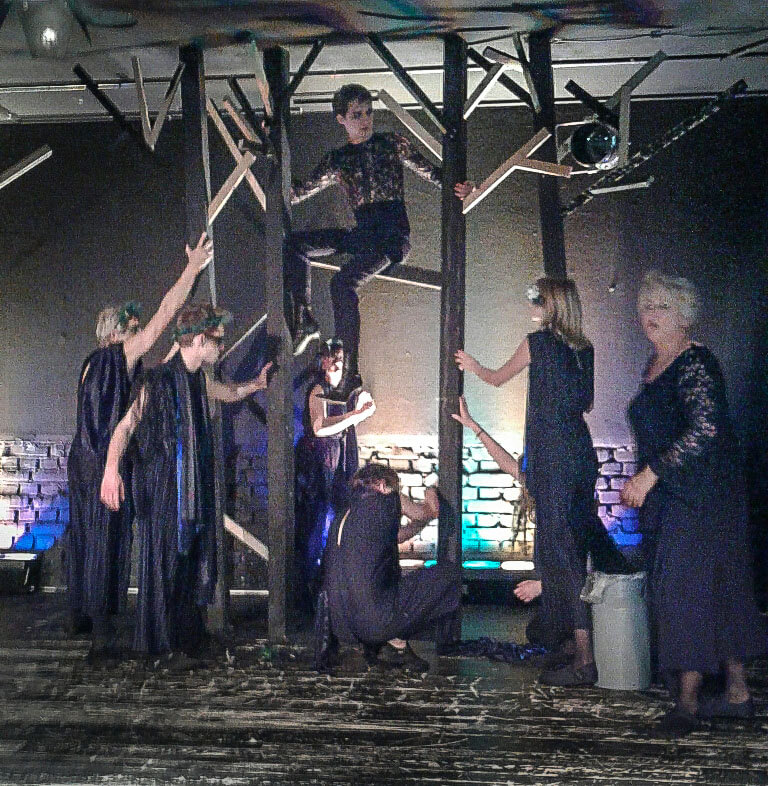 The Bacchae by Euripides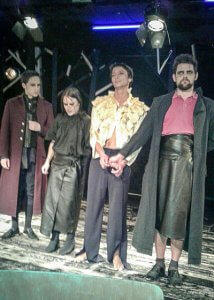 The performance of The Bacchae by Euripides, Greek classical antiquity, contemporized, actually imaginal space – no time, cyclical time; adapted for the stage primarily from a 1929 German Translation by yours truly and directed; 55 pages cut in half to 27, about 110 minutes with break 2 Hours. Image theater consisting out of Music, Sound, text, movement – a gigantic metaphor moving across stage. So far 4 Wonderful, moving Performances, 6 more to go the next two Weekends. Feb 21,22,23 and Feb 28, 29, March 1.
Review and rehearsal photos include: Dionysos caught by 2 Police spies and Pentheus, president of Thebes; Kadmos, Grandfather of Pentheus and Tiresias,friend and a blind seer; getting Ready to join the Bacchae, followers of Dionysos; Pentheus in tree to get a better view of the Bacchae dancing, celebrating; Bacchae and women Theben sleeping in the forest. Pentheus sees double – Mirrors – after being put under the spell of the God, Dionysos.
Submitted by:
MARIE ELLIOT-GARTNER, 2003 PhD Myth