A Statement from the Board of Pacifica Graduate Institute Alumni Association
We as a cultural group of Africanist people have been in an intergenerational struggle for our lives
that does not seem like it will ever end. Our lives have evolved as a cultural collective that emerged
from the African Holocaust, and we are still in the suffering of our Middle Passage ancestors.
We are also in the anger of that painful collective memory,
rekindled with every murder of a person of color.
–Dr. Fanny Brewster
We are shaken and enraged by the senseless murder of George Floyd*, and we support every social, political, and financial change that can exist to free everyone's bodies and souls from this twenty-first century pandemic of racism. Racism is a lethal weapon that leads to murder.
As Depth Psychologists and Mythologists, we are called at this time to uncover and examine the deep-seated racism that exists in our personal and collective unconscious belief systems. The strength of our American mythology balances against the weight of our history: racism has negated the promise of what America could be since the earliest settlements of Europeans. This is our hard truth: our national shadow is a swirling cauldron of fearful hate, ruling-class privilege, white-hegemony, structural racism, and systemic oppression, and it permeates all of our institutions.
We join the protestors who mourn the last breath of George Floyd. We join in mourning the thousands of souls forced into false identities as their ancestral memories slipped away.  We stand in and with these complex truths because it is time to stand in the glare of honesty, both in the greater country, and within our own Pacifica Graduate Institute itself.
We call for an American myth that embodies our diverse racial ecosystem: Indigenous peoples and immigrants from every part of the world flourishing in and caring for this nation.
Words without actions are unacceptable. Returning to the status quo is no longer an option. It is time to replace racism, hate, violence, inequality, and the fickle application of the law with a reality in which we honor all as equals, including the earth and her wondrous creations. Amidst this heartbreaking and necessary national reckoning arises a vital opening for change.
At Pacifica we have set ourselves apart with our dreams and ideals, and now we will stand apart with our actions. We join in establishing structural and systemic justice among peoples. We will, both individually and as a community, continually confront, dig into, and expose systemic racism.
Specifically, the Board of the Alumni Association of Pacifica Graduate Institute commits to a new initiative, From 2020 Forward, implementing new ways to expand the vibrancy of a Pacifica education to serve more students of color. From these efforts and with great urgency, we will engage with Pacifica leadership to also establish ways we may more effectively tend racial justice and equality across our society, the country, and the world.
Pacifica alumni all over the world can commit to being part of shaping this new myth through our work as teachers, learners, and members of the animae mundi, the soul of the world. We can all take actions through testimony, intervention, protest, prayer, politics, and more.
May we be courageous, creative, and persistent.
Contributors: Fanny Brewster, John O'Neal, Leslie Shore, Odette Springer, Stephanie Zajchowski, and Beth Anne Boardman
*Say Their Names: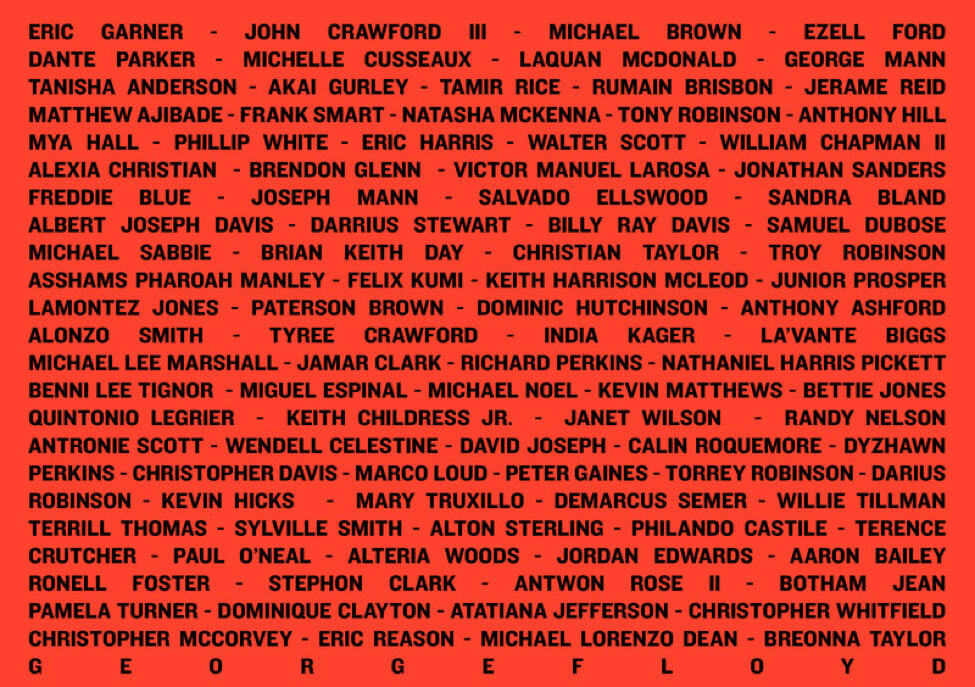 and so many more unlisted here….  Rest In Power
---
Resources
Books & Readings  
Linda Martín Alcoff (2015). The Future of Whiteness.
Robin DiAngelo (2018). White Fragility: Why It's So Hard for White People to Talk About Racism.
Caprice Hollins and Ilsa Govan (2015). Diversity, Equity, and Inclusion: Strategies for Facilitating Conversations on Race.
Allan Johnson (2006). Privilege, Power, and Difference.
Ibram X. Kendi (2016). Stamped from the Beginning: The Definitive History of Racist Ideas in America.
Ibram X. Kendi (2019). How To Be An Antiracist.
A.S. Kim, & del Prado, A. (2019). It's Time to Talk (and Listen): How to Have Constructive Conversations About Race, Class, Sexuality, Ability & Gender In a Polarized World.
Paul Kivel. (2002). Uprooting racism: How White People Can Work For Racial Justice.
Albert Memmi. (1965). The Colonizer and The Colonized.
Ijeoma Oluo (2019). So You Want to Talk About Race?
D.W. Sue (2016). Race Talk and the Conspiracy of Silence: Understanding and Facilitating Difficult Dialogues on Race.
Mary-Frances Winters (2017). We Can't Talk About That At Work!