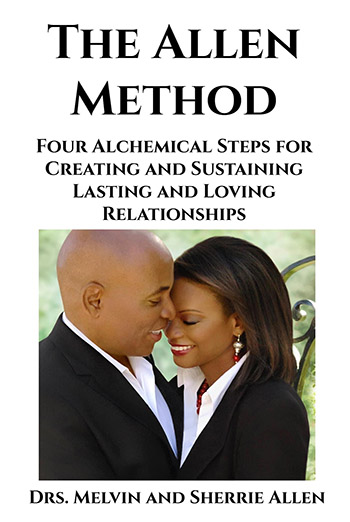 Book Title: The Allen Method: Four Alchemical Steps for Creating and Sustaining Lasting and Loving Relationships
Year Published: 2021
The Allen Method: Four Alchemical Steps for Creating and Sustaining Lasting and Loving Relationships
The Allen Method is a four-step approach to creating and sustaining loving and lasting relationships. With over fifty years of personal growth and development training, the Allens have worked their relationship alchemy with over a thousand clients, both singles and couples, leading to a 50% increase in marriages and committed relationships, a 98% decrease in relationship failures, less suffering with incompatible partnerships, and an increase in their single clients' awareness in selecting compatible personality types.
In this book you'll learn:
• The three crucial Cs of couplehood
• The importance of co-creating a spiritual partnership
• The value of using the Myers-Briggs Typology Indicator© to understand each other's personality preferences
• The necessity of bringing mindfulness to conscious coupling
About Sherrie and Melvin Allen
Pacifica Program Graduate: M.A. & Ph.D Depth Psychology; M.A. Spiritual Psychology
Drs. Melvin and Sherrie Allen hold doctorate degrees in depth psychology and two masters one in depth psychology and another in spiritual psychology. In addition, they are both MBTI practitioners, Melvin is a master practitioner. They have worked together for over 17 years as seminar facilitators, authors, writers, television hosts, lecturers, and as relationship strategists. They have designed and conducted hundreds of relationship seminars and workshops for couples and singles across the United States. Before the pandemic in 2020, as an act of service, every year they teach Myers Briggs to hundreds of high school students and nonprofit organizations. Drs. Melvin and Sherrie specialize in using MBTI in personal coaching and relationship training for singles and couples. In the singles' seminars the MBTI is used in helping singles sort potential partners that are best for a successful relationship, while achieving clarity and direction on their personal goals based on their personality type. In couples work the MBTI is used to enlighten rose colored pre-marital couples on potential areas of conflict and help conflicted couples to understand that the conflict is normal and understanding one's personality type minimizes conflict, misunderstanding, and enhancing communication. When people are in conflict it's usually with the personality type and not the person. When families work, communities work, and when communities work, the world works!