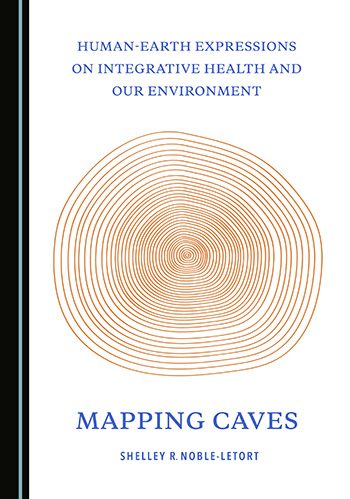 Book Title: Human-Earth Expressions on Integrative Health and Our Environment: Mapping Caves
Year Published: 2021
Human-Earth Expressions on Integrative Health and Our Environment: Mapping Caves
A lost art and science of medicine, which may have begun evolving out of the cave more than 10,000 years ago, is resurfacing and reforming into a new map of medicine that is transforming contemporary patient care. This book unearths and transfigures human-earth expressions of healing through the exploration of metaphorical and symbolic images of caves revealed as recurrent symbols for mental states and physical environments. These "caves of healing" are introduced as the caves of the human body—caverns of heart and brain, and the caves of the earth body—caverns within, below and above the earth, which expand across cultures ancient and modern, shamanic and alchemical, initiatory and technological, intuitive and inventive, and imaginal and scientific.
A mythological map is unfolded for navigating the relationship between the mind and the body, and healthcare and our environment, which invites a deeper, more integrative dialogue into much-needed philosophical, ethical and political discussions. The idea that the force of health is a force of Nature that becomes a fulcrum for healing is clarified here as a possibility for a "new medicine for the 21st century" called Integrative Health, which advances not only ancient and modern technologies, but also education, policy, research and clinical care by promoting the empowerment of personal responsibility, prevention of disease, continuity of care, and compassionate engagement between patients and healthcare practitioners. This new medicine facilitates a balanced circular ecosystem between illness and wellness, patients and healers, community and society, human and earth that revives and promotes the role of consciousness.
About Shelley Noble-Letort 
Pacifica Program Graduate: PhD in Mythological Studies with Emphasis on Depth Psychology
Shelley Noble-Letort is chairman of Nordic Integrative Medicine (NIM). NIM is currently funding for NIM HEALTHTRUST Phase One Clinical Trial on Chronic Pain and re-organizing her BOD in order to actively seek partners and investors for the establishment of the NIM CENTER FOR HEALTH, an integrative primary healthcare and clinical research center that will apply scientific evidence-based research on Integrative Medicine (IM) for the prevention and rehabilitation of patients suffering from chronic NCDs and associative chronic illnesses such as depression, pain and stress.
HUMAN-EARTH EXPRESSIONS ON INTEGRATIVE HEALTH AND OUR ENVIRONMENT:
MAPPING CAVES is now published by Cambridge Scholars UK (2021) with Foreword written by Merlin Willcox MD PhD of University of Southampton/Oxford/Cambridge UK. NIM was awarded top 40 citation at International Congress for Integrative Medicine and Health (ICIMH) for NIM Feasibility Study on Chronic Pain (2018). She was 8th President of European Congress for Integrative Medicine (2015). Her PhD research is the Depth Psychological and Mythological survey of Integrative Medicine and Global Health (2011) having graduated from UCLA (BA) and Pacifica Graduate Institute (MA/PhD). Her community involvement includes environmental, therapeutic and philanthropic work for private and public schools, societies, and non-profit organizations. Her last start-up venture was the establishment (2011) of the Santa Barbara Birth Center, the first free-standing birth center serving Santa Barbara County, California (population 500,000).
Prior to graduate school, Shelley comes from a foundation of 3 international exchange programs and a 20-year background in print and television media. She was Owner/Producer of an award-winning production company that specialized in on-location productions for international advertising campaigns for Fortune 500 Companies. She applies these production, communication, marketing, advertising and research skills within everything she is involved. She is a life-long practitioner of yoga; an experienced Yoga Alliance (E-RYT 200) certified yoga therapist since 2004/teacher since 1999. Her teachers were Nischala Devi, founding developer of the stress management portion of The Dean Ornish Program for Reversing Heart Disease and co-founder of award-winning Commonweal Cancer Help Program; as well as Rachel Naomi Remen MD, founder of The Institute for the Study of Health and Illness (ISHI) at Commonweal and The Healer's Art.
Shelley is a global citizen having lived, worked, and studied in over 15 countries worldwide.