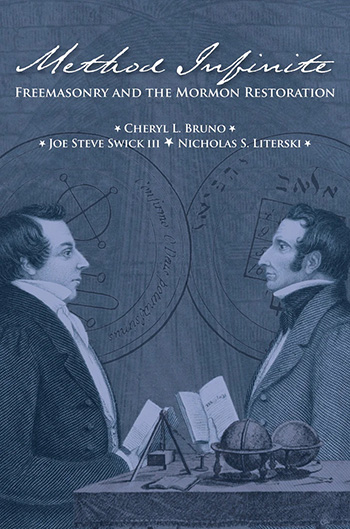 Book Title: Method Infinite: Freemasonry and the Mormon Restoration
Year Published: 2022
Method Infinite: Freemasonry and the Mormon Restoration
While no one thing can entirely explain the rise of The Church of Jesus Christ of Latter-day Saints, the historical influence of Freemasonry on this religious tradition cannot be refuted. Those who study Mormonism have been aware of the impact that Freemasonry had on the founding prophet Joseph Smith during the Nauvoo period, but his involvement in Freemasonry was arguably earlier and broader than many modern historians have admitted. The fact that the most obvious vestiges of Freemasonry are evident only in the more esoteric aspects of the Mormon faith has made it difficult to recognize, let alone fully grasp, the relevant issues. Even those with both Mormon and Masonic experience may not be versed in the nineteenth-century versions of Masonry's rituals, legends, and practices. Without this specialized background, it is easy to miss the Masonic significance of numerous early Mormon ordinances, scripture, and doctrines. Method Infinite: Freemasonry and the Mormon Restoration offers a fresh perspective on the Masonic thread present in Mormonism from its earliest days. Smith's firsthand knowledge of and experience with both Masonry and anti-Masonic currents contributed to the theology, structure, culture, tradition, history, literature, and ritual of the religion he founded.
About Nicholas S. Literski 
Pacifica Program Graduate: PhD in Depth Psychology
Nicholas S. Literski, JD, PhD, is an Adjunct Senior Lecturer in Psychology and Senior Program Manager in the School of Undergraduate Studies at the California Institute of Integral Studies, and a professional spiritual guide. Nick holds a PhD in Depth Psychology with Emphasis in Jungian and Archetypal Studies from Pacifica Graduate Institute, and a master's in Spiritual Guidance from Sofia University. Their research interests include depth psychological reflections on spirituality, Paleolithic cave art, sexual orientation, and gender identity. Nick's work has been published in Psychological Perspectives; Immanence: The Journal of Applied Mythology, Legend, and Folklore; Somatics Magazine-Journal of the Mind-Body Arts and Sciences; and the recent compilation, The Reality of Fragmentation and the Yearning for Healing: Jungian Perspectives on Democracy, Power, and Illusion in Contemporary Politics. Their new book, Method Infinite: Freemasonry and the Mormon Restoration, was released in August 2022.