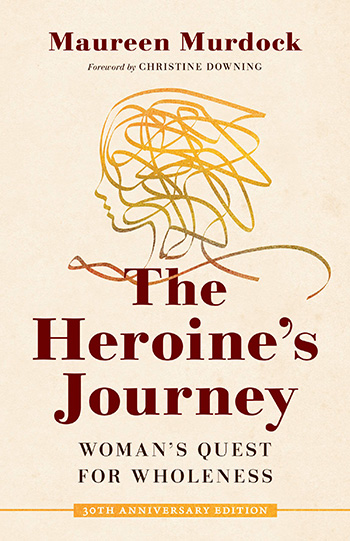 Book Title: The Heroine's Journey: Woman's Quest for Wholeness
Year Published: 2020
The Heroine's Journey: 
Woman's Quest for Wholeness
The Heroine's Journey describes contemporary woman's search for wholeness in a society where she has been defined according to masculine values. Drawing on cultural myths and fairy tales, ancient symbols and goddesses, and the dreams of contemporary women, Murdock illustrates the need for—and the reality of—feminine values in Western culture. This special anniversary edition, with a new foreword by Christine Downing and preface by the author, illuminates that this need is just as relevant today as it was when the book was originally published thirty years ago. The Heroine's Journey is now in 17 languages.
About Maureen Murdock
Pacifica Program Graduate: PhD, Mythological Studies with an Emphasis on Depth Psychology
Maureen Murdock is an author, educator, and photographer. She was Chair and Core Faculty of the MA Counseling Psychology Program at Pacifica Graduate Institute and adjunct faculty in the Depth Psychology Department at Sonoma State University.
Maureen combines her interest in the mysterious workings of the psyche with a study of mythology and a love of story telling and memoir writing. To that end she helps people explore meaning in their lives through the excavation of their memories in lectures and workshops throughout the United States, Europe, Mexico and in memoir classes for the International Women's Writing Guild, UCLA Writer's Program and in private memoir groups in Santa Barbara and Los Angeles.
Myth explores such themes as heroism, betrayal, the search for mother or father, love, and the cycles of death and rebirth. Memoirs explore the very same themes in the stories of everyday lives. Memoirists are our contemporary mythmakers, asking the same questions our ancestors did: "Who am I? Where am I going? What is my tribe? What is my purpose?" Her new book, Memoirist as Contemporary Mythmaker will be published by Shambhala in 2023.
The writing of her first book on memoir, Unreliable Truth: On Memoir and Memory (Seal Press, 2003) started as an essay about the similarities between myth and memoir but took on a more personal meaning as her mother struggled with Alzheimer's disease. Maureen began to look at the relationship of memory to identity as the loss of her mother's memory affected her sense of herself. It also brokered a healing in the relationship between mother and daughter. As Maureen wrote, the book became more and more about the relationship with her mother and less and less about myth. Unreliable Truth is both a beautifully crafted book about memoir writing and a rich, honest memoir on its own. It is used in college writing courses throughout the country.
Maureen's popularity as an author, lecturer, and workshop presenter has enriched the lives of thousands of people. Her other books include The Heroine's Journey, Fathers' Daughters: Breaking the Ties that Bind, Spinning Inward: Using Guided Imagery with Children, The Heroine's Journey Workbook and Monday Morning Memoirs: Women in the Second Half of Life.
Maureen has written articles about mental illness, addiction, and incarceration for professional journals and the Huffington Post and she volunteers in California prisons with AVP (Alternatives to Violence Project).