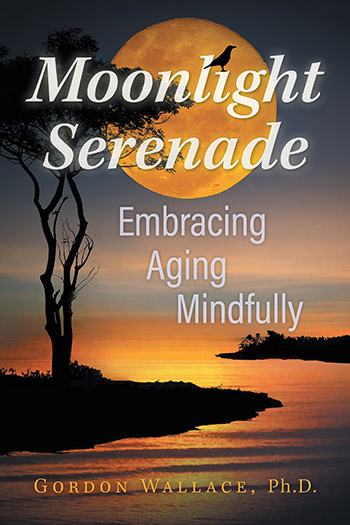 Book Title: Moonlight Serenade: Embracing Aging Mindfully
Year Published: 2022
Moonlight Serenade: Embracing Aging Mindfully
AGING:
You can run from it, but you can't hide, so the inevitable question is
HOW ARE YOU GOING TO MEET IT?
With avoidance, rigidity, or resignation on a mournful protest through your remaining years? Or will you enhance the quality of your remaining lifetime by meeting aging with acceptance, curiosity, resilience, gratitude, and even awe?
Weaving together the benefits of mindfulness meditation and Jungian psychology, Moonlight Serenade: Embracing Aging Mindfully extends an invitation to meet your aging years consciously and courageously by being aware of the inevitable passing of time; by learning to experience each moment fully; and by creating a healthy relationship with all that time presents, including the 10,000 joys and 10,000 sorrows of life. Major life provocations, including chronic pain, grief, and life-limiting illness, are challenging at any age but especially during the later years, so they are examined in-depth. Rather than a futile attempt to transcend your human experience, Moonlight Serenade provides skills and attitudes to meet your aging years boldly, confidently and wholeheartedly.
Through an unflinchingly honest and compassionate tone, Dr. Wallace guides you through a detailed nine-week program of instruction to help aging readers like yourself develop and cultivate a personal practice of mindful awareness of each moment. To assist in learning mindfulness practices, audio meditation instructions are available at the book's website.  However, this is more than a how-to book as he also resurrects aging from its cultural pessimism by extending the opportunity to courageously explore and experience an attitudinal transformation of your relationship to life.
There is a better way to live the remaining years of your life-no matter how long that may be. While aging inevitably involves losses, it also offers the opportunity for personal growth and development to become all you can be. Mindfulness meditation and Jungian practices are offered as self-sung serenades, encouraging you to lovingly court and support yourself throughout your aging moonlit years.
About Gordon Wallace
Pacifica Program Graduate: 2001 Ph.D. Clinical Psychology
Dr. Gordon Wallace earned a Ph.D. in clinical psychology, and over his lengthy career as a Psychologist, provided assessment and treatment to primarily mid-life and older clients. In addition to his clinical practice, he has maintained a mindfulness meditation practice for over 30 years and developed and taught workshops on Jungian psychology and mindfulness meditation to mental health professionals and the general public.
Since he retired from clinical practice in 2017, Dr. Wallace has continued as a volunteer to develop and teach mindfulness meditation courses addressing complex issues presented by hospice bereavement and chronic/life-limiting illness patients. In addition, he volunteers for bedside vigils with hospice palliative care patients nearing the end of life.
Dr. Wallace lives in the lower mainland of British Columbia with his wife, Lynn, and close to extended family and grandchildren.