New Earth Pivots to Meet the Needs of LA's Youth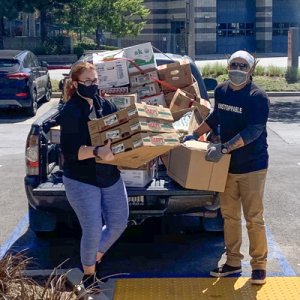 For sixteen years, New Earth has provided case management, arts, education, and job programs tojuvenile justice, foster care, and youth at risk in Los Angeles County. Since the onset of the COVID-19 pandemic, New Earth's doors remain open as a crucial resource to young people with either very little or no support during the current shifting social and global landscape. Their focus has shifted to include the offering of immediate essential resources to the most economically vulnerable youth and families in Los Angeles.
During the COVID-19 crisis, New Earth is enforcing all social distancing guidelines and protocols, as well as thorough sanitation practices. They have continued to provide the same services to youth both in- person and remotely as needed and expanded to provide youth and their families with groceries, wellness, and baby supplies each week – delivered to their doorstep. This provides them an opportunity to continue to stay in touch with their young people and offer much-needed practical and emotional support.
Transportation services to and from the Center or to obtain essential products and services are being arranged, high-speed internet access is made accessible to all students and families in need of communicating to others not staying with them in their homes, and staff is connecting parents and family members with EDD and other financial support services. The Center is also a place of refuge during the day for young people who are housing insecure.
New Earth continues to be a first responder to youth coming out of the camps and halls. They are the only organization that has ongoing remote programming in these facilities, as well as providing reentry- focused youth support services at their Arts & Leadership Center in Culver City. This direct bridge from the camps to the community has enabled them to rapidly respond to reentry youth by immediately enrolling them in school, and setting them up with their trauma-informed case management and supportive services teams immediately upon release.
Youth Diversion and Development members are receiving daily and weekly check-ins by phone and New Earth clinical and program staff are providing tele-case management and virtual classes. Any students in their charter high school diploma program are receiving help with their educational packets and distance learning. Since many of the students have been failed by the traditional school system multiple times, New Earth is doing everything they can to ensure that their students' dreams of graduating with their high school diploma this year become reality.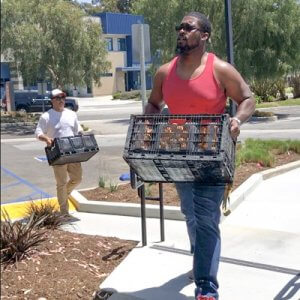 As one of the only youth centers for the community that is currently open in LA County, New Earth is seeing how great the need is, as young people and families continue to call and show up at their door each day. New Earth is committed to fulfilling its mission, in spite of the distinct challenges currently being experienced.
"It's more important than ever to surround our community in love and support – to provide groceries, mental health counseling, outlets for creative expression, and information on financial resources available to them. The impacts can't be underestimated," says Harry Grammer, Founder and President of New Earth. "New Earth remains resilient during this time, yet we need the assistance of our community at
large. We are raising funds to continue providing the essential services our most vulnerable communities need at this critical time. We're doing all we can with what we have."
If you would like to make a donation to New Earth to support their efforts during the COVID-19 pandemic, please visit their Go Fund Me page – Donate to LA's Most Vulnerable Youth. They are also accepting donations of non-perishable food, anti-bacterial cleaning supplies, paper products, snacks, and drinks.
New Earth provides mentor-based arts, educational, and vocational programs that empower juvenile justice and system-involved youth ages 13-25 to transform their lives, move toward positive, healthier life choices, and realize their full potential as contributing members of our community.