In Memoriam: Kyla Allen-Grant
Kyla made the most of her 35 years, as she touched the hearts of hundreds if not thousands of people all over the planet, and dedicated her life to one of service to all. Kyla served in AmeriCorps helping out after Hurrican Katrina. Her dream was to go into the Peace Corps, which she did after getting her undergraduate degree in Environmental Resources and was assigned to Togo Africa. There, she started a library, taught the community how to grow different vegetables to sell at markets, and figured out a way to grow three different vegetables all in the same spot of land.
One of Kyla's personal accomplishments, since she had dyslexia, was to get her Master's Degree at Pacifica Graduate Institute in depth psychotherapy. Kyla worked with high school students, mentally challenged adults, and was serving as a psychotherapist at a juvenile detention center for boys at the time of her passing. The walls of her hospital room were covered with cards from them saying that she was the best therapist ever!
Kyla was also volunteered at organic farms all over Central and South America and made lifelong friends and new family there. She also was a big environmentalist and worked in a number of National and State Parks.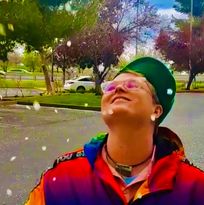 As an advocate for all of the underserved, she protested along with Indigenous Americans to stop the oil pipeline, was active in the Black Lives Matter movement, and of course vehemently supported LGBQT+ in all ways and in all things.
Kyla also never stopped moving. She started walking at eight months old and never stopped exploring the next grand adventure. She hiked both the Pacific Ridge Trail and the Pacific Coastal Trail, and climbed Mount Rainier and Mount Shasta!
She was a natural born healer, very spiritual and intuitive.
Kyla made an impact all over the planet sharing her love, compassion and humanity for ALL, all over the world. She will be remembered as someone who lived her life as an example of Inclusiveness, Oneness and Love for ALL!
She will never be forgotten!