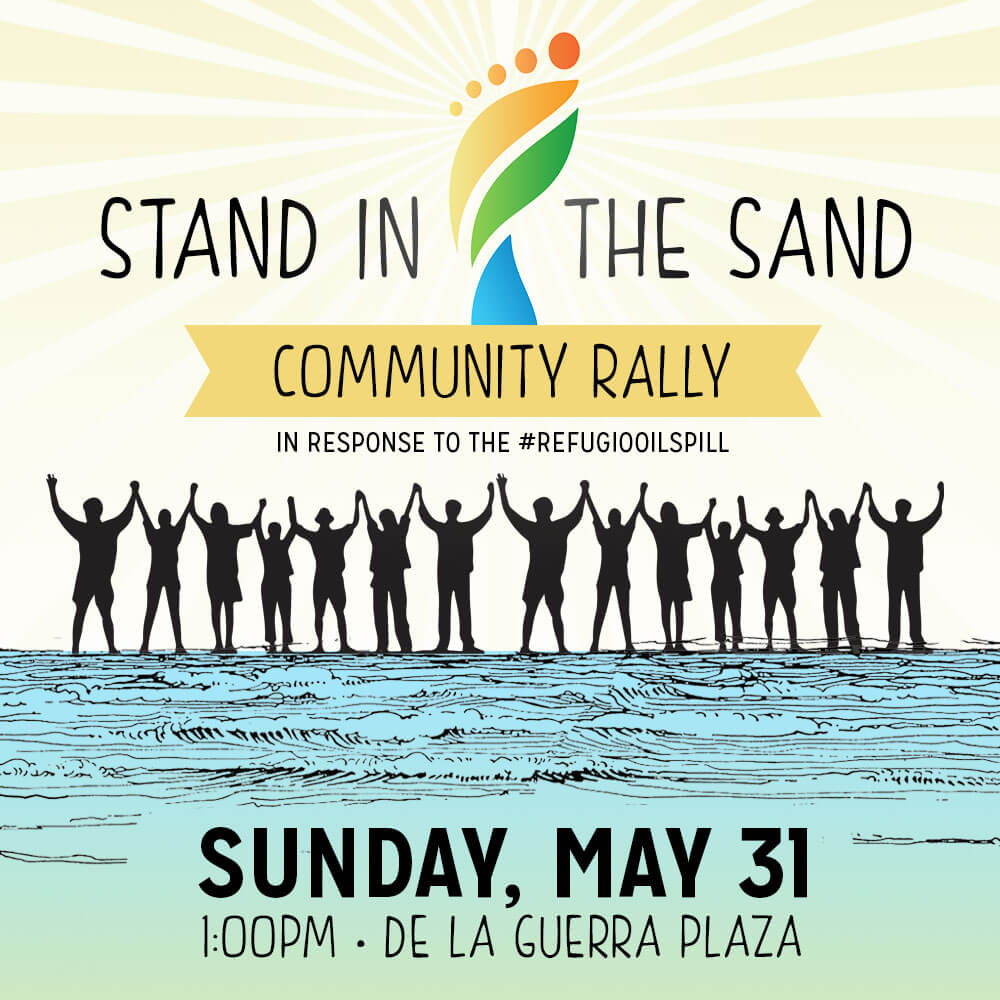 #STANDINTHESAND RALLY
DE LA GUERRA PLAZA, DOWNTOWN SANTA BARBARA
SUNDAY, MAY 31ST – 1PM
On Sunday, May 31st, Stand in the Sand will reconvene for the second time in it's five year history. We formed as a result of the Gulf Oil Spill in 2010 and effectively raised funds and built solidarity to support our Gulf Coast neighbors.
Now we support our own – Santa Barbara
At 1:00PM on Sunday, May 31st, we will gather at City Hall for a community rally with our elected leaders, nonprofits on the front lines of oil spill response, members of the public and some surprise guests. After the rally at De la Guerra plaza, we will march down State St. towards the waterfront and West Beach. To get to the beach, we will be using pedestrian sidewalks on both sides of State St…please be safe!! Upon arrival at West Beach, we will form a 'human boom' at the water's edge to symbolically stem the rising black tide. Please wear yellow!
ADDITIONAL INFORMATION:
Message: Express yourself but let's keep it as positive as possible. Let's show the world that the time of clean energy is NOW and it is time to stop the black tide!
Fundraising: We have created a GoFundMe page to assist in oil spill recovery efforts. All proceeds generated will be directed to the front lines. Special thanks to Sierra Club California who has stepped up with a generous contribution to help underwrite costs associated with our rally.
Transport: Please walk, skateboard, bike or use your special powers to arrive using any means necessary other than fossil fuels.
Attire: Please wear yellow.
Family Friendly: This is a family friendly event. Please bring your kids, paint your face and prepare for an educational experience.
Make Some Noise!: Instruments, home made signs, costumes are all highly encouraged!
Sign-Making Night: Explore Ecology/Art from Scrap will host a sign making party on Thursday, May 28th from 5-8PM at 302 E. Cota St.
Green Car & Bike Parade: If you have an electric vehicle or 'green car,' please bring it! We will have a bike valet available at De la Guerra plaza. Deck out your bike in bright and festive colors! 'Green cars' should park nearby and will be encouraged to regroup at West Beach after the rally. Feel free to put signage on your car!
Social media tag: #StandInTheSand. Follow Stand in the Sand on Twitter @_standinthesand.
FOLLOW OUR FACEBOOK PAGE FOR UP TO THE MINUTE INFO ON THE SPILL AND UPCOMING RALLY!