Other Juneteenth Events in Santa Barbara & Ventura Counties
Santa Barbara County will celebrate Juneteenth from Friday, June 16, through Friday, June 23. Check out and join the celebrations happening throughout our county!
Juneteenth Santa Ynez Valley, "Harlem Nights Renaissance"
Friday, June 16, 7 pm – 10 pm – Craft House at Corque Ballroom, 420 Alisal Road, Solvang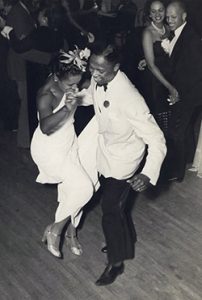 The 4th annual Solvang Juneteenth SYV celebration returns this year with a change in format and a swanky new angle. While Juneteenth celebrations of Solvang's past have had a focus on a casual, family-friendly theme, this year the festivities are all grown up.
The 2023 Juneteenth celebration takes place on Friday, June 16th from 7:00 – 10:00 pm in the ballroom of Craft House at Corque in Solvang, with the theme Harlem Nights Renaissance. This event is open to the community, and the evening promises to deliver a sophisticated fête with speakeasy vibes, comedy stand-up, spoken word poetry, live music, a 360 photo booth, and a southern-themed dinner buffet featuring fried green tomatoes, crab cakes, fondue, shrimp and grits, and Café DuMonde beignets with coffee.
Perhaps the most memorable part of the evening will be the live auction art pieces provided by several esteemed artists including, Kahinde Wiley, artist for Barack Obama's official portrait in the Smithsonian; a piece presented by the estate of the famed artist Jean-Michel Basquiat; and a mixed-media sculpture by Faith Ringgold, born in 1930 in Harlem New York and Professor of Emeritus of Art at UC San Diego.
Guests are widely encouraged to come in their very best roaring 20s-themed attire, for a sophisticated, semi-formal evening of fun and cultural immersion, and stay on for the after-party with Lex the DJ that promises to deliver cultural beats and dancing late into the night.
Early bird general admission at $99 per person, including dinner. Ticket prices go up after June 8th and ticket sales will close on June 14th. Guests are encouraged to buy tickets early and come enjoy an unforgettable evening that celebrates Black Heritage, and those who are today shaping the history of tomorrow.
Juneteenth Lompoc: Discovering Our Roots
JUNE 17, 2023
Old Town Lompoc
11:00AM – 5:00PM
Experience the jubilant spirit of African-American freedom as we come together to celebrate this special day.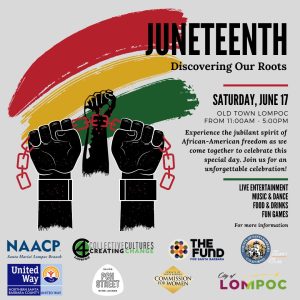 For the past two years, C4 Lompoc has co-hosted Lompoc's Juneteenth Celebration with the Santa Maria-Lompoc NAACP. Juneteenth commemorates both the experience of bondage and the experience of freedom. It is a day of sorrow and determination, representing the oppressive history of slavery as well as the hope for a better future. In essence, it is a time to reflect on the arduous period of subjugation and enslavement while celebrating the prospect of a brighter tomorrow.
Join us for an unforgettable celebration with Live Entertainment, Music & Dance, Food & Drinks, and Fun Games!
The 32nd Annual Juneteenth Celebration
The 32nd Annual Juneteenth Celebration event will be held on Saturday, June 17, 2023, at the downtown Plaza Park, Oxnard, CA from 10 AM to 5 PM.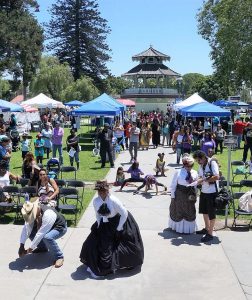 This event celebrates the 1865 historical Proclamation of Freedom from slavery in Texas. Vintage attire is welcomed and to celebrate this historic occasion, we are always excited to have The Buffalo Soldier Mounted Cavalry Unit in attendance and showcasing the American Soldiers of that era.
For 30 plus years, several primarily African American community organizations have celebrated with thousands of people in Ventura County. We are honoring the annual tradition of freedom from enslavement that uplifts our community and brings cultural awareness. It is with open hearts that we welcome all for a celebration of Juneteenth every year.  We always try to excel each year with our sharing Black history and culture, our entertainment, the latest in Health and Wellness information and to shine a light on different local artists included in our Art Walk, to name a few highlights. We are inviting you to join us as a sponsor and/or participant in this wonderful fun filled family event.