Martin Luther King, Jr. Holiday Celebrations
Weekend of Regional Events for 2023
"Life's most persistent and urgent question is, 'What are you doing for others?'"
-MLK Jr.
16th Annual Martin Luther King, Jr. Holiday Weekend
Friday, January 13th at 6pm
Service at Congregation B'nai B'rith
MLKSB student awardees.
1000 San Antonio Road, Santa Barbara
Saturday, January 14th
"Day of Service"
Volunteers encourage to participate. Sites can be selected from MLKSB.org
Sunday, January 15th
Church faith organizations honoring Rev. Dr. Martin Luther King Jr.
Locations posted on MLKSB.org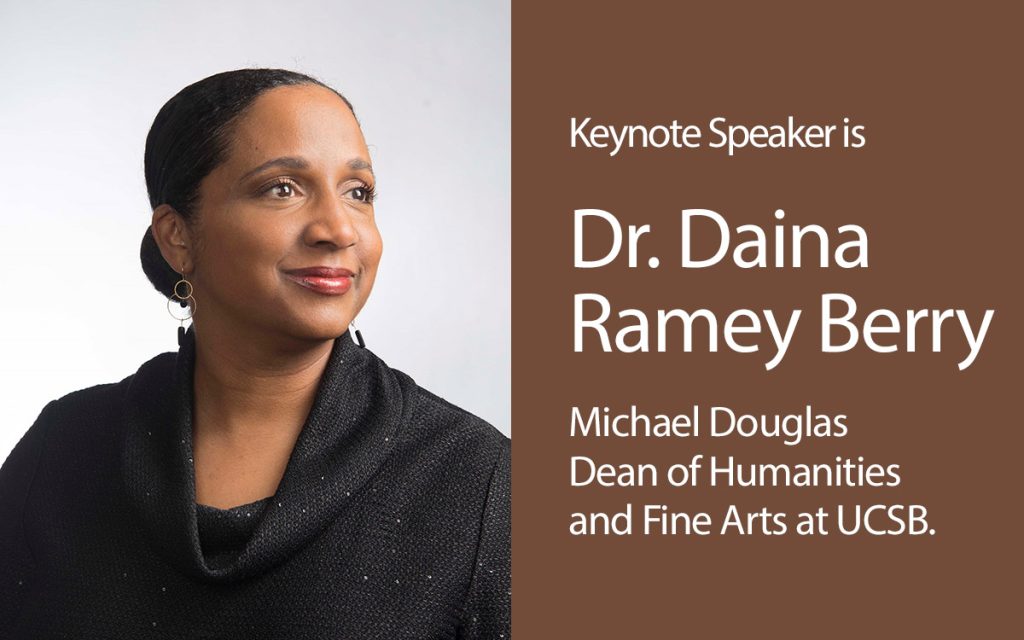 Monday, January 16, 9am – 12:30pm 
16th Annual Holiday Celebration for Martin Luther King, Jr .
An in-person event
CANCELED: 9–10am @ de la Guerra Plaza program
CANCELED: 10–10:45am Unity March Up State Street

11am-12:30 pm MLKSB Program at Arlington Theatre
The morning program with Its usual line-up of activities will begin at 9:00am at De La Guerra Plaza with an opening prayer, followed by music, school-winning Essay/Poetry readings.
Join the beat with the World Dance for Humanity Group at the end of the program to get your body stimulated for the march up State Street at 10am to the Arlington Theatre where the 90-minute program will begin at 11 am.
Keynote Speaker is Dr. Daina (pronounced Di-Nah) Ramey Berry, who is the Michael Douglas Dean of Humanities and Fine Arts at UCSB.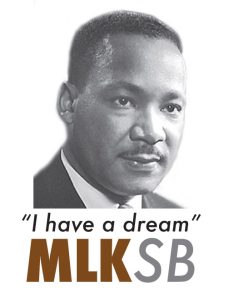 Info: Isaac Garrett (805) 729-1143 or info@mlksb.org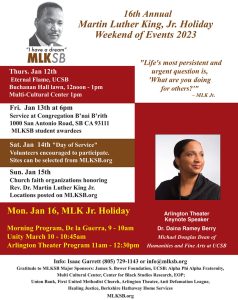 Gratitude to MLKSB Major Sponsors: James S. Bower Foundation, UCSB: Alpha Phi Alpha Fraternity, Multi Cultural Center, Center for Black Studies Research, EOP; Union Bank, First United Methodist Church, Arlington Theater, Anti Defamation League, Healing Justice, Berkshire Hathaway Home Services MLKSB.org
The mission of the Martin Luther King, Jr. Committee of Santa Barbara is to foster positive relationships between the many diverse groups in the Santa Barbara Community and the surrounding areas; to sponsor programs and events which exemplify the teachings of Dr. King; and to observe and celebrate the Martin Luther King, Jr. Holiday.
LOMPOC
January 16th
Peace March – Unity in Our Community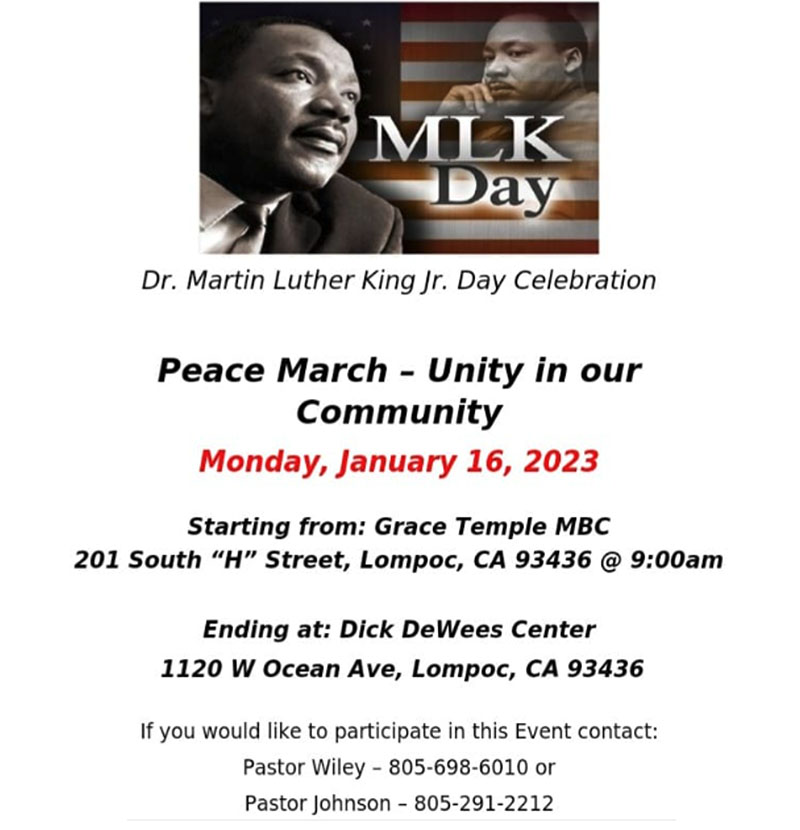 SAN LUIS OBISPO
January 16th
Dr. Martin Luther King Jr. Day Cleanup
at Pirate's Cove: ECOSLO
Honor Dr. Martin Luther King Jr. with ECOSLO for a cleanup at Pirates Cove where we help to clean up the natural area.
About this Event
Where: Pirate's Cove – Cave Landing
When: Monday, January 16th 9AM-11AM
Please wear closed-toe shoes. We encourage you to bring a hat, water, a snack and sunscreen if you need it! Cleanup buckets and litter grabbers are provided but you are encouraged to bring your own gloves if you have them.
**Each person in a group needs to sign-up individually to save their spot. There are only 30 spots available for this cleanup event. If you have, any questions contact Allie at allie@ecoslo.org or 805-710-8017.
Once you have signed up, an ECOSLO representative will reach out to have you sign a waiver.
LOS ANGELES
2023 UNCF Martin Luther King Jr. Breakfast – Los Angeles
UNCF Los Angeles and the Los Angeles Inter-Alumni Council will host the 37th Annual Dr. Martin Luther King Jr. Awards Breakfast on Monday, January 16, 2023 at The Proud Bird Events Center.
Celebrating the life and legacy of civil rights activist Dr. Martin Luther King Jr., this annual event brings together alumni and friends of our 37 member institutions for a day of inspiration and fellowship – all while raising money to help send more students to and through college. The event includes a full-service breakfast, entertainment, and a keynote address by Dr. George T. French, Jr. president of Clark Atlanta University, in Atlanta Georgia. Don't miss the dynamic HBCU roll call. Show your school spirit!
You don't want to miss it! Get your tickets today by calling 213.639.3800 or emailing UNCF-LAEvents@uncf.org or Gilmoremarketinggroup@gmail.com
Presented by UNCF Los Angeles.
Congress Of Racial Equality of California KINGDOM DAY PARADE
Monday, January 16, 2023 – 11AM – LIVE
"Americas Biggest Birthday Celebration of
Dr. Martin Luther King"
Starting at Western & MLK Jr. Blvd.
SAN DIEGO
41st Annual

Dr. Martin Luther King Jr. Parade
January 15th, 2023
2 p.m. to 5 p.m.
Join us on Harbor Drive for the 41st Annual Martin Luther King Jr. Parade! This is one of the largest celebrations of its kind in the United States in honor of Dr. Martin Luther King Jr. The parade is filled with dazzling floats, phenomenal High School Bands, Drill Teams, Colleges/Universities, Fraternities, Sororities, Churches, Peace and Youth organizations.
This parade is coordinated by the Zeta Sigma Lambda Chapter of Alpha Phi Alpha Fraternity Inc., the oldest African American fraternity in America, founded in 1906. The seven men who founded this organization at Cornell University in Ithaca New York recognized the need for a strong bond of Brotherhood among African descendants in this country. Dr. King was a member of Alpha Phi Alpha.
Come and join your community and help continue the legacy of Dr. Martin Luther King Jr. This event supports scholarship opportunities for the youth of San Diego.
Interested in participating, volunteering, or sponsorship opportunities? Email Brian Samuels at SDMLKparade@sandiegoalphas.com.
More information at: www.sandiegoalphas.com
ONLINE FOR STUDENTS
January 16th
Give More Love – MLK Service Day Workshop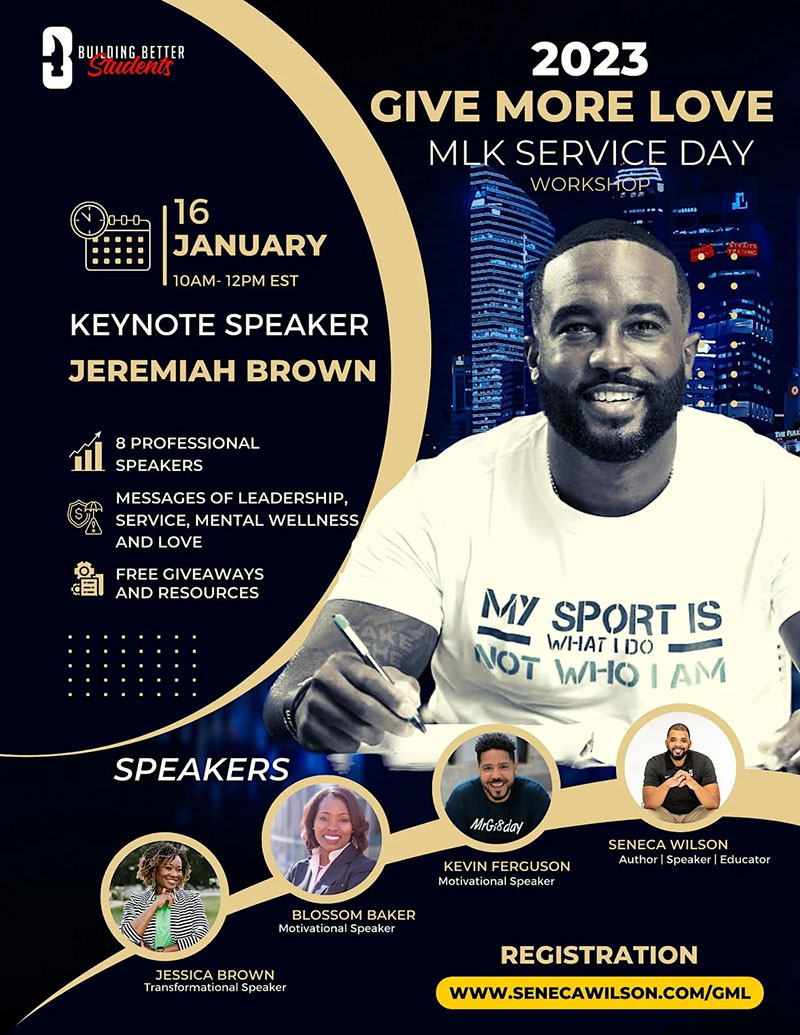 WORDS OF INSPIRATION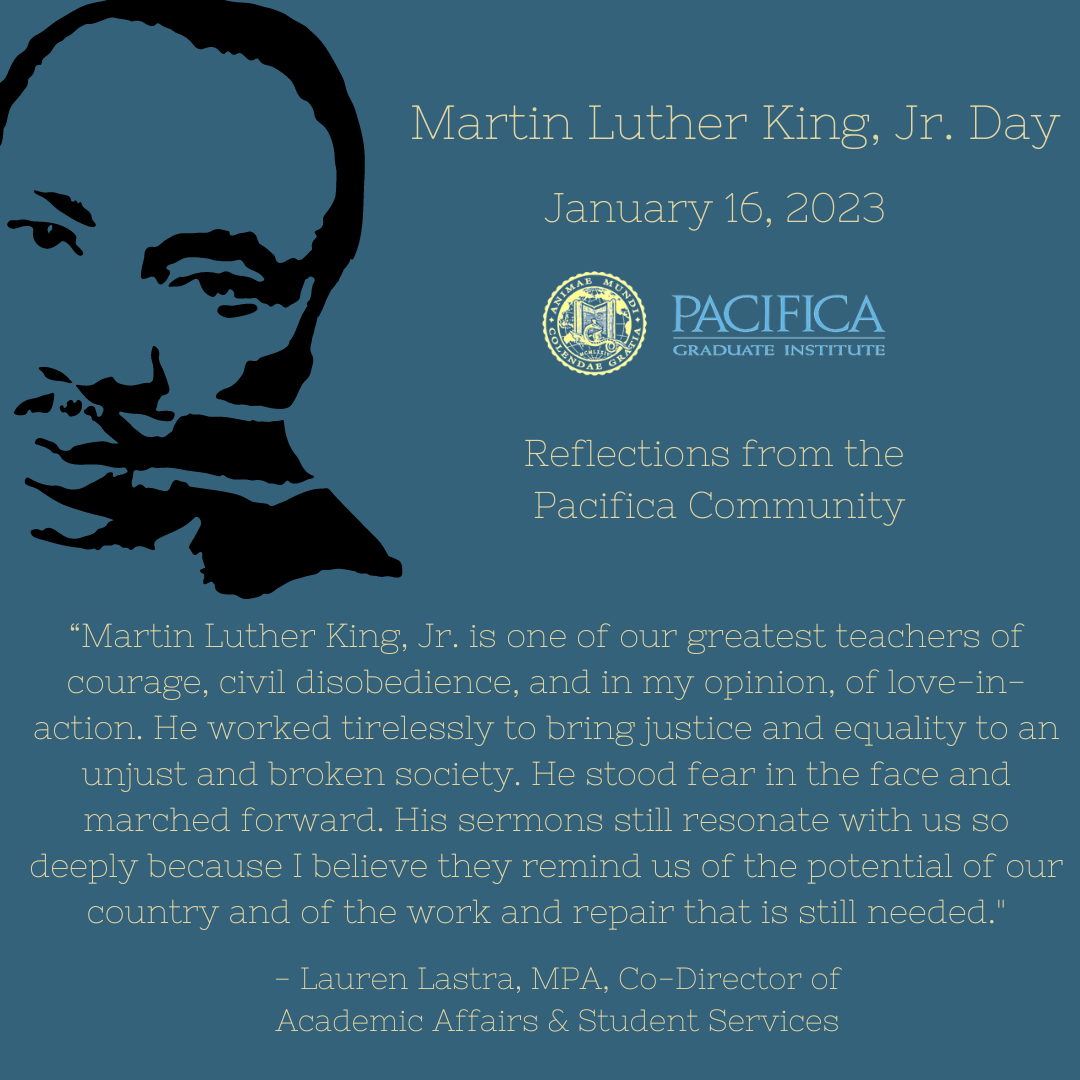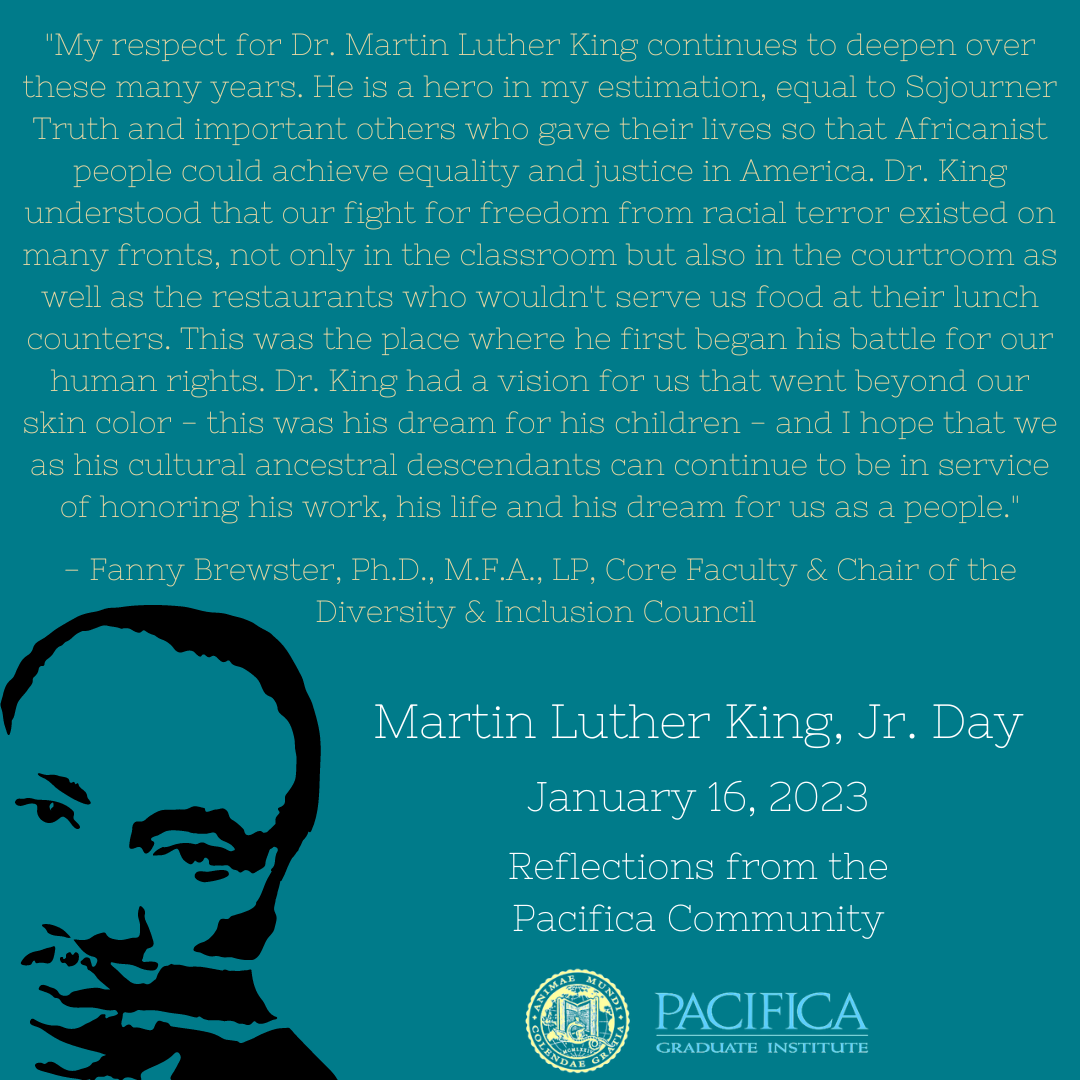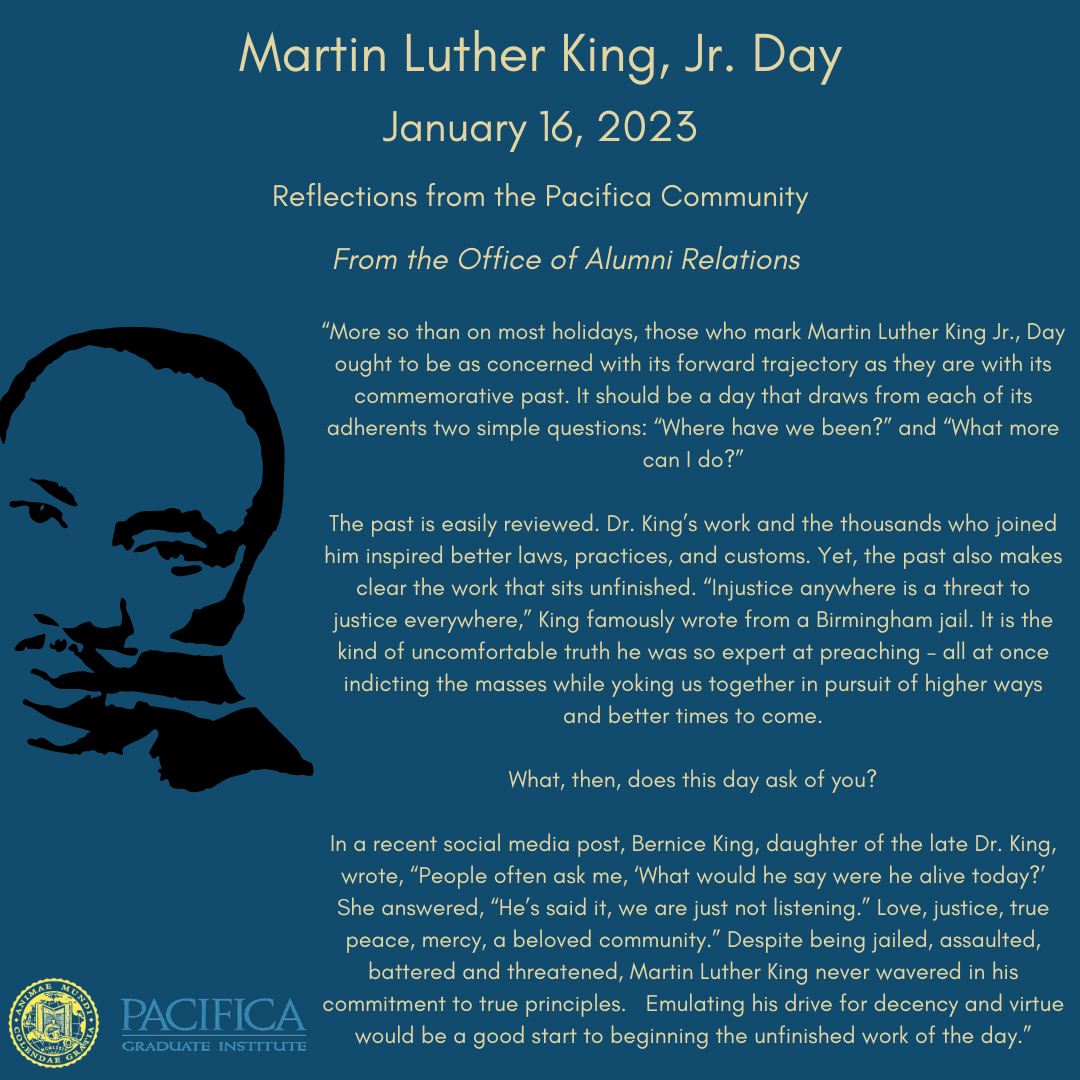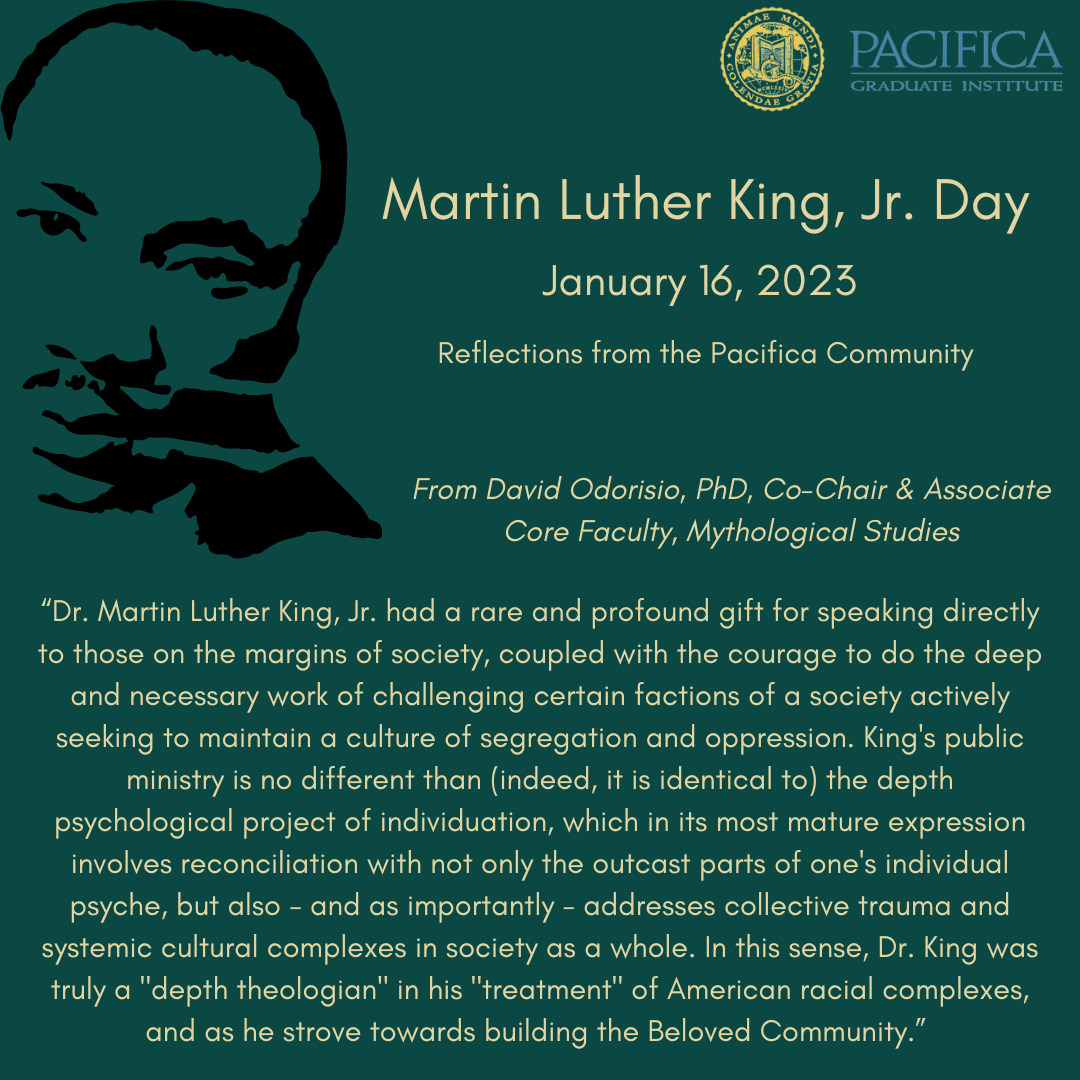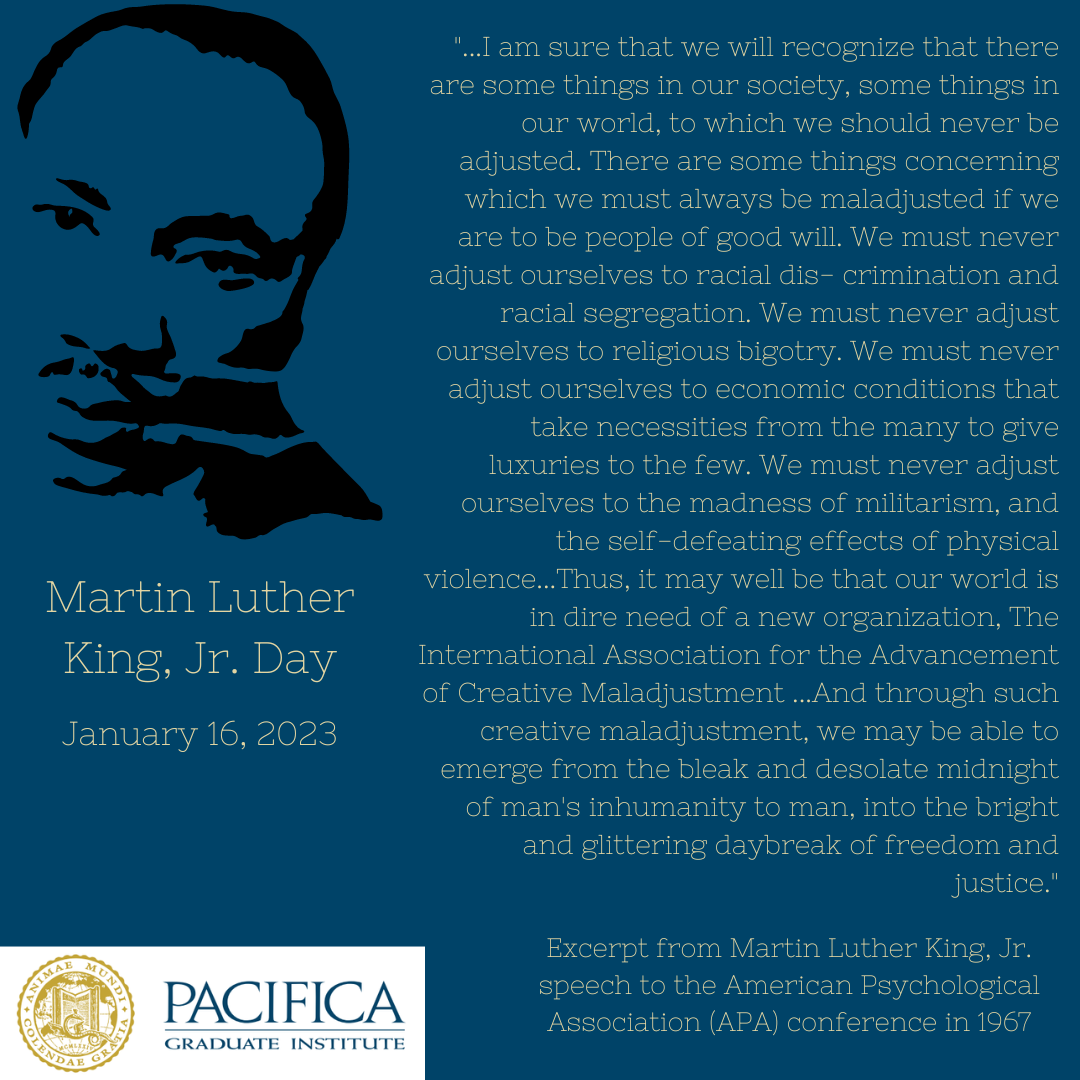 THE DREAM: A FORGOTTEN CALL TO ACTION?