LAUNCHING YOUR TELEMENTAL HEALTH PRACTICE
Friday, July 17, 2020
12:00pm – 1:30pm (PT)
Offered online via Zoom.
A link will be sent out prior to the event
Registration Fees:
This program is offered at no cost courtesy of SimplePractice
OVERVIEW
Join SimplePractice for this exclusive webinar with Board-Certified Telemental Health Counselor Michael Jones. Michael will share how you can successfully launch your telemental health practice. He'll also dive into specifics like insurance coverage, state licensing, fee-setting, and more. Get ready to learn how to prepare, strategize, and market a sustainable virtual practice.
Presentation overview
Discussing various telemental health platforms
Marketing and advertising your services
Strategies on insurance coverage
Process to get approved by other state licensing boards
Setting fees
Converting current on-ground clients to telemental health clients
FEATURED PRESENTERS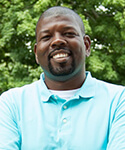 Michael Jones is a Licensed Professional Counselor, Nationally Certified Counselor, and Board Certified Telemental Health Counselor. He is a doctoral student in Counselor Education and Supervision at Regent University. He is the President of the Arkansas Counseling Association and recently appointed to be a member of the American Counseling Association Ethics Committee. He has been in the mental health field for over 17 years. He is a published author on the topics of social justice and telemental health counseling. His research interests include: telemental health counseling/supervision, ethics, private practice consultations, and multicultural issues.