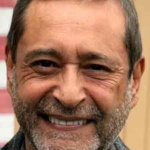 PathPoint has announced the addition of Salvador Treviño, clinical psychologist, to its Behavioral Health Division.
Through a partnership with the Santa Barbara County Department of Public Health, Treviño will provide mental health services at two neighborhood clinics: Franklin Health Care Clinic in downtown Santa Barbara and Carpinteria Health Care Center.
"Salvador brings a unique combination of clinical skills, roots in the community, and a multicultural perspective to his work," said Jennifer Newbold, executive director, PathPoint Behavioral Health.
"Mental health is a key component of overall wellness and we're pleased to provide the community with this service," she said.
Treviño specializes in Latino mental health and cultural trauma. He brings administrative and clinical experience to the position as a psychologist, marriage and family therapist, and professor.
Prior to joining PathPoint, Treviño was the director of practicum for the Psychology Doctoral Program in Clinical Psychology at Antioch University.
He also was a supervisor at the Hosford Clinic, UCSB, supervising Latino doctoral students in Latino mental health conducting outreach at St. George Youth Center in Isla Visa.
Treviño also served as a counselor with Santa Barbara County Alcohol, Drug and Mental Health Services and Santa Barbara City College. He earned a PhD in psychology from Pacifica Graduate Institute.
Bringing culturally competent primary care and mental health care to the community is vital, Treviño said. Reducing disparities in behavioral health care — promoting health equity — is a form of social equity.
— Jeannie Barbieri-Low for PathPoint.
Source: Noozhawk