Home – Revisited
by Annie Parry PhD. Myth E.
As a recovering PhD graduate, I imagine that like most alum, I am reluctant to spend more money on Pacifica – or on any further "post-grad" education and travel. In addition, my life is "full to brimming over", (which is code for OMFG, how did I get so busy?) The prospect of spending a few days out of Canada's winter and in Santa Barbara brought on palpitations; still, I waited until the last minute to reserve a bed and a seat at the recent 2015 PGIAA annual meeting and "Coming Home" lecture series hosted by the now-independent 501(c)3 PGI Alumni Association (PGIAA). And wow! What a terrific and rejuvenating weekend it was.
Besides being with alum friends, getting updates on our alumni association's successes and challenges over the past four years, I attended seminars that rekindled my connection to Pacifica's mythic vision. It was difficult to choose between concurrent sessions – many of them by Pacifica alum. I particularly enjoyed Seldon Edwards' 30-year journey to writing financially successful novels and international script consultant/writer Dara Marks' lecture on "Engaging the Feminine Heroic". Guest lecturer Dr. Bernardo Nante charmed some of us with his talk on "Human Vocation", all the while employing the interrelation between Psychology, Religion, and Comparative Western-Oriental Philosophy.
Probably the most exciting part of the weekend was meeting five graduates from Alchemy Inc., Kwame Scruggs' mythic program for young men in Ohio highlighted in filmmaker Karina Epperleins' documentary about the program, "Finding the Gold Within". On Sunday morning, Jennifer Selig's insightful and moving presentation on Rev. Dr. Martin Luther King, Jr. was a perfect way to come together on Sunday morning. The weekend wrapped up with something extraordinary; aesthetic arrest is the only way to describe what it was like to Darius Simpson, one of the young stars of "Finding the Gold Within" drum and perform his slam poetry.
Pacifica and our PGIAA fuel my curiosity like none other.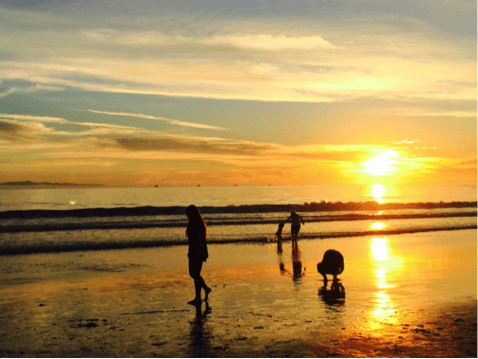 Sunset at Carpenteria Beach: 01/18/2015 by Annie Parry PhD.