Cacky Mellor Receives Peter A. Levine Research Award
Dissertation Leadership from Somatic Experiencing International for "Somatic Reclamation: Exploring the Lived Experience of Word Woundings"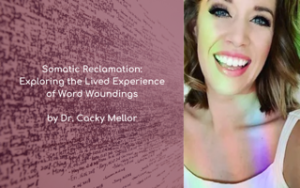 In October 2022, Dr. Cacky Mellor was awarded one of two Peter A. Levine Research Awards for her work exploring word woundings and the process of coming into relationship with them. The award is given for methodological excellence, high impact, cultural responsiveness, and somatic experiencing relevance. Her dissertation titled "Somatic Reclamation: Exploring the Lived Experience of Word Woundings" is an interdisciplinary arts-based study examining the power of words to effect us physically, psychologically, spiritually, and socially. Somatic Experiencing International recently announced a research salon presentation featuring her project scheduled for May.
Thank you to Dr. Mellor for building the evidence base for SE!
Read the full award announcement here.
About Dr. Mellor
Cacky Mellor is a double alumna, Ph.D./MA in Depth Psychology with an emphasis in Somatic Studies (2021/2017). She is Visiting Faculty at Lesley University's Psychology & Applied Therapies department and has a remote somatic private practice, Somatic Reclamation, working with individuals. She has spent the past 15+ years studying the power of words on the body, mind, soul, and society. In undergrad, she studied art therapy and holistic psychology at Lesley University, after which she received her Masters of Education in art-based activism and social entrepreneurship from Lesley's Graduate School of Arts and Social Sciences. She earned her PhD in Depth Psychology with an emphasis in Somatic Studies at Pacifica Graduate Institute. Dr. Mellor's current scholarship is centered around the internalization of language, narrative, and trauma on a somatic level and how it affects interpersonal and intrapersonal relationships. She is deeply passionate about social justice, the arts, intergenerational trauma, and somatics.