Welcome to Hel: Navigating Times of Mythic Collective Illness
Presented by Craig Chalquist, Ph.D.
Wed, April 15, 2020
6:00 PM – 7:00 PM PDT
A free online webinar discussion of what folklore can tell us about learning from and enduring social contagions.
About this Event
How do the humanities—specifically, story and folklore—help us during times of widespread disruption and fear? What do old tales tell us about 1. diagnosing collective illness, 2. healing from it, and 3. post-heroic repair? Where does ecopsychology come in?
Click here to register for this free webinar.
---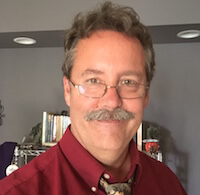 Craig Chalquist, Ph.D. is core faculty in East-West Psychology and former Associate Provost of Pacifica Graduate Institute. He teaches at the intersection of psyche, story, nature, reenchantment, and imagination through courses on depth psychology, applied folklore, ecotherapy, and his own field of terrapsychology, the study of how the things of the world get into our hearts and live there: "Converse with everything!" Founder of the world's first ecotherapy certificate program, Dr. Chalquist is on the board of Holos Institute and on the editorial board of the journal Ecopsychology.
His books include Ecotherapy: Healing with Nature in Mind (edited with Linda Buzzell; Counterpoint, 2008), Myths Among Us: When Timeless Tales Return to Life (World Soul Books, 2018), and the forthcoming Terrapsychological Inquiry: Restorying Our Relationship with Nature, Place, and Planet(Routledge, 2020).
Visit Worldrede.com and also Terrapsych.com.