• Alumni News •
The original website of the Pacifica Graduate Institute Alumni Association (PGIAA) included a section titled "Alumni News" that served as a blog roll of testimonials, remembrances, and comments on student experiences exploring, attending, and reflecting on Pacifica. We include that section here — with an invitation for your submissions of further offerings under our current "Alumni In Action" section.
•|•|•
Artist reception on Friday, May 17, 2013
| originally posted 14 May 2013
Pacifica Office of Alumni Relations invites the Pacifica community, alumni, and the general public to an artist reception at the Ladera Campus on Friday, May 17, 2013 from 5:30 p.m. to 8:00 p.m. Artist Leslie Clark of Nomads Gallery in Ojai is currently displaying art in the Ladera lobby and in the Chancellor's Offices of the Ladera west wing. View the media bulletin here: 2013 Artist Reception.
•|•
Labyrinth installation meeting details
| originally posted 16 Dec 2012
Here are meeting details for today's labyrinth installation event.
Schedule for Sunday, December 16, 2012:
3:30 p.m. -3:45 p.m. | Gather at southwest corner of Lambert campus. Walk down road to the farm. Look for an opening in the fence. Look for greeters.
4:00 p.m. | Chumash Elder Blessing of Land
After blessing the site on the lower campus, travel to Ladera campus. Meet at upper labyrinth site, located in grove between swimming pool and handball court.
Bring flashlight and umbrella!
•|•
Pacifica labyrinth installations begin December 16
| originally posted 5 Dec 2012
A collaboration between two cohorts is inviting the Pacifica community to labyrinth installation events this month on both Pacifica campuses. The events begin Sunday, December 16, 2012 with a blessing on the land at each labyrinth site by Adelina Alva-Padilla, Spiritual Leader of the Santa Ynez Band of Chumash Indians of the Santa Ynez Valley. The installations proceed through the week and culminate in a Friday night celebration of the auspicious 2012 Winter Solstice. The organizing cohorts — Track P CLE 2015 and Track C Counseling Psychology 2005 — have been working on the labyrinth projects for the past 1+ and 9 years, respectively, as their class gifts to Pacifica.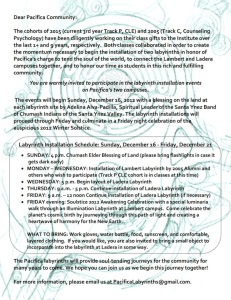 •|•
Orange County alumni gathering November 10
| originally posted 5 Nov 2012
Greetings, SoCal Pacificites and potential Pacificites!
The Orange County chapter of Pacifica Graduate Institute's Alumni Association would like to invite you to its inaugural gathering, taking place this Saturday, November 10, from 4 p.m. to 7 p.m. at the Santa Ana College Art Gallery inside the beautiful Santora Arts Building in Santa Ana, California.
Appetizers and wine will be served, fun-based ceremony will intertwine with reminiscences, and dreaming forward our collective and individual visions will ensue. Come and enjoy the camaraderie, grab a gift bag, form new connections, and reforge old ones! Bring ideas about what activities you'd like to see further down the road!
The Santora Arts building is located at 207 North Broadway in Santa Ana, 92701. The Santa Ana College gallery is inside and up the stairs to Suite Q. View directions with images of the location here: Santora Arts/Yelp.
Parking on the street is limited, but there are numerous parking lots and structures within one block in any direction.
We are so looking forward to seeing you!
Warmest Regards from your Orange County Team,
Beth Boardman • Gary Cook • Marilyn Owen • Carolyn Millar • and the inimitable, effervescent Dianne Travis-Teague
•|•
Alternatives to Violence advanced workshop Nov. 9-11
| originally posted 17 Sept 2012
Are you interested in co-facilitating Alternatives to Violence workshops in prisons and community groups? If you missed the Alternatives to Violence Basic Workshop ≥internal link to Watkins B≤ that was held at Pacifica in August, but want to join us for the Advanced Workshop Nov. 9-11, you can still do so by taking the Basic in Santa Barbara at Palabra, September 22-24. To register for the Basic, contact Judy Nason at nason@cox.net. For the Advanced workshop after you have taken the Basic, contact me at  mwatkins@pacifica.edu. Get a peek inside of AVP by watching this 15 minute documentary by Blaze Nowara.
•|•
Alumni discounts for EPPP prep coursework
| originally posted 12 Sept 2012
The Association for Advanced Training in the Behavioral Sciences is offering discounts to Pacifica alumni for two of its courses for the Examination for Professional Practice of Psychology (EPPP): EPPP Live 4-Day Comprehensive Workshop and EPPP 10-Session Online Group Consultation Series. Follow the links for program details and discount codes.
•|•
Alumni Association in new course catalog
| originally posted 22 Mar 2012
The Alumni Association is featured in Pacifica Graduate Institute's latest annual course catalog. Turn to page 15 in the 2012-2013 catalog, which is expected to be released next week, and find the Alumni Association on a page about life after graduation. Prominent is the Alumni Association's statement of intention: "The Alumni Association of Pacifica Graduate Institute fosters relationships at the Institute and beyond. With more than 3,000 members, it works to cultivate and deepen connections between the Institute and the Pacifica alumni community, offering particular attention to assisting and advancing vocational excellence. Established in 2011 in partnership with the Office of the Chancellor, Pacifica's Alumni Association strives to stimulate interest, increase involvement, and support the professional, intellectual, and sacred callings of all Pacifica alumni." For a quick view, enlarge the image below or click here: assets/artifact/1319.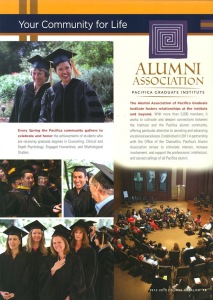 •|•
Access to Pacifica ebrary service extended to alumni
| originally posted 3 Feb 2012
The Graduate Research Library is pleased to announce that all alumni now have access to the ebrary Psychology and Social Work Collection of ebooks accessible via the library's Research Databases page.
Ebrary contains more than 4,000 ebooks, and allows you to use a special ebrary reader to view ebooks, as well as listen to them. In addition, ebrary provides, free of charge, personalized accounts for you. In those accounts, you can save ebooks to your own bookshelf, including online notes and annotations you may have made in ebooks. For more information on using ebrary's features, including its personalized bookshelf, screen reader, printing and copying, searching for chapters, and more, see:
When on-campus, you do not need to login to ebrary unless you want to use your personalized bookshelf and account. Should you choose to do so, you will be presented with the Library Off-Campus Login screen. Enter your off-campus username and password  to access your account. When off-campus, your login and password will automatically log you into your ebrary account, or auto-generate your account if it is the first time you have accessed ebrary.
If you have any further questions, please contact the Pacifica Graduate Research Library.
•|•
A Gathering to Offer Tribute and Celebrate the Life and Work of James Hillman
| originally posted 27 Jan 2012
Over the first weekend of March we will gather and pay tribute to James Hillman, the man and his work. We gather to honor Dr. Hillman and his legacy of Archetypal Psychology that we hold dear. We also gather to carry the vital importance of this tradition in the world today and into the future. From the beginning, James Hillman's work has been core to the mission and vision of Pacifica Graduate Institute. His intellectual passion, his thought of the heart, expresses itself through faculty who have taught and been central to the Archetypal initiative. Pacifica's students and alumni, as well, are making newly creative contributions to the field. With this memorial and celebration we honor his legacy and further commit to stewarding the work we find so crucial, a mode of perception that sees into and engages the psyche of individuals, community, culture, and the anima mundi, the soul of the world. We welcome all of you who have been touched in some way by Dr. Hillman's teachings and critical insights to join us. We invite you to be part of an on-going dialogue that sustains the flourishing of Archetypal Psychology and offers tribute to the lifework of James Hillman.
•|•
Los Angeles: Concepts, Connections and Creativity
| originally posted 25 Jan 2012
Allen Koehn, core faculty member of Pacifica's M.A. Counseling Psychology Program, presents the lecture "Concepts, Connections and Creativity" on February 17 and February 24 at the Carl Jung Institute of Los Angeles.
•|•
Pacifica's academic programs start East Coast presence in Spring 2012
| originally posted 2 Jan 2012
Pacifica is very pleased to announce that beginning this spring, we will have an East Coast presence! Two of Pacifica's "hybrid" programs (4 residentials per year with online learning in between) will be holding classes in Manhattan at the New York Open Center with five day residentials in spring and fall. These are the M.A. in Engaged Humanities and the Creative Life, and the M.A./Ph.D. in Depth Psychology Emphasis in Jungian and Archetypal Studies. Both programs are chaired by Dr. Jennifer Leigh Selig (PhD Depth 04). If you're a local New Yorker and would like to be involved, Jennifer would love to hear from you. You can email her at jselig@pacifica.edu.
•|•
PGI tête-à-tête®: New talk series to commence in 2012
| originally posted 1 Jan 2012
Pacifica Graduate Institute's Office of Alumni Affairs is pleased to announce plans for a new talk series entitled PGI tête-à-tête. The series aims to bring Pacifica's alumni into closer and deeper conversation. Invited PGI faculty experts will lead engaging conversations that explore some of today's most compelling topics. Alumni can participate via Internet or telephone connection, in real-time during the conversation events, or later via online archives.
PGI tête-à-têtes® are planned to take place every other month starting in the fall. The talks are expected to run approximately half an hour, and alumni will be encouraged to email in questions during the live broadcast of the conversation so that talk participants can answer the questions in real time. For those who are unable to listen live, a recording of the talk will be made available online via the Alumni Association website.
There is no charge to listen or to ask questions, but these talks are open only to Pacifica alumni, and event pre-registration may be required. We invite all alumni to suggest topics, request speakers and facilitators, register for events, and learn more about the series schedule as plans evolve.