2022 Abakanowicz Fellowship Awardees
The Abakanowicz Arts and Culture Charitable Foundation (AACCF), in collaboration with Pacifica Graduate Institute Alumni Association, is pleased to announce the 2022 Abakanowicz Community and Ecological Fieldwork and Research Fellowships.
AACCF was established in 2018 to promote the legacy of Magdalena Abakanowicz and to fund programs that investigate concepts of human creativity, the role of art as a visual language within cultures and a dynamic force within contemporary society, and the intersection of art and other modes of inquiry for the purposes of extending the meaning and relevance of Abakanowicz's art and its underlying ideas. Applicants must be a second-year, third-year, or dissertation student in good standing with the Community, Liberation, Indigenous, and Ecopsychology (CLIE) Program at Pacifica Graduate Institute.
"This summer I am conducting eco-community praxis in Barbados, in accompaniment with the non-profit organization WIRRED (Walkers Institute for Regenerative Research and Design). Much of Barbados has been deforested to make space for sugarcane monocropping, and the legacies of slavery still impact the visual topology of the land – pathos is imprinted on the material flesh of the region. Barbadian soil, the highly porous dimension of place that has been dismembered at the hands of coloniality, is being regenerated through WIRRED's agro-ecological initiative. Given my previous experience as an educator in school gardens, this group has asked me to implement vermicomposting (worm composting) systems and teach community members and youth about composting for ecological stewardship and soil care.
Just as Magdalena Abakanowicz used visual mediums to depict the emotional tonality of her socio-political context, my use of paint comes from a desire to make apparent the affective edge of experience in a place where the degradation of soil came in concert with the human damages of slavery. In modern soil science, digital soilscapes are subterranean maps that provide data that helps corporations identify potential areas suitable for mining (Hewitt et. al, 2008). I plan to paint soilscapes as a creative performance of dissent that opposes the hegemonic mode of "seeing" soils as a site of extraction. Painting will also support my practice of critical self-reflexivity; exploring the contradictions of my own sensuous experience as a white-bodied transplant/outsider who is participating within the non-profit industrial complex and this highly Creolized lifeworld."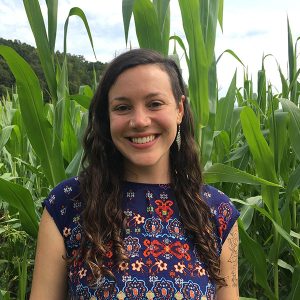 Ali Brooks
Ali Brooks, LCSW is a visual artist, therapist, youth worker and organizer for racial and environmental justice. Ali's proposed fieldwork will take place at a local community farm called Common Gardens, where she will be facilitating teens through a process mindful eco-attunement, approaching plants with respect, consent and reciprocity; foraging wild herbs and making medicinal teas. Through drawing, painting, poetry, photography and film, she will co-create an artistic inquiry into the transformative possibilities of relating with the plant world in the context of climate crisis, eco-grief, anxiety and apathy.
Ali lives on Hochunk land in so called Madison, Wisconsin where she loves canoeing, camping, and hanging with plants. Ali is passionate about harnessing the power of art to ignite creativity, action and radical imagination towards climate resilience and collective liberation.
www.medicinefortheheart.com
Click here for more information about the Abakanowicz Community and Ecological Fieldwork and Research Fellowships