2021 Abakanowicz Fellowship Awardees
The Abakanowicz Arts and Culture Charitable Foundation (AACCF), in collaboration with Pacifica Graduate Institute Alumni Association, is pleased to announce the 2021 Abakanowicz Community and Ecological Fieldwork and Research Fellowships.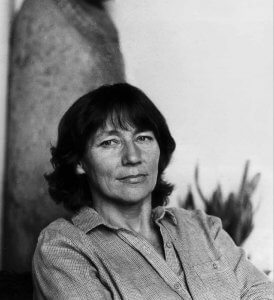 AACCF was established in 2018 to promote the legacy of Magdalena Abakanowicz and to fund programs that investigate concepts of human creativity, the role of art as a visual language within cultures and a dynamic force within contemporary society, and the intersection of art and other modes of inquiry for the purposes of extending the meaning and relevance of Abakanowicz's art and its underlying ideas. Applicants must be a second-year, third-year, or dissertation student in good standing with the Community, Liberation, Indigenous, and Ecopsychology (CLIE) Program at Pacifica Graduate Institute.
Sarah María Acosta Ahmad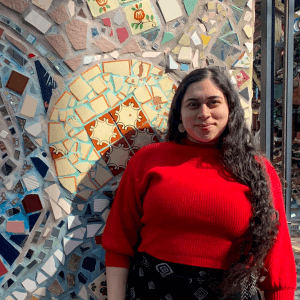 "Facing the cultural invasion of Spain, Martinus de La Cruz published an herbalist manuscript in his Native Nahuatl language. It is not only the first medical book published in the Americas, but it preserved Mexika teachings of sacred plantcestors. Colonizers sought to first extract this knowledge from de La Cruz as an attempt to navigate lands Spain wished to colonize, while simultaneously allowing de La Cruz' book to be erased from dominant knowledge, an attempt to suppress Indigenous medicinal knowledge. To combat this history of cultural invasion, this summer research project aims to reclaim the manuscript, buying it back from white, colonial institutions, and finding its home again within the medicinal practices of living Mexika communities. 
"In tending to the dreams and visions of community conversations over the years, my summer research concentrates on building a community healing garden. Drawing back to the roots of Mexica Indigenous medicine-making, the healing garden will be a living-breathing art installation–each plot planted in the color of the sacred four directions. Looking from above, below, and from the side, the healing garden will take the shape of the sacred medicine wheel. In this way, my research aims to create public art spaces that are not only accessible to low-income BIPOC families, but also centers our healing around generational trauma as each plantecestor is intended to soothe physical, mental, and emotional wounds that manifest from colonization. As such, I believe that my research proposal best fits the mission and vision of Magdalena Abakanowicz's legacy, utilizing her passion and curiosity for how art may transform collective dialogues around trauma and healing. 
"From seed to flower, this fieldwork aims to plant and nourish seeds of resistance in Immigrant survivor communities, growing towards harm reduction, resilience building and reclaiming our healing journeys. These – Indigenous – lifeways live within us and amongst us. Part of seeking sovereignty is also being able to determine how we heal. Through cultivating community care, resource skill-sharing and co- building, it is my hope that this community will see the power and medicine that they already carry. Though it should be mentioned that I believe they know their power, it is why we dream, why we march and why we are resilient beings." 
About Sarah Maria Acosta Ahmad
Sarah María (She/her, They/them) is a Two-Spirit copalera, artist, trauma worker, herbalist, and community organizer from Pontiac, Michigan. They use their Mexika ancestral wisdom to make medicines and to guide plant teachings that are affirming for gender gradient folks. Sarah has a BA in Women's and Gender Studies and Political Science from DePaul University and is working on a graduate studies program in Community, Liberation, Indigenous and Ecopsychologies at Pacifica Graduate Institute. Currently, Sarah María is involved in crisis work at a local anti-violence organization, designing and advocating for the implementation of culturally competent services for queer, disabled, low-income, and peoples of color in urban communities. When Sarah is not working or gardening, she focuses on building an ancestral apothecary that centers Queer and Trans BIPOC (Black Indigenous People of Color), mutual-aid medicine sharing, and decolonial care work. Their interests currently include Indigenous bearth work, textiles, shapeshifting with plants, bodymind liberation, and environmental justice. 
Kristina Yarbrough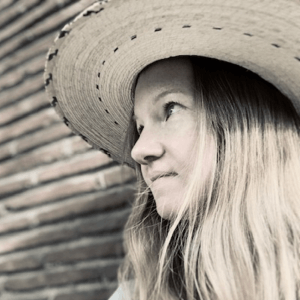 "Magdalena Abakanowicz's work is a life-giving force that re-works how we are perceived ecologically, and how ecology perceives us. I see Magdalena as refusing to accept dormant, dominant narratives that normalize collective and individual traumas. 
"I am being invited into an ecological fieldwork project with the San Marcos River and with my friend Blanca Loya, a liberation pedagogy educator, who works with the San Marcos River Foundation and the Parks and Recreation Department of San Marcos. I met Blanca when we were 9 years old. She lives close to the San Marcos River on a street of economically poor Mexican and white families who live in trailers. This is where we are from. We talk about the history of the Clovis people in San Marcos, and about the indigenous burials and pottery from indigenous tribes found along the river. Blanca and I are frustrated at the silenced voices of the river, and she asks me about methodologies; 'How can I open up new, deeper, and meaningful dialogue with people, about the river?'
"The town has grown by over 100% since we met, mostly to accommodate the expanding local university. Modern apartment complexes oppress the local communities and function as unnatural dams. When the river overflows, the complexes trap the river and it floods the local Mexican and white communities, destroying their homes. 
"I would like to make a series of artistic short films with the local people of San Marcos and the San Marcos River. We will re-imagine place, histories, and identities as a methodology of resistance to cultural invasion and the healing of colonial trauma. The films will be screened first with the locals of San Marcos, then with the general public. The screenings will evoke dialogue and liberatory pedagogy as a reparative and restorative justice for the locals of San Marcos and for the river.
"This project intends to change cultural narratives through art, healing, and dialogue. The themes of culture, creativity and subjective literacies in Magdalena's work resonate with my own trauma healing. I want to extend my own healing journey into an artful, collective inquiry that imagines the soul of San Marcos and the soul of the San Marcos River."
About Kristina Yarbrough
Kristina is a Licensed Marriage and Family Therapist in Austin, Texas and a PhD student of Depth Psychology (Community, Liberation, Indigenous and Ecopsychologies) at Pacifica Graduate Institute. She offers counseling, consulting, and community projects on narcissistic and gaslighting abuse, healing from the violence of coloniality, and liberation arts. Kristina describes herself as "a poor, Southern, white Jewish woman from San Marcos, Texas." She is also a Southern storyteller and an explorer within the emergence of place. With the support of the Abakanowicz Fellowship, Kristina is working on a film project with her friend from childhood, Blanca Loya, who has been at the center of the struggle in San Marcos her whole life. The film will reanimate the San Marcos River and highlight the ecologies of knowledge from the indigenous-to-San-Marcos communities. "The river raised me," states Kristina, "I wondered and wandered with the water. We talked, I listened, and we played together. Through the lens of my ecological awareness and the ecological awareness of locals, I want to complicate Southern narratives and the Southern aesthetic."