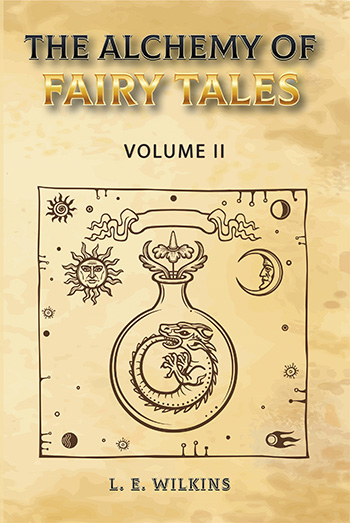 Book Title: The Alchemy of Fairy Tales, Vol. 1
Year Published: 2020
The Alchemy of Fairy Tales, Vol. 1
The Alchemy of Fairy Tales, Vol. 1, provides a template for today's scholars of fairy tales and of depth psychology for use in both the academic and clinical settings. The Jungian Scholar would have, from Jung's Collected Works, knowledge of the relevance of alchemical sciences to depth psychology.  Few, if any, of the Grimm's Fairy Tales are accompanied by a multifaceted depth psychology analysis. Some promote a variety of archetypal themes but, to my knowledge, none overtly promote the complete analysis of individual fairy tales with the significance of alchemy. The Alchemy of Fairy Tales centers on a depth psychological approach in the alchemical analyses. These analyses show relevance in the domains of personal and collective dynamics of individuation and, therefore, co-creation. Using original translations of Grimm's Fairy Tales, supported by a half century of clinical practice, this text exposes a variety of mental health dysfunctions as they move along a continuum from dysfunction to wellness—the movement from pathologizing to psychologizing symptoms.
About Lois Wilkins
Pacifica Program Graduate: PhD in Clinical Psychology with a specialization in Depth Psychology
Lois brings over four decades of experience in both Psychiatric Nursing and Depth Psychology to her private practice. Her deep understanding of the images used by Psyche via dreams, active imagination, in art, and mythology supports her ongoing work with individuals and in her numerous classes. Her theory of transcendence supported by the holographic mind model recognizes the multi-dimensionality of the individual along the soul's journey. After graduating from Arizona State University with a Bachelor of Science degree in Nursing, she participated in psychoanalytic studies at Eastern Virginia Medical School while earning her certificate in Adult and Family Assessment from Old Dominion University. She completed MS in Nursing at Wichita State University and her PhD in Clinical Psychology with a specialization in Depth Psychology from Pacifica Graduate Institute. Her professional roles span clinical inpatient and administrative practice in community and private psychiatric hospitals. She participated in the military psychiatry residency program while on active duty with the US Navy. Her private practice started in 1987, upon leaving the US Navy. Currently, she is active with the Kansas City Friends of Jung, serving as their vice president. She teaches numerous classes on Depth Psychology, Fairy Tales, and study groups on a variety of spiritual topics. In addition, she hosts a Writer's Group. In her personal life, Lois enjoys the fascinating roles of wife, mother, and grandmother. In her spare time, she writes poetry, attends live theatre, and the Kansas City Symphony. She also loves her gardens, the woods, and nature's beauty.