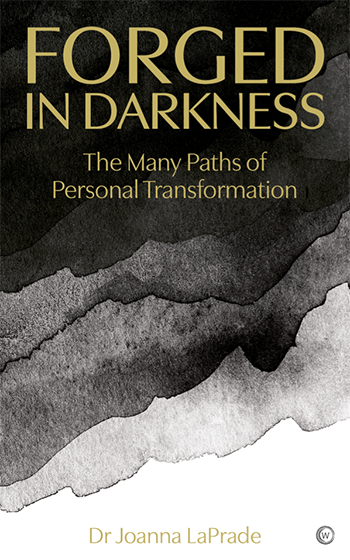 Book Title: Forged in Darkness
Year Published: 2022
Forged in Darkness
Written by an experienced psychotherapist, Forged in Darkness encourages readers to work with archetypes in mythology to stop rejecting the darkness within and instead learn to embrace it.
When we search within, we inevitably find the underworld – lost connections, failed enterprises, haunting memories, insecurities and buried secrets. This book unites self-discovery with mythology, returning the underworld to its rightful place – a dreaded realm that harbours profound transformation, richness and expansion.
Uniting self-awareness with mythology, Forged in Darkness, explores how experiences of hardship resonate with different gods and heroes of the underworld, thus lending support and guidance for when you enter the gambit of darkness.
For millennia, cultures around the world have told myths about the underworld. It is a tragedy that the only image we have in the West is that of Hercules, requiring us to be strong and defeat the shadowed parts of our life. Forged in Darkness explores the archetype Hercules represents and turns toward other heroes and gods for models of journeying into darkness. When we question, learn to accept and make sacrifices, Odysseus is present. We acknowledge Dionysus when we reconnect with what is volcanic, unrestrained and feral. We may experience Persephone as we're abducted from our comforts and connected to a mysterious authority within.
Explore how life's challenges and discomforts can help you become who you were meant to be.
About Joanna LaPrada
Pacifica Program Graduate: M.A. and Ph.D. in Jungian and Archetypal Psychology
Dr. Joanna LaPrade earned her MA and Ph.D. in Jungian and Archetypal Psychology from Pacifica Graduate Institute in Carpinteria, California. She is now the founder of Aion Psychotherapy and a practicing Jungian psychologist in Colorado. Her therapeutic work focuses on helping clients find a meaningful connection to their inner worlds. Joanna is the author of Forged in Darkness: The Many Paths of Personal Transformation, a book that unites self-discovery with mythology, to handle an important dilemma of our times—how to live with the darkness in life. Reminding us that we have more ways of accepting and growing from the deep and dark places within us than we ever thought possible. Joanna is an educator who has taught, lectured, and written extensively on the Jungian and archetypal perspectives. For more information about her work, visit www.aionpsychotherapy.com