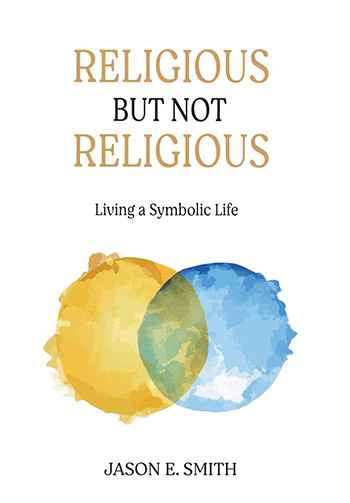 Book Title: Religious But Not Religious: Living a Symbolic Life
Year Published: 2020
Religious But Not Religious: Living a Symbolic Life
In Religious but Not Religious, Jungian analyst Jason E. Smith explores the idea, expressed by C.G. Jung, that the religious sense is a natural and vital function of the human psyche. We suffer from its lack.
The symbolic forms of religion mediate unconscious and ineffable experiences to the field of consciousness that infuse our lives with meaning and purpose. That is why we cannot be indifferent toward the decline of traditional religious observance so widely discussed today. The great religions house the accumulated spiritual wisdom of humankind, and their loss would be catastrophic to the human soul.
As human beings, we hunger for spiritual experience. To be "spiritual but not religious" is one possible response, but it often doesn't go far enough. All too easily it can become a kind of do-it-yourself spirituality, which lacks the capacity to effect the kind of growth and transformation that is the true goal of all the religious traditions.
Smith argues that we need to be "religious but not religious." We need an approach to religion that recognizes the essential importance of the individual spiritual adventure while also affirming the value of collective religious tradition. He articulates an understanding of religion as a participation in the symbolic life as opposed to a mere content of belief. By recovering our personal sensitivity for symbolic experience together with a symbolic understanding of religion, we facilitate a profound encounter with life and with the human condition through which one may be tested, tried, and transformed.
About Jason Smith
Pacifica Program Graduate: M.A. in Counseling Psychology with Emphasis in Depth Psychology
I am a Jungian Analyst based in the beautiful Cape Ann region of Boston's North Shore.
I am a graduate of the C.G. Jung Institute-Boston (now the C.G. Jung Institute of New England) and a member of the International Association for Analytical Psychology (IAAP). I also hold a Master's degree in Counseling Psychology with an emphasis in Depth Psychology from Pacifica Graduate Institute.
With over 20 years of clinical experience, I have worked in many settings. I have led career counseling groups and offered individual career counseling from a Jungian perspective; I have facilitated dream groups and taught classes and workshops on dream interpretation; I have run a support group for hospice workers; and provided mental health and substance abuse counseling to low income individuals at the Lahey Health Behavioral Services clinic in Gloucester, MA.
I am a past president of the C.G. Jung Institute-Boston, where I currently serve as training analyst and core faculty member in the analytic training program.
Currently, I have a private practice in Manchester-by-the-Sea, MA. I am the creator and host of the podcast, Digital Jung: The Symbolic Life in a Technological Age and the author of  Religious but Not Religious: Living a Symbolic Life, published by Chiron Publications.