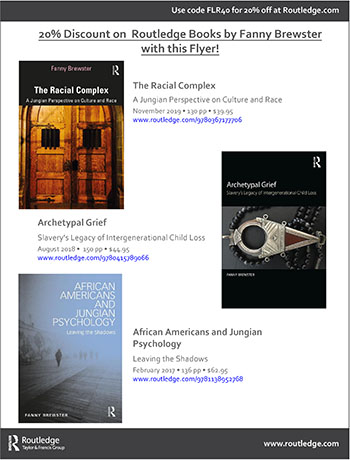 The Racial Complex: A Jungian Perspective on Culture and Race
In The Racial Complex: A Jungian Perspective on Culture and Race, Fanny Brewster revisits and examines Jung's classical writing on the theory of complexes, relating it directly to race in modern society. In this groundbreaking exploration, Brewster deepens Jung's minimalist writing regarding the cultural complexes of American blacks and whites by identifying and re-defining a psychological complex related to ethnicity.
Original and insightful, this book provides a close reading of Jung's complexes theory with an Africanist perspective on raciality and white/black racial relationships. Brewster explores how racial complexes influence personality development, cultural behavior and social and political status, and how they impact contemporary American racial relations. She also investigates aspects of the racial complex including archetypal shadow as core, constellations and their expression, and cultural trauma in the African diaspora. The book concludes with a discussion of racial complexes as a continuous psychological state and how to move towards personal, cultural and collective healing. Analyzing Jung's work with a renewed lens, and providing fresh comparisons to other literature and films, including Get Out, Brewster extends Jung's work to become more inclusive of culture and ethnicity, addressing issues which have been left previously unexamined in psychoanalytic thought.
Due to its interdisciplinary nature, this book will be of great importance to academics and students of Jungian and post-Jungian studies, sociology, politics, history of race, African American studies and African diaspora studies. As this book discusses Jung's complexes theory in a new light, it will be of immense interest to Jungian analysts and analytical psychologists in practice and in training.
Reviews
"Fanny Brewster introduces the construct of the Racial complex into the post Jungian and Postmodern lexicon and discourse in Analytical theory, training and clinical praxis. In so doing, she opens portals through which the light of consciousness emerges and illuminates the shadowed prism of racism and the predicate social construction of the race fiction, living well within and external to Jungian communities. In this seminal book Fanny Brewster contributes to the individuation of Analytical psychology into the 21st century, from her lived personal and professional experience.

The individuation of Analytical psychology requires interrogation of the archetype, shadow and complexes at the core of racism. This she does from the Africa-centric perspective. The Racial complex is a refinement and ethnic differentiation in the human experience of the American cultural complex, if not the broader Western cultural complex. The work is important to treatment of the infectious disease that is the psychopathology of racism. It is essential to the relevance of Analytical psychology in its efforts to heal the wounded soul of the nation. There are bodies on the bed of the Atlantic Ocean. There is blood on the landscape and the hands of American cultural history and psychology. Reparations are needed for all to be made whole. Jung suggests that the first stage of treatment is "confession". This new book invites us to the 'confessional' for this difficult and necessary task." – Alan G. Vaughan, Ph.D., JD, Jungian analyst, author of The African Diaspora: Post Modern Views of Jung and Analytical Psychology in Cultural Context (Routledge)
About Dr. Fanny Brewster
Dr. Fanny Brewster is a Jungian analyst and Professor at Pacifica Graduate Institute.  She is a writer of nonfiction including The Racial Complex:  A Jungian Perspective on Culture and Race. (Routledge, 2019), and Racial Legacies: Jung, Politics, and Culture (Routledge 2022). Her poems have been published in various journals and in Psychological Perspectives Journal where she was the Featured Poet.