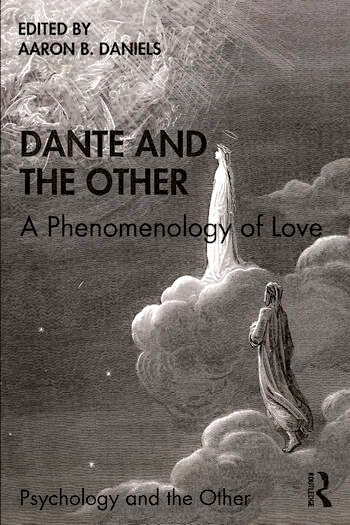 Book Title: Dante and the Other: A Phenomenology of Love
Year Published: 2021
Dante & the Other: A Phenomenology of Love
Dante and the Other brings together noted and emerging Dante scholars with theologians, philosophers, psychoanalysts, and psychotherapists, bridging the Florentine's premodern world to today's postmodern context. Exploring how alterity has become a potent symbol in religion, philosophy, politics, and culture, this book will be of interest to many related fields.
The book offers a thorough foundation in approaching Dante as proto-phenomenologist. It includes an informative review of literature, historical insight into Dante's poetics-toward-ineffability as alternative to modern scientism, a foray into science fiction, existential elaborations, phenomenological analyses of Inferno's Canto I, and applications to psychotherapy and qualitative research. It also contains a poem from an imagined Virgil retiring in Limbo, and a meditation on Dante's complicated relationship to homosexuality.
Dante and the Other presents the mystical passion of apophatic spirituality, the millennia-spanning Augustinianism of radical orthodoxy, Levinas, Heidegger, and many others—all driven by Dante's Labors of Love. It is essential reading for Dante scholars, as well as readers interested in his works.
About Aaron B. Daniels
Pacifica Program Graduate: Archetypal Psychology, 2002
In addition to being an Associate Teaching Professor in the Psychology Department at Northeastern University, Aaron B. Daniels is also a Mindfulness Fellow and Training Mentor in Northeastern University's Center for Spirituality, Dialogue, and Service (CSDS). He is also a Research Fellow with Psychology & the Other based out of Boston College. His PhD is from Pacifica Graduate Institute in Santa Barbara, California where he focused on Archetypal Psychology with a dissertation on the use of imagination by criminal profilers. His MA is from Duquesne University in Pittsburgh, Pennsylvania where he studied existential phenomenology. His BA with honors is from Baldwin-Wallace College in Berea, Ohio. His books are: Imaginal Reality, Volumes 1 & 2 (both in 2011); Jungian Crime Scene Analysis: An Imaginal Investigation (2014); and, most recently, he contributed four chapters and edited Dante and the Other: A Phenomenology of Love (2021). Aaron has been teaching in higher education for two decades and has received numerous institutional awards for his teaching, advising, research, and collaborations. A psychotherapist in Seattle for 10 years, he worked in community and private practice, achieving LGBT-specialist status. His current research centers on the 'inscrutably alien' and spiritual direction. Aaron completed his certification in Spiritual Direction from the PAX Institute in Essex, Massachusetts in June of 2022. He offers spiritual and mindful accompaniment to the faculty, staff, and students of Northeastern University. Film, science-fiction, and 'weird' literature are frequent additions to his classes and research.
Aaron's approach to Spiritual Direction is rooted in the individual experience of approaching fundamental frontiers within ourselves and our lives. Aaron's youth and young adult life involved deep explorations of faith traditions. Growing up in Ohio, he was privileged to have monthly visits to an Amish farm. His father's family has deep roots in the Quakers and his home was a site of lively—and sometimes contentious—religious discussions. Brought up in the Lutheran Church, Aaron has since explored many other practices and beliefs including Zen Buddhism, Sufism, Reconstructionist Judaism, Wicca, and some of the many dark alleys of the Western Esoteric Traditions. This has led him to find that the language, rituals, and imagery of spirituality, religion, and mysticism can offer unique access to fundamental edges of our being and relationships too easily covered over by our everyday beliefs about the world. As tools to gain some 'quiet in the storm' of all the images constantly bombarding us, he has found mindfulness and meditation indispensable. Given this diversity of experiences, Aaron and his wife have found a welcoming home in the Episcopal Church where they cherish participating in the rich liturgy, commitment to social justice, references to Oxford's 'Inklings,' incarnational theology, and beautiful music.
Aaron offers Spiritual and Mindful Accompaniment at no additional charge to members of Northeastern University's faculty, staff, and students, including all those who work with Northeastern's CSDS in any capacity.