A Gathering to Offer Tribute and Celebrate the Life and Work of James Hillman convened at the Ladera campus of Pacifica Graduate Institute over the weekend of 2-4 March 2012.
Sponsored by Pacifica Graduate Institute, Opus Archives and Research Center, and the Alumni Association of Pacifica Graduate Institute, this celebration brought together thinkers, scholars, artists, poets, practitioners of Depth Psychology, and soul-tenders into a circle of those wishing to remember the Pacifica elder who extended the work of C.G. Jung and founded the field of Archetypal Psychology.
This Special Section serves as a virtual companion to the James Hillman tribute, and will remain here in dedication to his memory. and in encouragement to all following and amplifying his work. We invite you to explore this section's many elements for highlights from the gathering including testimonials and remembrances. And we invite you to join in the celebration! Though James' memorial weekend has passed, our tribute to him continues: please feel welcome to share reflections about James Hillman via the comments function within the Hillman "Reflections" feature.
•|•|•|•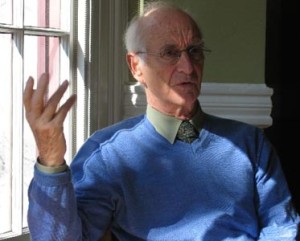 "Ego and consciousness, Hero and Serpent, Son and Mother, their battle, their bed and their banquet — this is the sustaining myth we myst tell to account for our strange ways: why we are always at war, why we have eaten up the world, why we have so little imaginative power, and why we have only one God and He so far away."
James Hillman, Senex & Puer (145)
•|•|•|•
We offer here a series of links to external celebrations of James Hillman.
L A   B E L E T T E   R O U G E  |  James Hillman: April 12, 1926 – October 27, 2011  ≥  Psychology Today's "Freudian Sip" blogger on how James "means something to me and his presence in the world and in my psyche is grounding and important to me."
theguardian (U.K.) | James Hillman obituary  ≥  notes on the "U.S. psychologist who concluded that therapy needed to change the world rather than focus on people's inner lives."
Pythia Peay | "Guardian of the Well"  ≥  James Hillman and "the depths of inspiration and creativity."
Eldo Stellucci | "A Tribute to James Hillman"  ≥  an eight-minute visual homage — to the tune of "Greensleeves."
Thomas Moore | "Remembering James Hillman"  ≥  reflections from the celebrated author, lecturer, professor, psychotherapist, monk, musician, and close friend to James.
Michael Ventura | "Letters at 3 a.m.: James Hillman (1926-2011)"  ≥  the noted author discusses an early encounter with James and his notion that "Soul is made in the rout of the world."
Robert G. Longpré | "The Modern Western World's Sustaining Myth"  ≥  the intrepid educator and psychotherapist on how James' Senex & Puer "is forcing me to rethink my own muddled ideas about self, and to look at the culture in which I was born and raised."
Benedict Carey / The New York Times | "James Hillman, Therapist in Men's Movement, Dies at 85"  ≥  a respectful assessment of James as "part scholar, part mystic, and part performance artist in his popular lectures."
Blue-Eyed Ennis (Phil Ewing) | "James Hillman Tribute"  ≥  a celebration of James as "a formidable intellect and a truly unique mind."
Stephen Aizenstadt | "In gratitude to James Hillman…"  ≥  remembering James, whose work "on the anima mundi…is at the core of the Pacifica soul."
Tayria Ward | "Tribute to James Hillman"  ≥  a founder of Bridging Worlds Mountain Retreat Center discusses "one of the great thinkers of our time."
Elizabeth Clark-Stern | "Tending the Soul: The Legacy of James Hillman"  ≥  reflections on James and "the power of his epic imagination, and his ability to hold the larger reality of our psyches and our world."
Cliff Bostock | "An unearthed poem"  ≥  "…to remind myself how indebted I am to James Hillman…"
wendyo | "James Hillman just died. He was my mentor & close friend."  ≥  comments on the impact of James' work by a prominent blogger, reviewer, and critic.
Carol Pearson | "Tribute to James Hillman"  ≥  reflections on our "loss of such magnitude" by a world-renowned expert in Depth Psychology and transformational leadership.
Michael Hanson | "Remembering James Hillman"  ≥  an assessment of "one of the titans of 20th century psychology" by a team leader for Fisher Investments.
•|•|•|•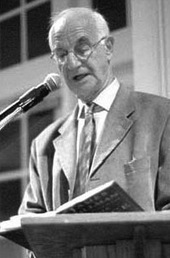 "I can no longer be sure whether the psyche is in me or whether I'm in the psyche…"
•|•|•|•
Many expansive and illuminating observations and homages were posted in the "Reflections" section included with the original appearance of this article at the initial website of Pacifica Graduate Institute Alumni Association. You may see them collected together at the Hillman "Reflections" feature.