Autumn
Autumn is a time of celebrating the harvest and gathering our fruits from the summer months. As Persephone returns to her husband in the underworld and the Sun increasingly keeps an earlier and earlier bedtime, we too make preparations for shorter days and cooler nights. What are the fruits of summer that you will be celebrating this fall?  How do you prepare for the deeper and darker months ahead?  Do you savor the change of the seasons or do you wish summer would last just a little bit longer?
In this issue we will share about our upcoming alumni social gathering, highlight events hosted by our alumni, and spotlight two wonderful Los Angeles alum.  We also encourage you to join our Facebook page or reach out to your regional coordinators to see how you can become involved in the Los Angeles Region Alumni Association.
---
Friday

 Fun – Social Gathering

Join us for inspired conversation with like-minded people after a long work week. Catch up with old friends and meet some new alumni!

6:00 pm –  9:00 pm, October 14, 2016
Hamburger Hamlet
4419 Van Nuys Blvd
Sherman Oaks, CA 91403

Any questions or concerns email courtney@courtneyshore.com
---
PGIAA-LA Gathering on August 13, 2016
by Rita Bazeley
After a very hot and long summer in LA, on a delightfully cooler Saturday, LA Alumni had their annual gathering at the lovely home of Dana White (PhD Myth) and his wife, Michele, in Santa Monica.
Dana and Michelle have hosted us numerous times and are delightful hosts.  The open floor plan of their home and back garden area makes an inviting space for alumni to mingle and connect in a comfortable way.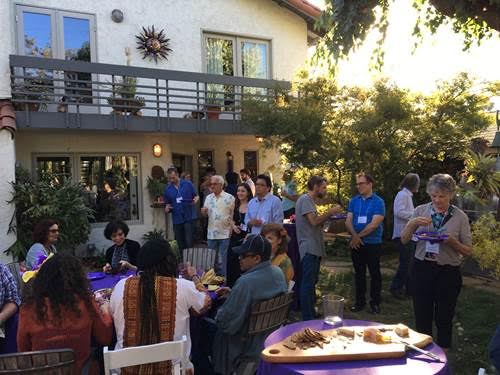 As usual, there was an abundance of food. Alumni had brought their favorite dishes, along with the Best-Chocolate-Cake ever that Dianne Travis- Teague brought with her from Santa Barbara.
Alumni snacked and shared their stories as they caught up with cohorts or made the new acquaintance of fellow soul journeyers.
In the garden area, standing on the rock that has become our speaker podium, Rita Bazeley, RC for LA, made introductions: Dianne Travis-Teague, Director of Alumni Relations; Tom Lyon, VP of the Alumni Board; and our guest visiting Instructor from the myth program, Zaman Stanizai. 
Also introduced was Courtney Shore, our newest Regional Coordinator for LA. Courtney has joined the LA Alumni and has volunteered to resume our quarterly newsletter, along with many other things. 
---
Angelino Life After Pacifica
A place to announce your articles, books,
seminars, events and special achievements
Wean Khing Wong has been accepted to present My Dream: Archetype of Caring at the Global Human Caring Conference in Wuhan, China. 
Wean Khing Wong is a graduate of the MA Counseling Program (2012).  My Dream: Archetype of Caring weaves together empathy, compassion, loving kindness, avoiding burn out, psychology, Buddhism, dream analysis, and the Eastern and Western medical and caring modalities.  This is a very exciting opportunity for Wean Khing and we are so proud to have her as one of our esteemed alums!
Additionally, Wean Khing is leading a workshop for lawyers called Managing Stress in the Practice of Law on November 19, 2016. For more info visit www.lalawlibrary.org/classes
---
Upcoming Presentations by Pacifica Alumni at the  
C.G. Jung Institute of Los Angeles
Brockton D. Hill, J.D., M.A. will be presenting
The Sacred Mystery of Election: Sanctity of Choice and of the Chosen on Wednesday, October 19, 2016, 7:30PM – 9:30PM
Click here for more details
Christopher Miller, Ph.D. will be presenting
"The Revenant": Alejandro González Iñárritu & The Spirit Of The Times 
on Wednesday, October 26, 2016, 7:30PM – 9:30PM
Click here for more details
---
The Myth Salon
On Thursday evening at 7pm, October 27, the Pacifica Graduate Institute Alumni Association-LA Area will launch the Myth Salon, a topic-based small group that will meet once a month for the next six months in the home of Dr. Dana White in Santa Monica to look deeply into current cultural issues applying myth and depth psychological perspectives. Dr. Will Linn, Director of General Education at the Relativity School and a graduate of Pacifica's Mythological Studies program, will moderate the sessions…..click here for more information. 
The Salon group will be limited to ten people and will cost $50 per person to cover the cost of the moderator for the six-meeting schedule.  To be considered to attend the Myth Salon, please email dwprods@verizon.net, or text (310) 450-9101. Enrollment will be filled on a space-available basis.
---
We want to promote your achievements!
Send the details, (and a photo if you wish) so we can let other Angelino alumni know what accomplishments you have achieved, honors you have received or articles/books you have published. Or let us know if you have an event that you would like other alumni to attend.  We love to let our community know how you are tending soul of and in the world.
Send your reply to:  courtney@courtneyshore.com
Our next newsletter will be out in Winter. Deadline for submission is December 1, 2015.
---
Los Angeles Alumni Spotlight Q&A
A special opportunity to learn about a few of our Los Angeles alumni,
Raïna Manuel-Paris, Ph.D
Q: When did you go to Pacifica and what program did you attend?
A: I started Pacifica in 1998 just a few weeks after I asked my soul to direct me as to what I should do next in my life. I literally drove my car to Pacifica not knowing where I would end up.  Listening is a good thing.  I finished my Ph.D. in 2004. I was instantly drawn to the Myth program and its emphasis in Depth psychology. It was the perfect match for me. I trusted that it would take me where I needed to be.
Q:  What is a favorite memory from your time at Pacifica?
A: Everyday I was at the Lambert campus, I felt cradled by the ground, the place. And I needed it. It held me through many transformations. We were in sacred space and we knew it. It was an enduring feeling. I believe it contributed to us becoming a pretty tight cohort and we still are.
Q: What are you up to now as it relates to tending soul in the world?
A: I spent the last 14 years teaching Myth and Symbol as well as Magic and Ritual at the Art Institute in Santa Monica. The great stories of our humanity are healing. They helped a lot of my students become more attuned to their own authentic creative expression. Over the years I had an increasing number of veterans in my classes. And they needed the archetypal arms of Myth and of Ritual to help hold them and become curious about their journey. I also taught as adjunct faculty at Pacifica in the Humanities program, a class in Archetypal patterns in cinema. I am currently working on a novel, which is of course mythical in its nature, a fairy tale, both ancient and modern.
Q:What was your favorite fairytale, myth or story as a child?  What in particular did you love about it?
A: The fairy tale of the Handless Maiden has been with me since childhood. It is one of the most complete and transformative stories I know, and took me all the way through my Ph.D. since it became the hermeneutic of my dissertation. The fairy tale looks not only at how the loss of feminine occurs in our society, but it also illuminates what kind of work is needed to restore the connection to soul and to one's instincts. Then it also addresses the path the masculine must take and what work is needed to rejoin the feminine. A beautiful and enlivening story.
Christa Sacco 
Q: When did you go to Pacifica and what program did you attend?
A: I began at Pacifica in 2011 in the Depth Psychology program with emphasis in Community, Liberation, and Eco- Psychologies CLE. I received my Master's and I am still working out the dissertation on the topic of sex worker liberation.
Q: What is a favorite memory from your time at Pacifica?
A: I remember drumming and dancing outside at Ladera campus at night and in Barrett Hall.
Q: What are you up to now as it relates to tending soul in the world?
A: I am an HIV Outreach Specialist with the East LA Women's Center for their Las Muchachas Project, which serves women who are sex workers, women who have used sex for survival, or women who are survivors of sexual exploitation.  I will be conducting outreach activities and community charlas.
Q: What was your favorite fairytale, myth or story as a child?  What in particular did you love about it?
A: My favorite myth even from a young age is the story of Kali Durga: goddess who tends the cremation fire and battles demons, crushing egos but redeeming souls.
Come to our next gathering on October 14th for a chance to win the next Spotlight Q & A!