NYC LOCAL GROUP
Holiday Gathering
December 6th, 2015
An invite from Dorathea:
I propose a day consisting of the following:
Lunch at The Metropolitan Museum of Art, Member's Only Restaurant, overlooking Central Park.
A brief stroll through the various wings of the Museum, stopping to view a few of the museums' extraordinary paintings depicting Mythological themes.
A walk to a nearby Café for coffee, tea or drinks, later in the afternoon. (Still working on finalizing Café selection, tentative meet up time at 

4:30

, Café name and address to be announced.)
You are invited to either the Restaurant or Cafe or both. However, do know that seats are limited, especially at the restaurant, so do RSVP as soon as you can.
EVENT DETAILS:
We'll meet inside the main entrance of The Metropolitan Museum of Art, located at 1000 5th Ave between 81st and 82nd Street at 1:20 pm.
Admission tickets to the museum will be gifted to you.
We can then proceed to the dining room together, located on the 4th floor. Reservations are at 1:30 pm, so for ease sake, please be punctual.
The Member's Dining Room will be offering a 3-course brunch prix fixe menu with various dishes to chose from, for $50.00, including a drink. You can check the brunch menu on line. (For those who may inquire, an a-la-carte menu will not be available.)
After bunch we will stroll through various wings of the expansive and magnificent museum space and stop to take in the beauty of a few of their exquisite paintings depicting mythological themes.
We will then proceed with a stroll to a near by Café for coffee, tea or drink, cost of which is naturally separate.
To add to the holiday festivities, you are invited to bring a wrapped holiday gift, which we will exchange at the museum restaurant, valued at $15.00 – $20.00.
Both Alexandra Lichine, who has joined me in the organization of this event, and I do hope you can join us to share in the beauty and magic of our City, as we continue to enliven and nurture our connections with each other, seeded and cultivated by our soulful Alma Mater, Pacifica Graduate Institute.
I look forward to sharing this moment with you.
Warmly,
Dorathea Thompson
NYC PGIAA Local Coordinator
RSVP either via email or phone: 
_____________________________________________________________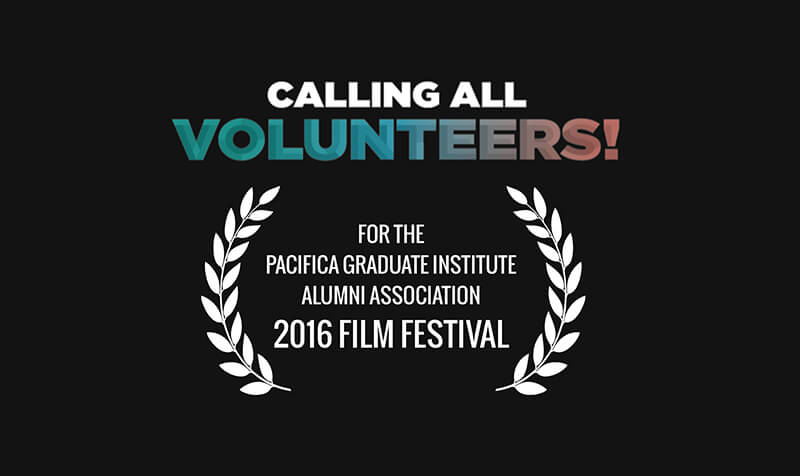 CALLING ALL VOLUNTEERS 
for the PGIAA 2016 Film Festival!
Pacifica Graduate Institute Alumni Association (PGIAA) announces our First Annual Film Festival, September 8-11, 2016. Share your time, resources, experience or expertise to be part of this groundbreaking event.
ABOUT VOLUNTEERING
Pacifica Graduate Institute Alumni Association Film Festival Committee will rely on the generosity and dedication of volunteers. We seek volunteers who share a commitment to supporting film and story for a multitude of tasks (see below). Volunteers will be vital to this exciting inaugural event.
VOLUNTEER OPPORTUNITIES AT THE FESTIVAL
While the majority of volunteer opportunities and festival operations (including the Volunteer Hub) will be based in Santa Barbara, CA, some tasks may be done from a distance. Please contact us to find out how you can participate!
·         General & Administrative
·         Hospitality
·         Content
·         Events
·         Operations
·         Marketing
·         Customer Service
·         Technology
CONTACT US
Please contact us Monday–Friday, 9am-5pm PST at 805-679-6163 or email us at alumnirelations@pacifica.edu with your interest and availability.
____________________________________________________
Alumni News: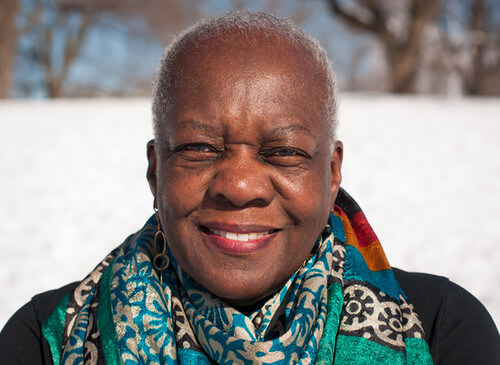 Our own NY alumna, Fanny Brewster, will be presenting at the upcoming International Association for Analytical Psychology in collaboration with the Associazione Italiana di Psicologia Analitica (AIPA), the Associazione per la Ricerca in Psicologia Analitica (ARPA) and the Centro Italiano di Psicologia Analitica (CIPA) and The University of Rome 3
ANALYSIS AND ACTIVISM: SOCIAL AND POLITICAL CONTRIBUTIONSOF JUNGIAN PSYCHOLOGYROME
4TH – 7TH DECEMBER, 2015
SECOND CONFERENCE
Experiential Workshop
Black Lives Matter: The Psychologically Within and Psychologically Without of Race
and Racism in Jungian Psychology
In 1935, Jung spoke at the Tavistock Lecture II. In referencing the material he gathered from his dream subjects, he stated: "I will not mention the whole dream because it does not matter. It contained of course its personal meanings as well as allusions to impersonal ideas, but I picked out only that one motif". The one motif to which Jung is referring is that of Ixion in the dream of an African American patient at St. Elizabeth's Hospital in Washington, D.C. with whom Jung met in 1912. Though Jung's meeting with this African American man, and fourteen others helped "validate" his theory of the "non-racial" aspect of the archetypes, Jung dismissed the dreamers and all of their associated dream material with this noted exception of Ixion.
The most recent racial violence against African American men legitimized by uniformed police officers, is but just one reminder that race continues to be of great significance. It matters. We are confronted with it in our newspapers, in our analytical rooms and by way of the Unconscious. Jungians, especially American Jungian analysts have had little to say about racism in Jungian psychology. This appears to be the inherited development of a Psychology that began in a heterogeneous society and moved to a multicultural one. The issue of persons of color not engaging with Jungian Psychology, as analysands, analysts or teachers, continues to be an obvious but ignored problem. This problem supports exclusion, a lack of conscious growth and the perpetuation of racism within Jungian Psychology.
This experiential workshop, through Writing Exercises, Dreamwork and Discussion will engage and challenge us to consider the roots of Jungian Psychology in terms of race. We live more and more in a multicultural world. How can Jungian Psychology create more of a dialogue with the "Other", no longer "Shadow", but equal in all ways? What are the personal psychological issues that are seen within the individual and in the analytical room as well as without in our societies, which deal with racial relations and tensions? How can we learn to break our silence regarding race and learn the necessary lessons of the transformation of biased, outdated racist thinking and behaviors?