Map Unavailable
Date/Time
Date(s) - 04/02/2017
5:30 pm - 7:30 pm
Categories No Categories
The Joseph Campbell Foundation Mythological RoundTable® Group of OPUS
at Pacifica Graduate Institute presents:
Dr. Dennis Patrick Slattery:
"Alchemical Meltdown in Alchemical Psychology: Transformation in the Vessel of Affection"
Sunday, April 2nd, 2017 5:30-7:30pm
801 Ladera Lane Santa Barbara CA
Classroom G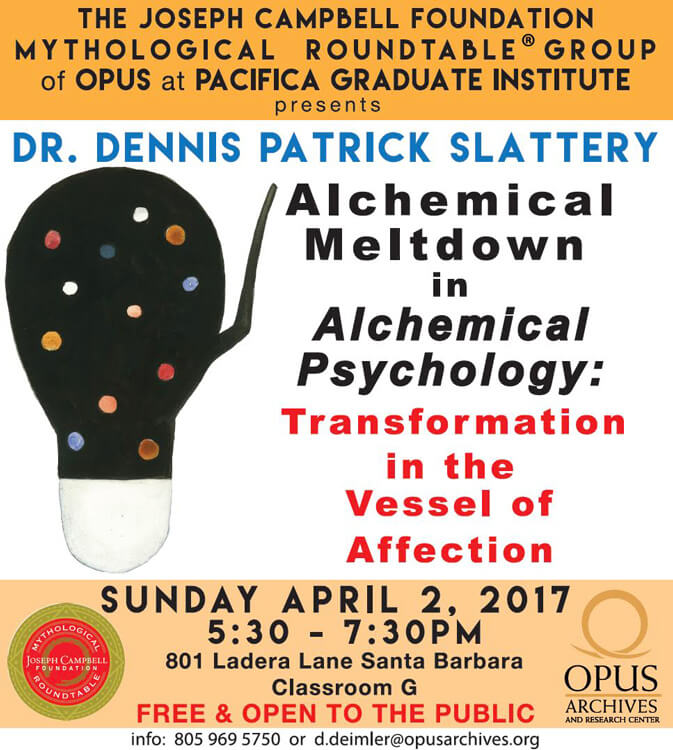 Free & Open to the Public
Vessels: methods of containment. Can you take the heat? (38)
James Hillman's brilliant volume 5 of The Uniform Edition of the Works of James Hillman offers a brilliant reassessment of the alchemical tradition. Of particular interest for me is the image of the vessel, an object of containment in alchemy. It both contains and disperses. It can be a garden bed or a poem; I am interested in the vessel as a container of whose heat can emanate affection. What contains each of us vessels us and may under the right temperature application, melt and dissolve those hardened aspects of ourselves in need of dissolution and coagulation. This presentation will entertain the rich image of the vessel in the alchemical process.
Dennis Patrick Slattery, Ph.D. currently core faculty in the Mythological Studies program, has been teaching for 45 years, from elementary through secondary school, to undergraduate and graduate programs. He is the author, co-author, editor or co-editor of 24 volumes, including 6 volumes of poetry and one novel. He has also authored over 200 articles in magazines, newspapers, journals and on-line publications. He has for the past 15 years offered riting personal myth retreats in the United States, Canada, Europe and Ireland. Learn more at www.dennispslattery.com
More info at www.opusarchives.org
Questions: d.deimler@opusarchives.org or 805 969 5750